The 2023 Frieze Art Show Los Angeles was an absolute feast for art aficionados and culture vultures alike. This show was a stunning reminder that the art world is still very much alive and kicking, with artists unafraid to push the envelope and explore the depths of their creativity. The avant-garde works on display were pretty breathtaking, leaving visitors in a state of frenzied awe. The curation was smooth and inviting, with a selection of provocative, boundary-pushing pieces that challenged the very notion of what art is and can be. The vibrant energy of the show was palpable, with booths exhibiting an intriguing array of paintings, sculptures, installations, and multimedia works that demanded attention.
Taking a respite from what seemed to be an endless cold winter in Los Angeles, my partner Robert and I ventured out to experience our first Frieze Show at the Santa Monica Airport Barker Hangar. Pre-paying for parking didn't help the confusion about where to park, and with the mini sig-alert and quarter mile to walk to the entrance (not the Hangar itself, but another building quite far down the runway), our viewing time was quickly dissolving away. Being masters of time manipulation, found ourselves with a scant allocation of one hour's time to view everything in detail. Therefore, we elected to gallivant about the exhibition with verve and vim, dedicating our fleeting moments only to the most enrapturing works of art that seemed appealing from afar. We restrained ourselves from stopping at each individual piece and instead revelled in the delight of those artworks that spoke to us, beckoning us to bask in their splendor. In this manner, we traversed the exhibition, scintillating our senses with some of the finest examples of artistic expression the world has to offer, all within the constraints of our compressed allotment of time.
As we immersed ourselves within the glittering milieu of the 2023 Frieze Art Show Los Angeles, we found ourselves awash in a sea of cutting-edge fashionistas with outfits that oozed with effortless cool. Yet, amid this heady atmosphere of aesthetic and sartorial sophistication, our attention was inexplicably drawn towards the throngs of people that flowed around us like a river of humanity. With a sense of transfixion that bordered on the hypnotic, we observed these individuals as if they were works of art unto themselves, each one a unique expression of the human experience. And as we watched, we found ourselves inexorably drawn into deep and meaningful conversations with these strangers, discussing everything from the meaning of life to the very nature of art itself. For in that moment, it was not the art on the walls that held our fascination, but the people around us that were the true embodiment of the avant-garde spirit that permeated the show.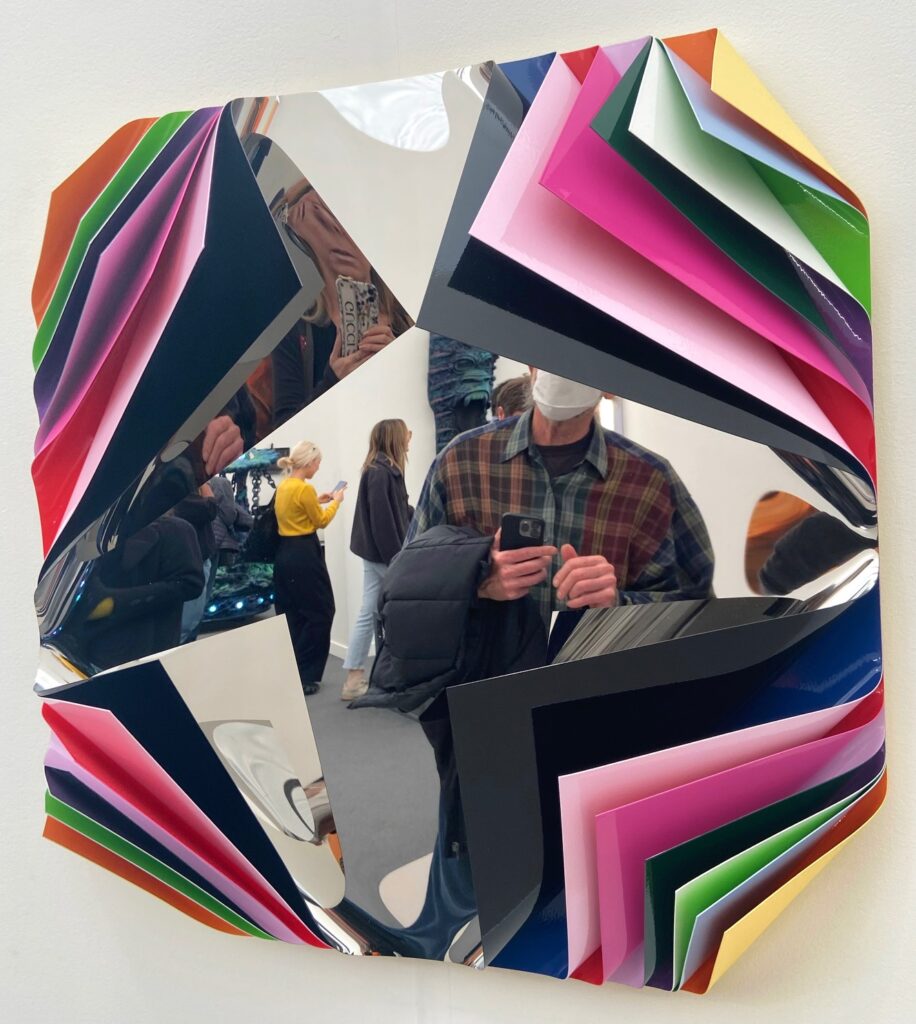 The show was a spectacle to behold, complete with luxury golf carts whizzing by, transporting art-lovers from one giant building to another. And when the hunger pangs hit, we found ourselves in a veritable oasis of culinary delights in the food court, where we could refuel and recharge our creative juices. Sleek wooden benches provided the perfect setting for a casual and hip dining experience, as people savored each bite while taking a break from the vibrant energy of the show. The seamless combination of food, art, and transportation served to elevate the overall experience, making the 2023 Frieze Art Show Los Angeles a truly fun stop for sensory stimulation.
The show was a true global phenomenon, featuring a diverse array of works from more than 120 galleries spanning 22 countries. Each piece was a veritable masterpiece, pushing the boundaries of creativity and showcasing the raw, unbridled talent of some of the world's most innovative and daring artists. And as if the art alone wasn't enough to send pulses racing, the show was also a magnet for celebrities and art enthusiasts from around the world, who descended upon the exhibition like moths to a flame on VIP day. Actors and musicians showed up in droves, including Piper Perabo, Shailene Woodley, Jared Leto, Heidi Klum, Owen Wilson, Margot Robbie, Catherine Keener, Justine Bateman, Larry David, Lionel Ritchie, Elijah Wood, Gwyneth Paltrow and Tyler the Creator. There was a palpable sense of creative energy and artistic passion that was impossible to ignore leaving visitors and celebrities alike in an enlightened state of awe and wonder.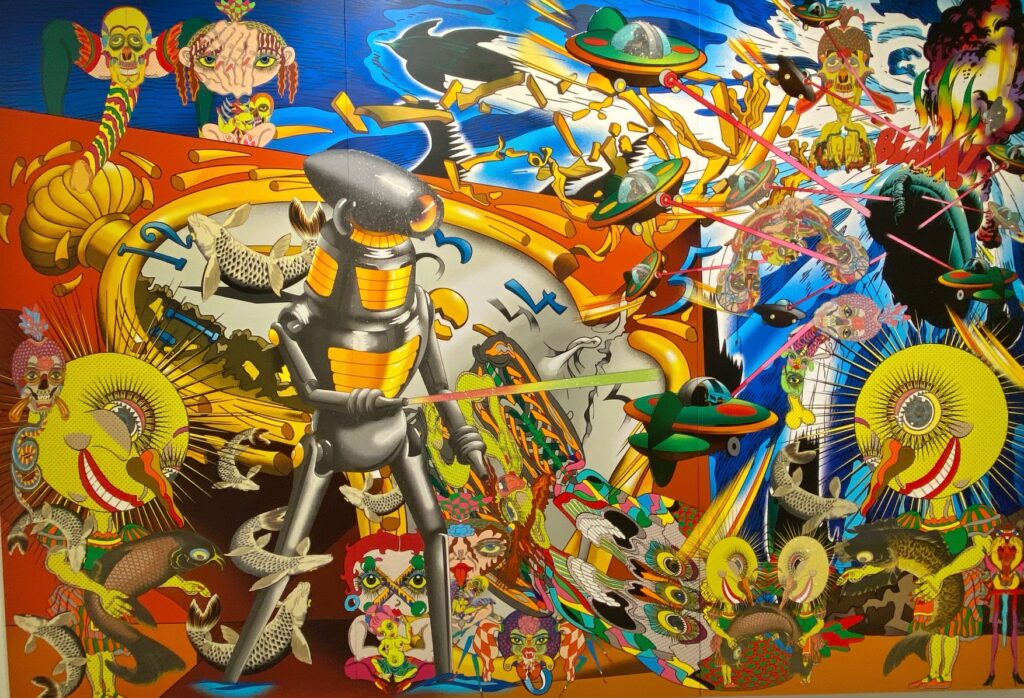 The David Kordansky Gallery was an absolute powerhouse, selling out its booth in record time with an exquisite collection of works by the masterful painter Chase Hall. This was not the only booth to set the art world ablaze, as Gagosian Gallery's collection of works by Rick Lowe proved to be equally tantalizing, commanding the attention of buyers and art enthusiasts alike. Meanwhile, the Victoria Milo Gallery booth, dedicated to the stunning works of Doron Langberg, was yet another sell-out sensation, leaving attendees in a state of rapture with its stunning depictions of the human form. In a show that was already overflowing with edgy and innovative works, the largest sale at $3.4 million was a painting by Henry Taylor, born in Valencia, California, who worked at the Camarillo State Mental Hospital as a psychiatric technician while pursuing an art degree. His bold, narrative work engages viewers in a delightful yet profound disruption of traditional American portraiture.
In a show that was overflowing with creative innovation, a multitude of booths stood out like beacons of artistic excellence, capturing the hearts and minds of all who were lucky enough to witness them. With its vast and varied collection of stunning works from a plethora of renowned artists, I heartily encourage any and all individuals who possess a keen interest in the dynamic and ever-evolving world of contemporary art to attend the upcoming return of the illustrious Frieze Art Show in 2024. It promises to be a veritable feast for the senses, providing a fun and exciting opportunity for art lovers of all ages and backgrounds to immerse themselves in the cutting-edge and avant-garde art scene that is the hallmark of the Los Angeles cultural landscape.