"A premier ballet company and global ambassador for excellence and diversity."
—The Washington Post
Dance Theatre of Harlem (Virginia Johnson, Artistic Director; Anna Glass, Executive Director), announce the company's annual homecoming season on Wednesday, April 19 through Saturday April 23 at 7:30pm Wed, Fri & Sat | 7:30pm, Thu | 7pm and Sun | 3pm. Celebrating founding member and outgoing Artistic Director Virginia Johnson with its 2023 Vision Award and Gala, the esteemed company will play New York City Center, located at 131 West 55th Street through April 23.
Marking a momentous change in leadership, Dance Theatre of Harlem will honor soon-to-be Artistic Director Emerita Virginia Johnson with its Arthur Mitchell Vision Award. The company has assembled a remarkable group of artists and curated a program befitting the unique and beautiful vision Ms. Johnson, beginning its annual homecoming season with an evening of revivals and premieres entitled "New York to New York Plus." A second program of repertory favorites will bookend the celebratory weekend, including Higher Ground by DTH Resident Choreographer and incoming Artistic Director Robert Garland, which received its New York premiere at the 2022 Vision Gala.
Two dynamic programs display Dance Theatre of Harlem's unique and significant vision for ballet, celebrating resiliency, inclusivity, and innovation:
Programs
New to New York Plus | Apr 19 & 22 at 7:30pm
Pre-performance DJ and Dancing in the Grand Tier Lobby
Allegro Brillante | Revival
Choreography by George Balanchine
This Bitter Earth
Choreography by Christopher Wheeldon
Sounds of Hazel | NY Premiere
Choreography by Tiffany Rea-Fisher
Blake Works IV (The Barre Project) | NY Premiere
Choreography by William Forsythe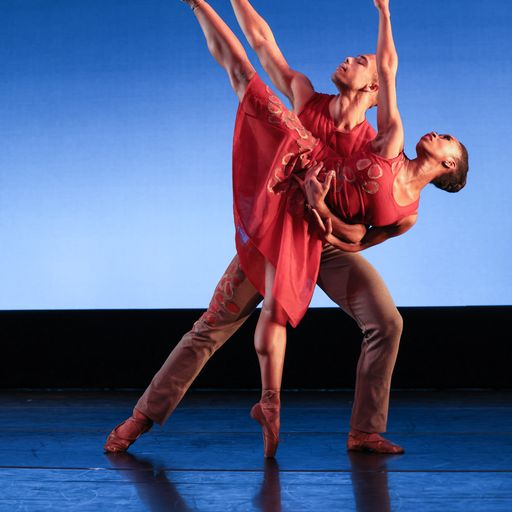 2023 Vision Gala Program | Apr 20 at 7pm
With a theme of JUBILANCE, the Dance Theatre of Harlem 2023 Vision Gala celebrates 54 years of trailblazing excellence, honoring former DTH Board Chair, business leader, arts advocate and philanthropist Reginald Van Lee and Artistic Director Virginia Johnson, who steps down this year.
This luminary evening will feature performances to commemorate the 10th anniversary of the relaunch of the Company including Geoffrey Holder's masterwork Dougla, Resident Choreographer and Artistic Director designate Robert Garland's new work for San Francisco Ballet, Haffner Serenade with music by Wolfgang Amadeus Mozart; the Dance Theatre of Harlem School; and the return of Nacho Duato's exhilarating Coming Together.
Dinner & dancing to follow at the Ziegfeld Ballroom. For more information and to purchase Gala performance and dinner tickets click here.
Repertory Favorites | Apr 21* at 7:30pm & Apr 23** at 3pm
Pre-performance DJ and Dancing in the Grand Tier Lobby
Higher Ground
Choreography by Robert Garland
When Love
Choreography by Helen Pickett
Orange
Choreography by Stanton Welch
Coming Together
Choreography by Nacho Duato
*Passing the Baton: Post-performance talkback with soon-to-be Artistic Director Emerita Virginia Johnson and Artistic Director Designate Robert Garland, moderated by author, television producer, and arts advocate Susan Fales-Hill (Friday).
Cast and programming subject to change
Dance Theatre of Harlem (DTH) is an American professional ballet company and school based in Harlem, New York City. It was founded in 1969 under the directorship of Arthur Mitchell and later partnered with Karel Shook. Milton Rosenstock served as the company's music director from 1981 to 1992. The DTH is renowned for being both "the first Black classical ballet company" and "the first major ballet company to prioritize Black dancers."
PHOTOS CREDITS: Jeff Cravotta / Theik Smith