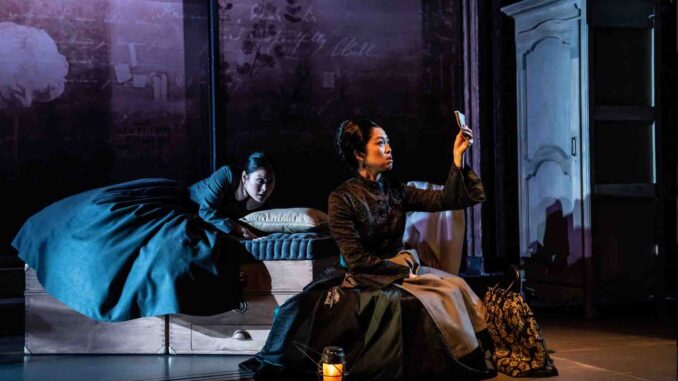 Charlotte Brontë's undiscovered gem, Villette, offers a hero unlike any you've encountered before. Suddenly without family, friends, or funds, Lucy travels alone to an unfamiliar land, determined to carve a path for herself. An eclectic carousel of characters (and one mysterious ghost!) soon draws Lucy into a complicated maze of multiple doorways leading towards fulfillment or peril – which door should she choose?
From the author of the captivating classic Jane Eyre, Charlotte Brontë's Villette finds brash, honest life in this adaptation by Lookingglass Artistic Associate Sara Gmitter (In the Garden) and directed by Lookingglass Ensemble Member Tracy Walsh (The Old Curiosity Shop).
Charlotte Bronte's lesser known novel, Villette, is definitely a hidden gem of distinguished literature. I had heard of the novel, but never had the opportunity to read it, despite being a Bronte fan. I was thrilled to attend the world premiere stage adaptation Lookingglass Theatre.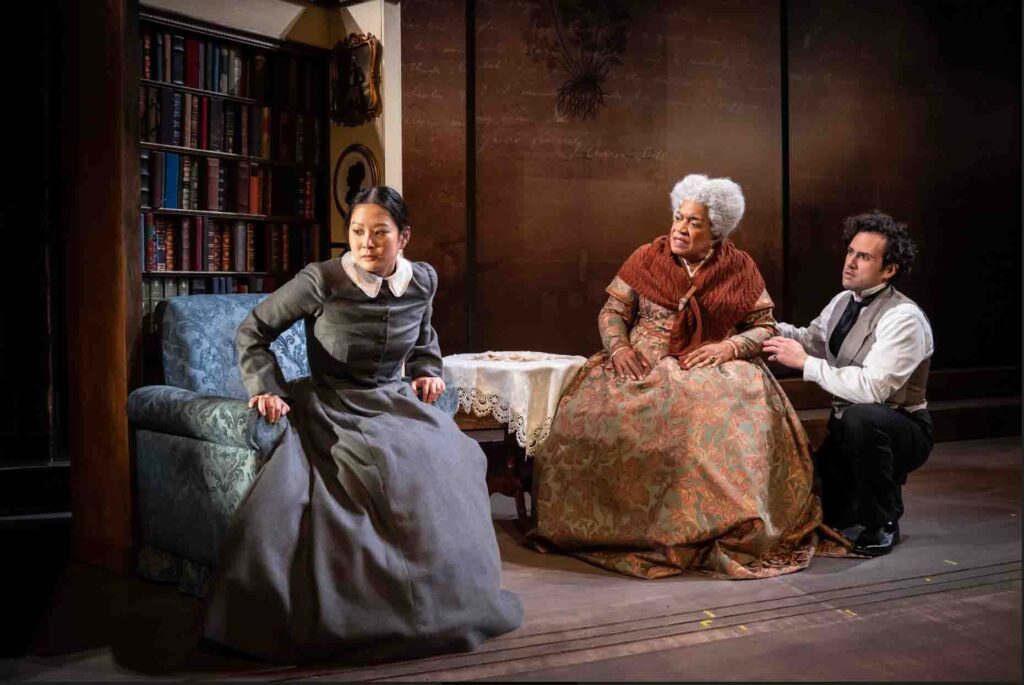 The play was nearly perfect from my perspective, from the exceptional cast to the richly designed costumes to the haunting and moving set design and lighting. It was a story unlike anything I have seen onstage in quite a while. The Lookingglass Theatre offers an intimate setting and experience for the performers on stage and the audience. You end up feeling like you are an actual part of the performance itself. Lookingglass was an excellent choice for Villette, which is an incredibly immersive play in its own right. Immediately, in the opening scene, the main character, Lucy Snowe, emerges right in front of you and provides an overview about what to expect as the story unfolds. The entire experience is engaging, as it allows the audience to peer into the relationships between the colorful, quirky characters, while ultimately all weaving back into Lucy's narrative and thoughts.
Each actor gave an exquisite performance, but especially Mi Kang as Lucy Snowe. She played the humble character with raw emotion, conviction and a persistent nature. She sees her character's quest for purpose, as well as occupational advancement and a gradual elevation of social status amongst the other characters that shifts slowly throughout the play. This aids in her earning respect and admiration from the other characters as they get to know her. Debo Balogun as Professor Paul Emanuel played his character with a mysteriousness, later transforming into a softer persona as he gets to know Lucy and starts to fall in love with her.
Strong performances were also obvious in Helen Joo Lee as Madame Beck, Paul Emanuel's cousin and head of the boarding school where Lucy teaches. I highly enjoyed Mo Shiply as teenage boarding school student, Ginerva Fanshawe, who can come off as ditzy and slightly irritating to Lucy, yet seems to be starving for acceptance and status. I also enjoyed the performances of Renee Lockett as Mrs. Bretton, Lucy's godmother and Ronald Roman-Melendez as Mrs. Bretton's son and Lucy's childhood friends, John Graham Bretton.
Besides the actors themselves, the other stars of Villette were the creative aspects of the stage. The novel was beautifully adapted for the stage by playwright, Sara Gmitter. Director, Tracy Walsh, brought the story to life, along with scenic designer, Yu Shibagaki, lighting designer, John Culbert, co-sound designers, Deon Custard and Brandon Reed, and costume designer, Mara Blumenfeld. The set design of Villette was beautifully haunting and made clever use of the stage's space, which appeared wider than it was deep. The clever use of the sliding panel doors kept transitions between the various scenes smooth, while enhancing the various settings such as the lovely garden at the boarding school with the hanging lanterns. Costume design was also lovely, with much attention to historical detail of the 1850's fashion.
The main highlights of Villette that made thiw a memorable, delightful play included Bronte's 19th century English dialogue, the humor, which was cleverly speckled throughout the story as you get to know the characters, unexpected romantic gestures, adventure, and gothic and supernatural aspects, which all conclude, mysteriously. I highly recommend this play to anyone who is not just a Bronte fan, but also enjoys a good story and well-performed theater.
Photos: Liz Lauren
To purchase tickets for Villette, please visit the Lookingglass Theatre website.