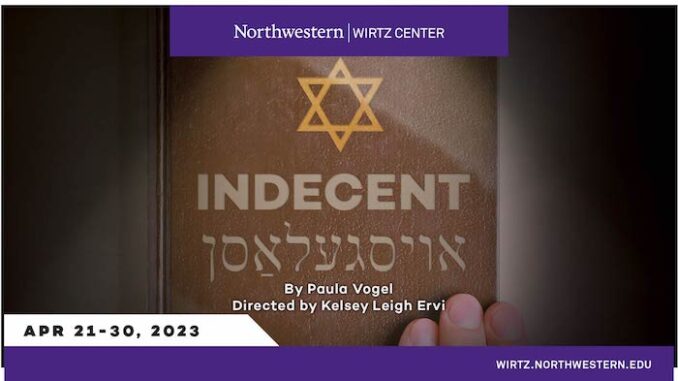 Northwestern's Virginia Wadsworth Wirtz Center for the Performing Arts presents "Indecent," for two weekends beginning April 21.
"Indecent," written by Paula Vogel, has been described as a deeply moving, true story of the events surrounding the controversial 1923 Broadway debut of Sholem Asch's "God of Vengeance," which depicted the first lesbian kiss on a Broadway stage.

"God of Vengeance," an evocative work of Jewish culture, was praised and criticized for taboo themes of censorship, immigration, queerness and anti-Semitism.  It had a short run due to obscenity charges against the artists involved. In "Indecent," a troupe of actors and musicians recount their involvement with the production and take the audience on a journey spanning 50 years.
Directed by Kelsey Leigh Ervi, a graduate student in the School of Communication, "Indecent" begins in 1906 Poland, when "God of Vengeance" was first written. When the play premiered on Broadway nearly 20 years later, the producer and cast were arrested and convicted on obscenity charges.

"Jewish and queer people have been and continue to be falsely demonized," Ervi said. "This play speaks to the importance of uplifting the stories of those communities so that we as a society don't repeat the atrocities of the past."

The identities in "Indecent" cover the immigrant story, the story of an artist, a queer person, and the story of Jewish people and culture.

"What's so beautiful about this play is that it has connections to many different identities," said Ervi. "There's so much celebration in this play. I hope that audiences walk away feeling seen, and that they recognize it's through community that we truly heal together."

A talkback with director Kelsey Leigh Ervi and Rabbi Rachel Weiss of Evanston's Jewish Reconstructionist Congregation (JRC) is scheduled for Thursday, April 27, immediately following the show. The discussion will be facilitated by dramaturg Noah Marcus. 
"Indecent" will be performed in the Josephine Louis Theater, 20 Arts Circle Drive, on the Evanston campus, April 21 through April 30. Tickets are available online or in-person at the Wirtz Center Box Office, Tuesday through Friday, 10 a.m. to 5 p.m., and Saturday, noon to 4 p.m., located in the Barber Theater lobby at 30 Arts Circle Drive or by calling (847) 491-7282.
Kelsey Leigh Ervi, the director of "Indecent" generously agreed to answer questions about this production for Chicago Splash Magazine.
What influenced the choice of this play at this time?
As a director, I'm drawn to stories that explore identity and community. In choosing a thesis production, I was interested in directing a play that integrated text, movement, and music. Indecent checked all of these boxes. The play exists at the intersection of Judaism and queerness. With the rapid increase in anti-queer legislation as well as a rise in antisemitism, this couldn't be a more timely story for today's audiences.
Is there a wish to reach a specific audience?
This play is about many things: the plight of immigrants, artistic censorship, homophobia, antisemitism, the importance of art, the belief that love transcends gender, but chiefly, it is about the power theatre has in creating community for those who have been "othered." An artist. A queer person. An immigrant. A Jew. The people of these identities are similar in that they are all drawn to storytelling and the opportunity to share who they are. And who they are is diverse and complex and deeply rooted in community. If you know the experience of being "othered", or what it means to exist in community with others, I think there is a story for you in this play.
Were there any moments as this play was being prepared that were memorable?
As I'm writing this, we are still in the middle of rehearsals. So there is still much left to be explored and discovered. But a moment that is sure to be memorable for all is a scene that is referenced throughout the play as "the rain scene". It's a moment of unbridled joy between two women in the story. It's a moment of freedom, purity, and love that is sure to be one of the most beautiful moments in our production.
Is there anything you would like to share with the Chicago Splash Magazine readers?
The arrest and censorship trial that inspired this play took place exactly 100 years ago, and in the U.S. today there are still plays you can't produce, books you can't read, words you can't say, and people who can't exist freely or safely. This is a harsh reality with which to be faced. But storytelling is an important and meaningful tool to combat this negativity. There has never been a more important time to support theatre and the stories of identities like those represented in this play. We hope you will join us!
Photos are courtesy of "Indecent".

The Wirtz Center is a member of the Northwestern Arts Circle, which brings together film, humanities, literary arts, music, theater, dance and visual arts.