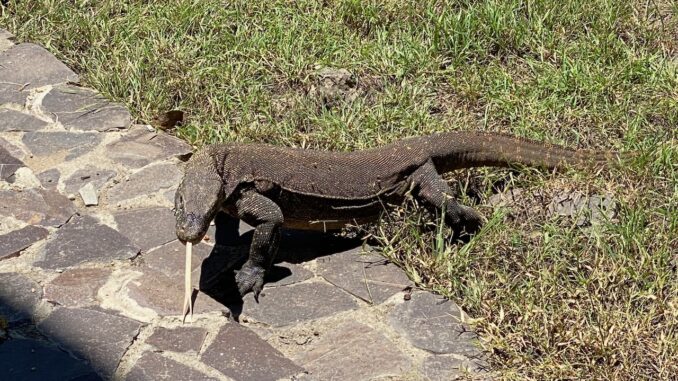 Komodo Dragons! That's what they call the deadly creatures with poisonous venom that can kill a person within hours. But there we were in March, 2023, as part of one of the groups of 20 on the island of Rinca at the Komodo National Park in Indonesia. This excursion offered by Viking Cruise Lines was part of our "Komodo and the Australian Coast" Cruise on the Viking Orion.
Yes, they are called dragons. And yes, they are deadly. We were assured that all safety features were in place for this unique excursion, so we were ready for the adventure. Looking at the island from our small transport vehicle, you would think you were traveling back to some prehistoric time and place.
Almost as soon as we exited the tender we were given cold water. We would need plenty of water in the 90 degree heat with humidity in the 90s. In fact, it was recommended that we take the umbrellas provided as protection from the blazing sun.
Periodically, we would be greeted in specially constructed sun shaded areas by locals providing cold cloths and more water. Escorted walking groups are restricted to 20 and there is a cap on the number of visitors per day. You must stay with the group.
Komodos are in fact the largest lizards in the world. The kind of creature you'd expect in a Jurassic Park movie. They look like underfed dragons or overfed lizards. In either case, you don't want to interact with them. So you are no doubt wondering how we stay safe there. Platforms. We walk well above the ground on elevated walkways. And for extra good measure our guides have forked sticks and pistols. And they are keeping an eye on us and the dragons
These animals can grow up to ten feet long and usually weigh in at around 150 pounds. Rinca island is home to about 1300 of them. But they aren't the only inhabitants of this human-free home. There are deer, wild horses and some little boars as well as some fruit bats. Offshore, there is an abundance of sea life including dolphins, whales, and fish.
We saw a few deer and many of the guys that brought us there – the Komodo Dragons. In fact, as luck would have it (or were they kidding us) our guide Fouzy commented to us that there were more than usual visible to us that day. They generally avoid the heat of the day.
The giant reptiles are not fussy eaters. They are apex predators at the top of their food chain and are cannibalistic. If necessary, they will consume their own young.
During our tour, we were escorted into a small museum to learn a bit more about the local area. We learned that the Park was declared a World Heritage Site and a Man and Biosphere Reserve by UNESCO, both indications of the Park's biological importance.
And yes, it had rest room facilities and the tiny requisite gift shop.
Our tour lasted about an hour and then back to the jetty for our 30 minute ride to the ship. We were hot, we were tired, but we were glad that we took advantage of the opportunity to visit this dangerous, but endangered species in its native habitat.
Article by Dianne Davis and Burt Davis Photos by Burt Davis or Dianne Davis