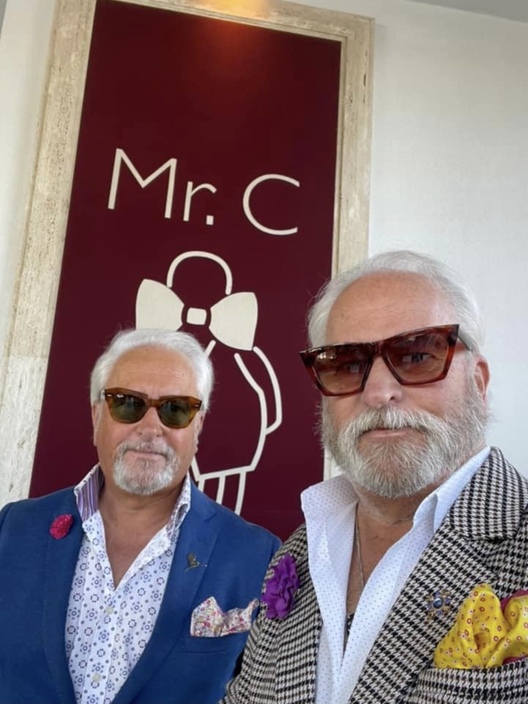 The fun and glitzy Wow! Creations Oscar Gift Suite took place at the elegant Mr. C Hotel in Beverly Hills on Monday, March 6.Celebrity guests were treated to a red carpet, a violinist playing beautiful music and a variety of sumptuous and luxurious gifts. 
Wow! Creations is an annual Pre-Oscar Celebrity Gifting Lounge produced by twin brothers Mark and Matt Harris who have an eclectic background of working in Mortgage Banking, starring in A&E's "Storage Wars," judging beauty pageants and many other endeavors.       
Mr. C Hotel is "a modern vision of old-world simplicity and stylish European glamour." The charming and chic lobby was beautifully decorated with a centerpiece of white lilies, a shiny piano, a book case, a table with a chess board and gorgeous chandeliers. The Wow! Creations Gift Suite venue took place on the rooftop of the hotel which offered panoramic and stunning views of Los Angeles.
Classically trained violinist, Ben Hoyt provided entertaining, captivating and beautiful music throughout the day. Ben is based in Los Angeles and is a composer and producer. He is a graduate of the Peabody Institute of John Hopkins University and has performed at Carnegie Hall and worked with many organizations including the Los Angeles Philharmonic.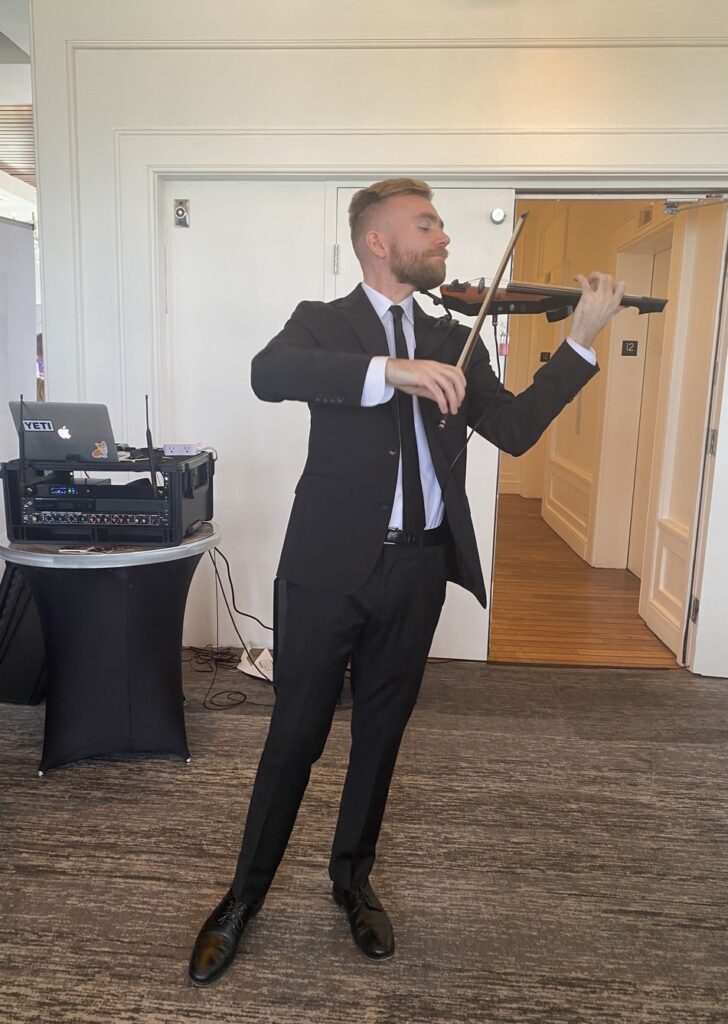 Pacific Coast Aesthetics provides a specialized holistic approach to skin, face and body cosmetic treatments and is located in Aptos, California. Services include laser treatments (BBL, HALO, Skintye, diVA, VISIA, Moxi) and in particular the Sciton laser which addresses pigment, redness, collagen stimulation as well as laser hair removal. Other services include body contouring, skincare glow, acne treatments, cellulite treatments and injectables (botox, Xeomin, etc.). Pacific Coast Aesthetics and Medical Spa is led by Dr. John Beuerie and April Umek.
www.pacificcoastaesthetics.com
Potency No. 710 had a booth beautifully decorated with flowers. Potency No. 710 was created by Aesthetician Mandy Life and has a line of skincare products which include Filthy Face, Modern Mist, Gold Serum, Suncare, Future Face and Higher Good which include CBD and CBG. Her products have been featured in Allure, Modern Luxury, etc.
Gel Blaster Starfire and Surge are blasters with no mess or clean-up technology so you can battle indoors and outdoors. The Gel Blaster Starfire offers glow in the dark blaster action and you can experience hours of fun and epic backyard battles mess-free. These innovative and fun products are available at Walmart. Gel Blaster was founded by CEO Colin Guinn.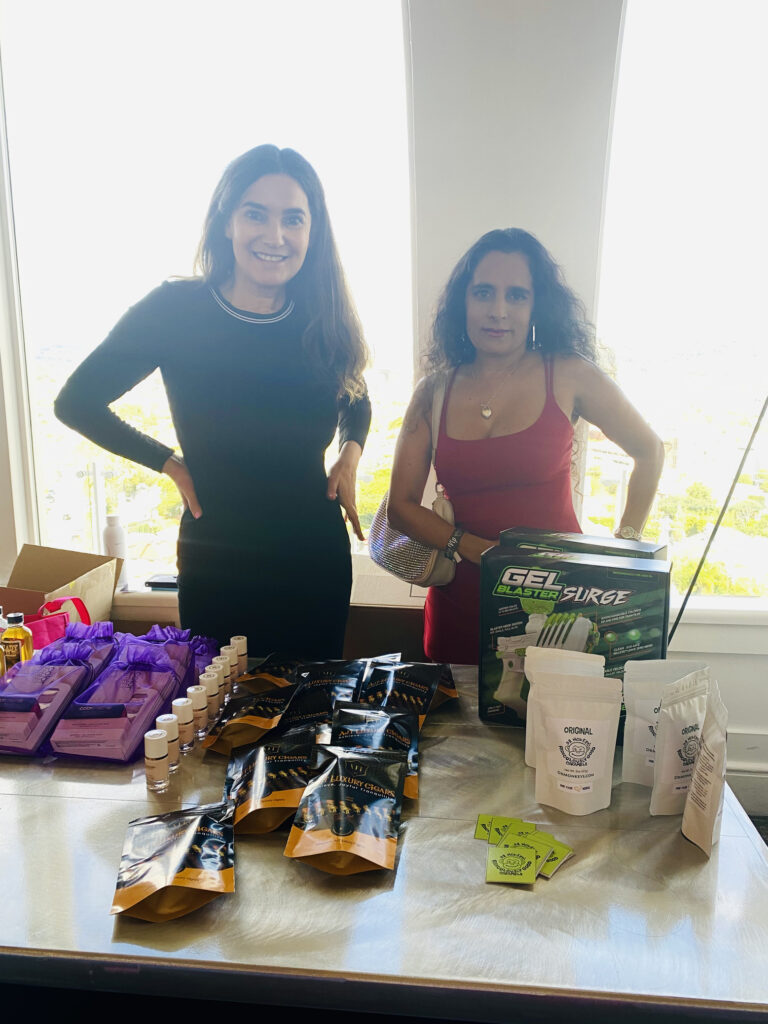 D1 Development specializes in establishing and marketing private and national label spirit brands. Brands include Shady Mile, Ambush Canyon and Lone Republic Vodka. D1 Development is located in Queen Creek, Arizona.             
Knox & Dobson crafts premium, ready-to-drink cocktails are made with quality ingredients including barrel-aged whiskies, Maraska Maraschino Liqueur and Angostura Bitters. The cocktails are in high quality, handcrafted bottles and with unique flavors. The collection of tasty flavors include Martini which is a take on the classic martini combining gin and dry vermouth. The Old Fashioned is a ready to drink cocktail which consists of aged bourbon, cane sugar, orange oil and Angosta Bitters. The Improved Whiskey cocktail is made with aged rye whiskey, Maraska Maraschino Liqueur and Angosta bitters. The Rye Manhattan cocktail is made with aged rye whiskey, vermouth and Angostura bitters.
Luxury AJT Cigars (Achieve Joyful Tranqulity) are hand rolled in Nicaragua and made from the finest Nicaraguan tobaccos. These high quality and luxurious cigars are delivered around the world. These cigars are perfectly handmade with expert artisanal skill which takes years to master. Blending the tobacco is both an art and science and AJT Cigars has experts who have mastered this skill to bring high quality, excellent cigars to the cigar aficionado.
Beverly Hills Teuscher are Chocolates of Switzerland and are located on Camden Drive in Beverly Hills for the past 35 years. They serve the Teuscher family's hand crafted Swiss truflles. Their champagne truffles are made exclusively with Dom Perignon. Other chocolates include Dragee, Extra Butter Truffle, Almond Gianduja, Apricot Liquor, Assorted Vegan Truffles, Bailey's Truffles, Belle Epoque, Framboise Liqueur, Calvados Liquor, Florentines, Cherries in Grappa, Raspberry Jellies, Caramel Truffles and many other decadent chocolates.
Dr. Monkey's Ridiculously Good Caramels are delicious and yes, ridiculously good!!! These small batch of artisan caramels contain sugar, cream, corn syrup, evaporated milk, butter, cream, salt and natural flavors. They are made in Durham, North Carolina and contain no preservatives or artificial ingredients. Caramel flavors include the original, butter rum, cinnamon, coffee, coffee cinnamon, chocolate, spicy chocolate and orange cream.
Color Street offers nail polish strips, nourishing hand and nail care products and make-up. Color Street was founded in 2017 by Fa Park. These nail polish strips are vibrant and glossy and they last for ten days. They are easy to remove with nail polish remover.
Wrapped Clothing had a booth that showcased unique wraps from gorgeous silk scarves, shrug wrap scarves, the shoulder shrug, cozy clothes etc. These pieces are timeless, stylish, functional and comfortable. This family business was inspired from roots in Greece and Armenia and the clothes are designed, sourced and produced in Los Angeles.
Peach X Pearl is a beauty technology company that specializes in anti-aging and cosmetic solutions. Women's accessories are sold as well. The Peach X Pearl Leather Tote is a custom signature tote bag made with high quality leather fabric with cotton lining. It is made in Pakistan and designed in the U.S.A. The Petal Pink Satin Scarf is embellished with geometric triangles and shapes.
Happy Grub had delicious tastings of their "squeezable instant pancake mix" cooked pancakes made of natural and organic ingredients. Happy Grub is so easy and fun for the family to cook together, is mess free and the mixes make fluffy, delicious tasting pancakes. Happy Grub was created by America's Mom, Ashley Davis who served me an Oscar designed pancake. Happy Grub mix comes in four flavors of Buttermilk, Whole Wheat, Yummy Banana and Apple Cinnamon.
Perbella Jewelry displayed beautiful jewelry owned and designed by Nicole Hellmich who is based in Irvine, California. Perlabella jewelry is handmade and fashionable and includes pieces such as "Blue Jubilee", "Becky Roasry", "The Pacific", etc. Nicole combines fine leather, natural stones and metals to create fashionable, wearable art.
Wood Legal Group LLP focuses on Estate Planning. Wood Legal Group also provides Child Guardianship Planning, Trust Administration and Probate Litigation. They also offer webinars which discuss wills, trusts and generational wealth planning. Wood Legal Group is an African American mother-daughter estate planning law firm. They are also on a quest to normalize the idea of black, latinx and LGBTQ families using trusts to build generational wealth. They serve all families with special attention to the unique needs of Black, Brown and LGBTQ families.
Andre Notice is a life coach, author, speaker, realtor and poet. His speaking topics include finding your purpose, success in entrepreneurship, power of the mind, power of the unspoken word, understanding relationships, poetry, how to build your dream life, how to write goals effectively and residential/commercial real estate. Andre's caring, compassion and community efforts have led to many speaking engagements, TV and media appearances, award and magazine features. Before this success, Andre was once homeless for three years which included sleeping in his car while selling homes and now he is coaching others to remind them that their past does not influence their future.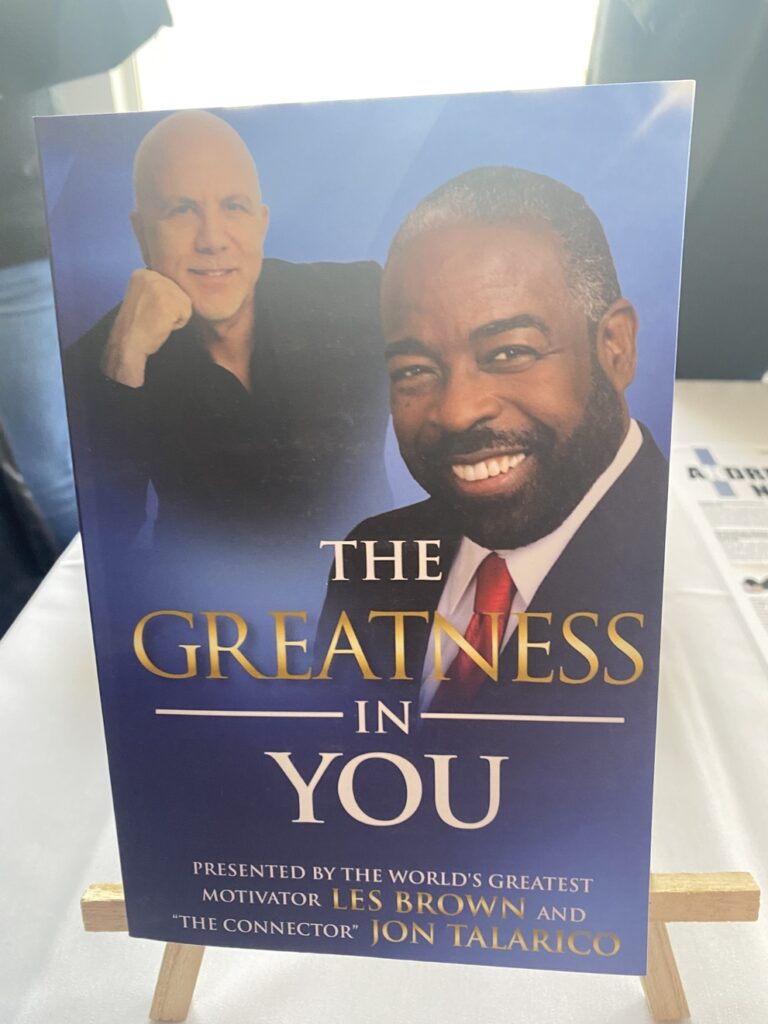 Helen Ficalora is the founder of the alphabet charm craze – the original initial necklace! Jewelry for sale also includes charms, chains, earrings, rings and bracelets. Helen Ficalora's beautiful boutiques filled with dazzling chandeliers and magenta walls are located in New York, Chicago, Dallas, Bridgehampton and Palm Beach. Some of her best sellers are "A" Alphabet Charm and "Mom; Disk Charm with Diamond.
La Casa del Camino is a classic, historic, Spanish-style hotel in Laguna Beach, California and is just steps from the Pacific Ocean. It is a sumptuous place to relax and unwind with beautiful views. The hotel has a three bedroom "California Beach Bungalow", stylish "Surf Rooms" and the Rooftop bar which has stunning and panoramic views of the Pacific Ocean. The Comedor Restaurant serves Spanish/California style tapas and delicious entrees.
Absenthia Bottled Spirits has won many awards for the Best Woman Distiller. The spirit collection includes Absinthe Blanche which is made with grape distillate, Artemisia, absinthium (grand wormwood), fennel, anise and coriander. Absinthe Verte is made with grape distillate, Artemisia absinthium (grand wormwood), fennel, anise and cardamom. The Barrel Aged Absinthe is the blanche rested in rye barrels for four months. Craft Syrups include Cherry Bomb, Caged Heat, Crimson Smoke and Fairy Dust. Owner Absinthia Vermut is an artist at heart and attended NYU'S Tisch School of Arts and received her BFA in Photography and Art History.
Cho Wines offered delicious tastings of sparkling wine. Dave and Lois Cho are a husband and wife duo from Oregon and are Korean-American wine-makers who launched their label during the pandemic realizing their decade long dream. They craft authentic wines from higher elevation sites in the Willamette Valley, Oregon. Current label releases are Cho Pinot Noir Rose, Cho Pinot Noir Blanc, Cho Petillant-Naturel Pinot Gris, Cho Petillant-Naturel Pinot Noir, Cho Willamette Valley Pinot Noir and Cho Blanc de Noirs.
Just Food for Dogs is located in Malibu, California andprovides fresh food for dogs such as Fresh Frozen, Pantry Fresh, Variety Packs, Custom Meals, Vet Support and Treats. Food products for dogs include Venison Squash Recipe, Chicken and White Rice Recipe, Turkey and Whole Wheat Macaroni Recipe, Fish and Sweet Potato Recipe, Beef and Russet Potato and Lamb and Brown Rice. Treats include Pumpkin Treats, Beef Brisket Treats, Beef Liver Bark Treats, Chickem Breast Treats, Venison Treats, Salmon Bark Treats, etc.
Pooch Le Luxe contributes to dogs living a healthy and pampered lifestyle and provides pantry and cooking for a pampered dog. Julissa de la Cerda created a luxury dog flavorful cookbook with gourmet and safe recipes to pamper your dog such as Boeuf Hache et Quinoa, Spaghetti aux Boulettes de Viande, Pot au Feu and Crème Chantilly. Julissa also sells luxury dog's food seasoning such as the Golden Mix (turmeric, ginger and cinnamon), California (Dill, Mint and Parsley), etc. and Almonds and Oats Dog Cookie Mix. Julissa lives in Los Angeles and her adorable bichon has a sophisticated palate.  
Pure Strips are energy strips that are fast acting strips that melt in your mouth, are easy to carry, have no sugar or low calories and create a boost of energy without caffeine side effects. The advantages of Pure Strips are easy to use, yields fast results, are safe and are a healthy alternative to energy drinks and other products. Pure Strips are available at many 7 Eleven stores in the Los Angeles area.
Skin Sutra are skin and beauty products created by Dr. Suzanne Gokel, DO who is a family and esthetic physician and has practiced medicine for two decades. Skin Sutra skin care products create a healthy, radiant skin which include The Daily Ritual, Anti-Aging Trio Acne Prevention Program, Rejuve Eye Cream, Replenish Collagen, etc.
Bea Natural Skin Care displayed body creams which had lovely, fragrant scents. The Esther's Body Cream contained shea butter, goat milk, avocado oil, orange and bergamot.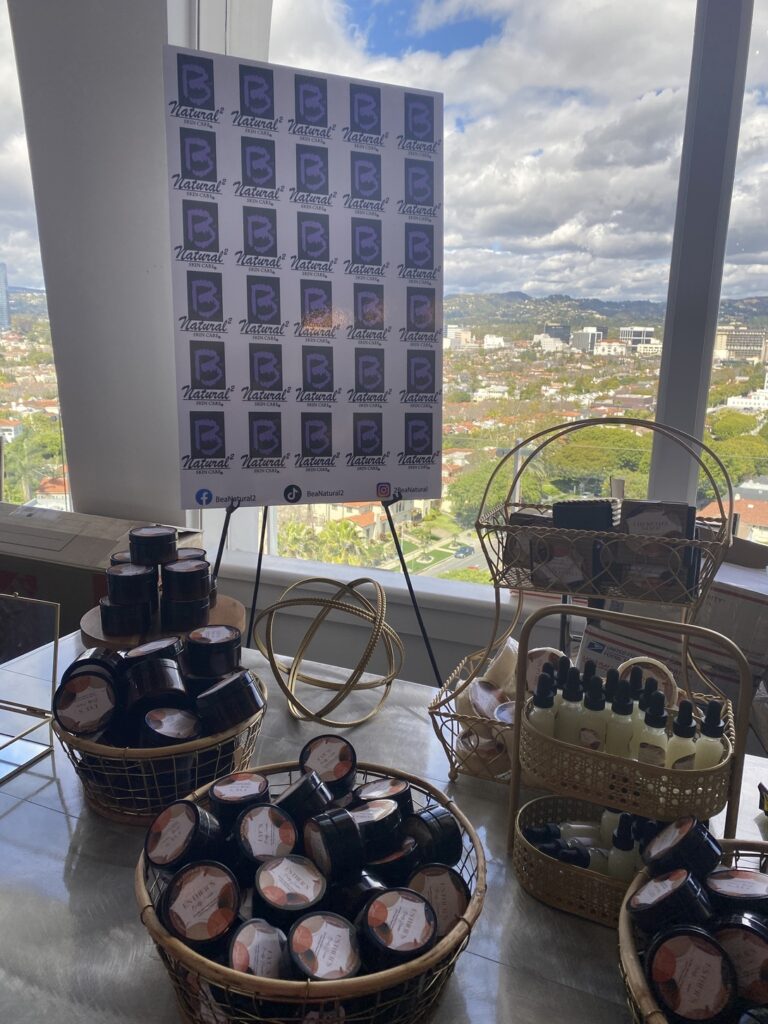 Nicole Sassaman showroom was established in 2015 and is located on Robertson Blvd in Los Angeles. The showroom is a collection of home décor. Nicole is a real estate flipper, designer and a television host and has been featured on HGTV, Fine Living and the Style Network. She has released books entitled "Design Life", "100 Sassy Tips" and "Barbie Penthouse."
Dulce Vida Tequila makes tequila with blue agave from the Los Altos (Highlands). Dulce Vida produces tequila in the village of San Ignacio Cerro Gordo at Campanaro. These tequilas are 80 proof and flavors created are Organic Blanco, Lime, Reposado, Anejo, Grapefruit, Pineapple Jalpeno, etc. Product delivery partners are Instacart, Drizly, Total Wine, Bevmo, Caskers and Specs.
FilterLESS Era skincare kit replaces injections with a variety of products in its collection which includes a Skin Perfecting Clinical LED Light Therapy Mask Wireless, Cell-U-Later Premium Body Contouring Oil, Facial Roller, etc. Sarah Fraggis is the founder and CEO of FilterLESS Era.
Mineral Fusion make-up is made from natural minerals and ingredients that are gentle and safe for the skin. Mineral Fusion has a wide variety of products such as eyeshadows, lipsticks and lip glosses, concealers, foundations, powders, blushes, mascara, eyeliners and even vegan nail care. Mineral Fusion began as a mineral cosmetics brand in 2007 and its products include lightweight minerals, nourishing botanicals and age-defying antioxidants.
Skimmet was co-founded by M'Lisa Ellis and is a social media tool that laser targets meaningful and important conversations in your Facebook groups by alerting you whenever keywords of your choice are mentioned. It helps to save time, increase sales, manage your brand and build a community. Skimmet helps you target the right people without spending time scrolling through groups and generates leads faster and will also bring the exact conversations you are looking for straight to you. You can try the Free Plan for one month, the Basic Plan for $19 a month and the Unlimited Plan for $49 a month.
Bluelene skin care products contain Methylene Blue which plumps and tightens for an instant lift; reduces wrinkles, crow's feet and fine lines; provides hydration and reduces age spots; doubles collagen and elastin production. Bluelene products range from night creams, daily moisturizers, eye creams, sunfix, serum plus to face and body glow creams. According to Bluelene, their research shows that Methylene Blue outperforms Retinol without irritation. Dr. Kan Cao is one of lead scientists in anti-aging research – she discovered that a common dye, methylene blue, has incredible anti-aging properties for human skin.
Smoke Lab Vodka is India's first premium vodka and is made with high quality basmati rice and pure Himalayan spring water. The vodka is distilled five times using ultra-modern charcoal filtration. Smoke Lab Vodka has the Classic Vodka and the Aniseed Flavored Vodka.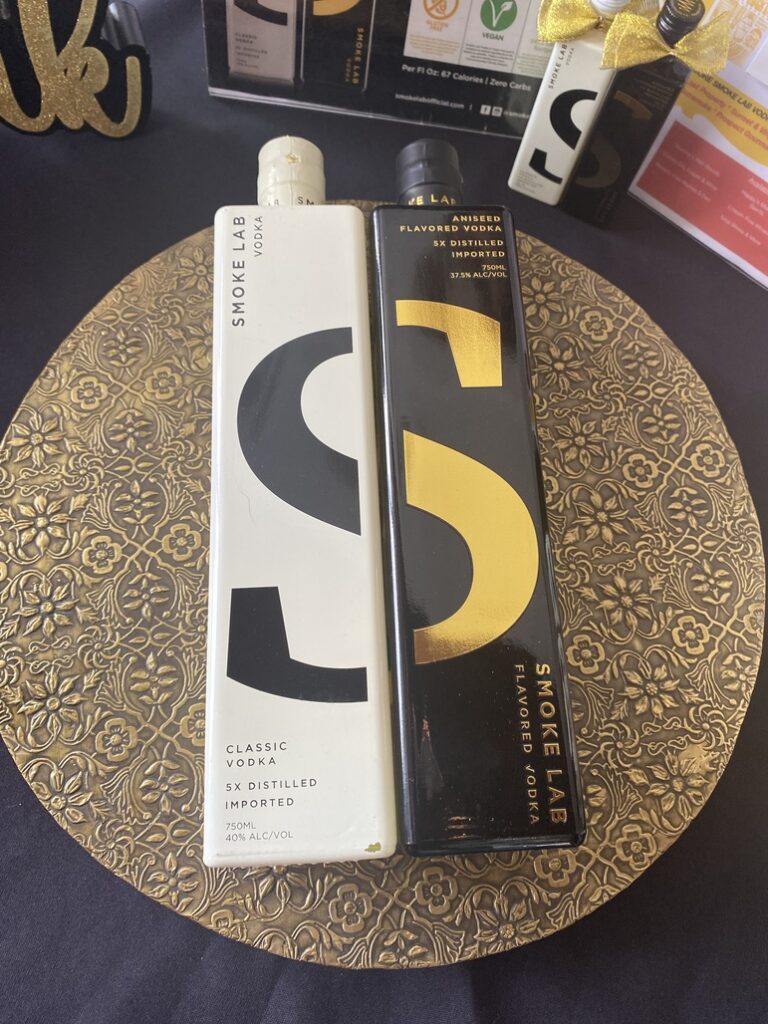 Hope929 is working to create social change through workshops teaching kids to use their voice as a tool to fight for injustice. They learn to research, write and present speeches on issues that are important to them. "Every voice has the power to change the world!" Uncle Selwyn Jones, the uncle of the late George Floyd inspired the foundation of Hope 929 which offers speaking engagements, podcasts, educational opportunities and local community events. Hope929 "empowers others by promoting inclusive and equitable communities." Liz Darden is the Co-Founder/Executive Director and Uncle Selwyn Jones is the Co-Founder/Ambassador.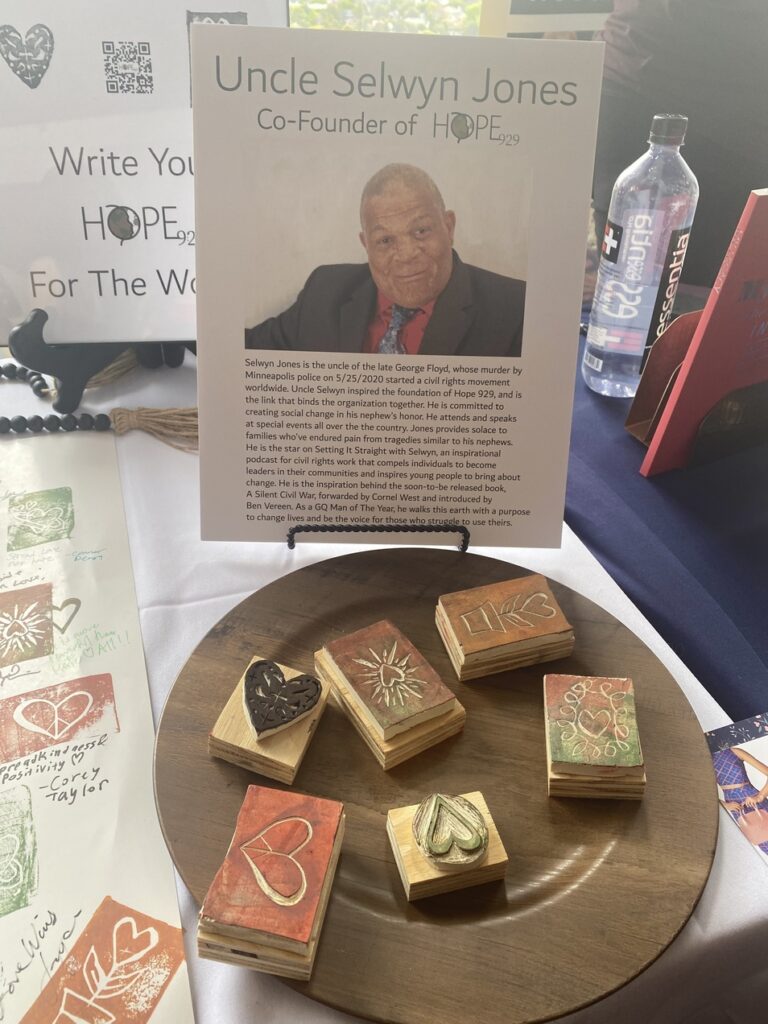 Kimberly Meredith is a medical intuitive healer who published her book "Awakening to
the Fifth Dimension: Discovering the Soul's Path to Healing." The book covers topics such as "the present moment and miracles", "let go of fear", "love freely", 5th dimension chakra balancing system, etc. Kimberly has an office in Encino, California and does in-person private sessions for adults, children and pets. Kimberly is a world-renowned celebrity medical intuitive medium, healer, bestselling author and media influencer. Kimberly hosts The Medical Intuitive Miracle Show which appears on all major platforms including numerous television shows, expos, magazines, podcasts and radio shows.
Rio Sirah did creative body painting on models. Rio is an artist, bodypainter and digital visionary. Rio also sells edible art for the fun and lovely – Edible Love Chocolate Body paint.
@Rio.sirah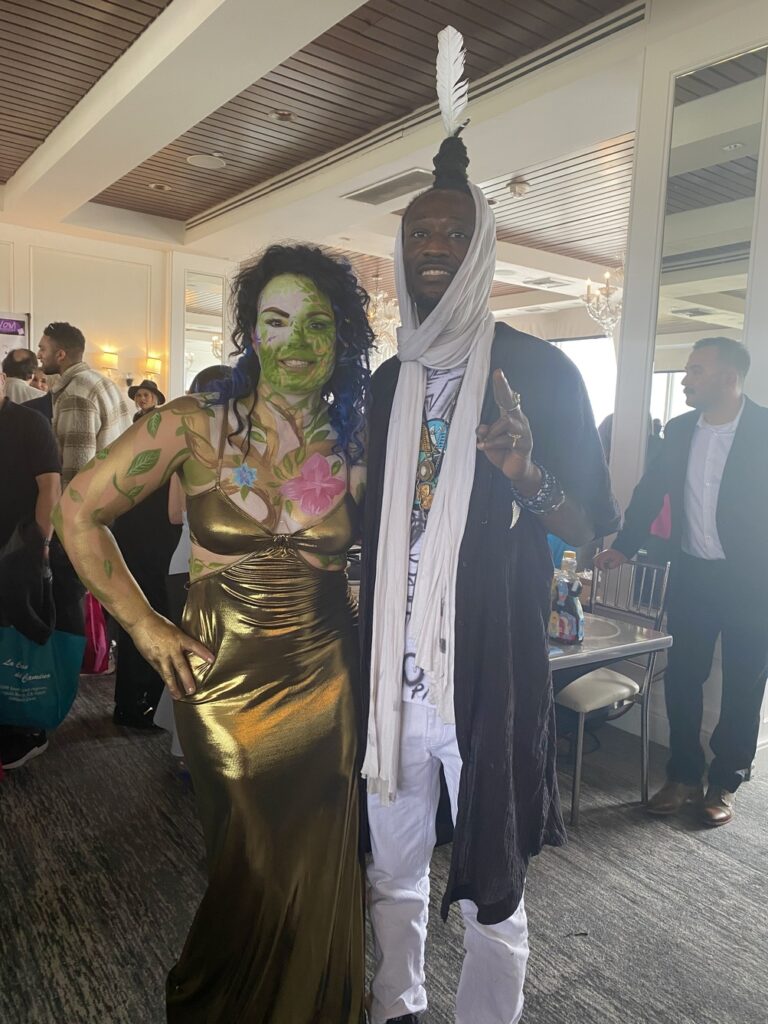 PLEASE NOTE: I do not personally endorse or consume any of the products mentioned in this article. I am a writer reporting about this event and the products only.