Inspired by Georges Seurat, the French pointillist painter, and Seurat's most famous masterpiece, "Sunday Afternoon on the Island of La Grande Jatte," SUNDAY IN THE PARK WITH GEORGE mixes truth and fiction as it relates seminal events in the artist's short life. A true "artist's artist," Seurat immersed himself in his work to the exclusion of all else – possibly both his strength as an artist and his weakness as a man. With music and lyrics by Sondheim from a book by James LaPine, SUNDAY IN THE PARK WITH GEORGE may be Sondheim's most acclaimed and innovative musical. The show opened on Broadway in 1984, winning the 1985 Pulitzer Prize for Drama, two Tony Awards for design, numerous Drama Desk Awards, and – with time, the 1991 Olivier Award for best musical and the 2007 Olivier Award for outstanding musical production. Sondheim's masterwork has been revived around the world – with the most current, vibrant revival at the Pasadena Playhouse in 2023.
The first act is set in Paris in 1884. An obsessive-compulsive Georges Seurat (Graham Phillips) is working on getting his paintings just right by bringing order to the whole "through design, composition, tension, balance, light, and harmony." In many ways ahead of his time, Seurat is considered a quirky fringe artist by his contemporaries. His model Dot (Krystina Alabado), who just happens to be his mistress – is clearly in love with the oblivious artist. But George's focus remains elsewhere as he nurtures his talents and philosophy. One of George's favorite spots to sketch is at the park, filled on Sundays with all manner of people out to enjoy the sunshine, trees, and nearby lake. His mostly unaware subjects include his cantankerous mother (Liz Larsen) and her lovelorn nurse (Jennie Greenberry), an American tourist couple (Jimmy Smagula, Alexandra Melrose), an annoyed boatman (Brian Cali), a pair of giggling Celestes (Jenni Barber, Juliana Sloan) trying to attract the attention of two handsome soldiers (Armand Akbari, Trevor James), and other characters who typify Parisians of the time. These Sundays are perfect – and now suspended in time for all to enjoy. But time passes, and Dot finally accepts George's single-minded pursuit of his goal and finds a new man, a portly baker (Robert Knight) who adores her and is willing to care of her during her pregnancy and raise as his own her daughter by George.
The second act takes place in New York in 1984. A century has passed, and George and those he knew are gone – but his daughter Marie (now 98) is still alive and has come to speak at a reception for her artist grandson George, who is unveiling his latest work of modern art called Chromolume #7 (after six false starts). This modern and skeptical George is unaware of his genealogy, but Marie is prepared to fill him in from talks she had with her mother Dot – and notes in back of her mom's old grammar book. When George is invited to present the Chromolume at the very spot in Paris where his forebear created the painting, he just might become a believer.
Carefully helmed by director Sarna LaPine, SUNDAY IN THE PARK WITH GEORGE is a vivid picture-perfect rendition which could have been designed by Sondheim himself. Lyrics are witty, clever – and, of equal importance – audible and understandable – with the aid of gently lilting tunes rising from a live orchestra located at the back of the stage and nearly invisible. Talented vocalists are experts in acting – and enunciation (a vital combination for the show). This is a very well-selected ensemble cast who keep to the spirit of Seurat's vision.
Kudos are also in order for the creative production team, including Beowulf Boritt for scenic design, Clint Ramos for costumes, Ken Billington for lighting, and Danny Erdberg and Ursula Kwong-Brown for sound. The team has created a ravishing, lush masterpiece. And let's not forget music director Andy Einhorn, who knows exactly when to remain in the background and when to crescendo. Audiences will gasp at the magnificent rendition of Seurat's masterpiece at the end of Act 1.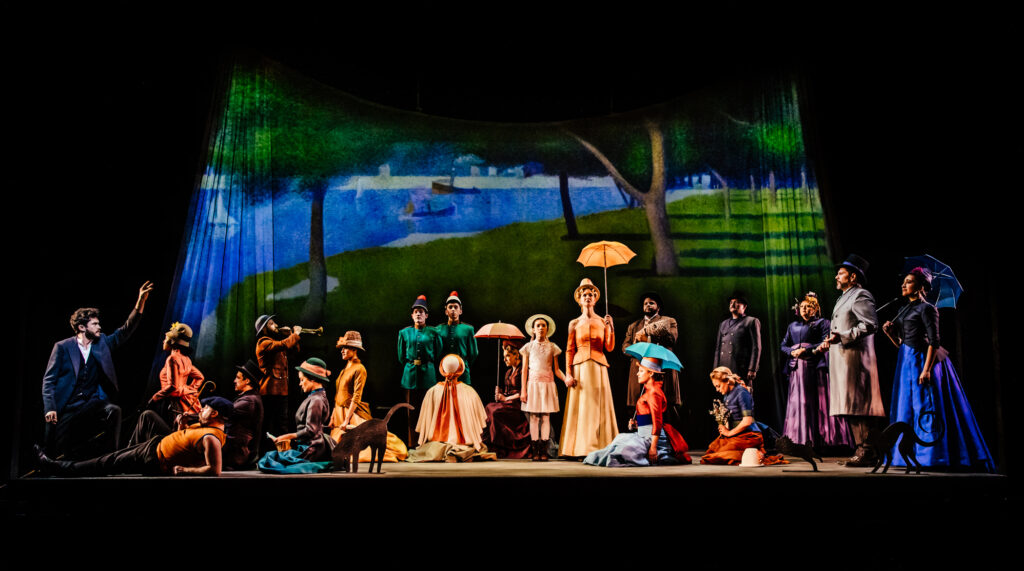 SUNDAY IN THE PARK WITH GEORGE is a vivid, moving, and insightful interpretation of Sondheim's coup-de-maitre. This is a fascinating, absorbing, and highly entertaining peak at an artist – his life, his developing skills, and his concentrated focus. The musical is also well planned, carefully constructed, and lots of fun. What better way to enjoy a study of the complexity of life – and the art of understanding it?
SUNDAY AT THE PARK WITH GEORGE runs through March 19, 2023, with performances at 8 p.m. on Tuesdays through Fridays, at 2 p.m. and 8 p.m. on Saturdays, and at 2 p.m. and 7 p.m. on Sundays. The Pasadena Playhouse is located at 39 South El Molino Avenue, Pasadena, CA 91101. Tickets begin at $39. For information and reservations, call 626-356-7529 or go online.