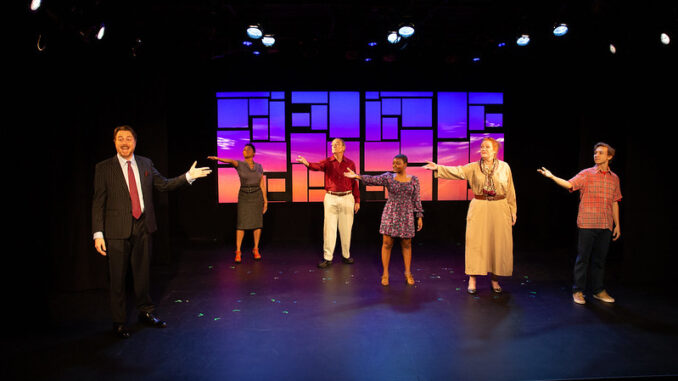 Now in its 12th year, the 10×10 Upstreet Art Festival in Pittsfield, Massachusetts, is beloved in the Berkshires for bringing a much-needed dose of vitality to our dreary midwinter, long after the past year's summer cultural season has ended and well before it begins again. From the start, Barrington Stage Company has contributed to the multimedia programming with its 10×10 New Play Festival, a collection of ten ten-minute stageworks, performed by a versatile cast of six actors—some 10×10 veterans, some newbies—who gamely play a multitude of characters and manage lightning-speed costume changes to keep up the rapidfire pace.

Typically, the plays are light fare, and of variable quality, with a mix of small gems and clunkers, and yet audiences return every year, because it's a fun, lively event and an opportunity to see fellow theater fans who've been hibernating through the off-season. This year, however, the New Play Festival brought a full slate of winners; I know I'm not alone in this assessment, because most nights the St. Germain Stage (BSC's smaller theater) was sold out, and the run has been extended through March 12. Some of this year's plays were written by repeat contributors, and some by neophytes.

This year's 10×10 New Play Festival also marked the local debut of BSC artistic director Alan Paul, who recently stepped into the formidable shoes of the organization's founder, Juliane Boyd. Arriving in the Berkshires after 15 years at the Tony Award-winning Shakespeare Theatre Company in Washington, DC, Paul directed five of the Festival plays, and the pressure was on for him to shine, especially since his predecessor Boyd was in the audience at the matinee I attended.

The other five plays were directed by longtime 10×10 veteran and Emmy Award-winning television director Matthew Penn, whose Berkshire roots run deep. (His father, Arthur Penn, directed the iconic 1960s film Alice's Restaurant, based on Arlo Guthrie's shaggy-dog song/story of the same name, which brought this region its hippie-era cred.) Penn has long championed new works for the theater, having been a founder of the Berkshire Playwright's Lab, which produced staged readings for emerging writers.

All of which is a long introduction to a glowing review of the 12th Annual 10×10 New Play Festival, which delivered a delightful blend of sweet, surreal, surprising, sad, suggestive, and sometimes even subversive succinct stories. With solid acting, sensitive directing, and simple, serviceable set and lighting design, I give it a perfect ten.
The program began, per tradition, with the full cast performing an overture set to a Broadway classic—in this case, C'mon, We're Starting the Show, written by ten-year veteran cast member Matt Neely to the tune of Frank Loesser's Sit Down, You're Rocking the Boat from Guys & Dolls. Stephen Kaplan's "Right Field of Dreams," directed by Paul, was a solid opener: ten-year-old Tim (played by Skyler Gallun), a reluctant right fielder, gains the courage to share some personal secrets with his coach—who also happens to be his father (Neely)—thanks to a visit from a spectral Toni Stone (Camille Upshaw), the first woman to play professional baseball in the previously all-male Negro leagues.
Up next: "A Date," by Diana Metzger, in which a young man and woman on a blind date (Gallun and Sky Marie) manage to get together despite the presence of her date translator (Neely) and his mother (BSC associate artist Peggy Pharr Wilson). In "Anything You Want," by Arlene Jaffe, legendary Berkshire artist Norman Rockwell (Robert Zukerman) makes a surprising deal with a young journalism student who wants to photograph him for an assignment. It's only natural, given the references to Alice's Restaurant, that this is Penn's first at bat of the program. In "Gimme Shelter," by Robert Weibezahl, a sullen young man (Skyler) unhappily living with his parents at their Florida retirement village warms up to an older woman (Pharr Wilson) when he learns of her rock & roll past.
A kid's birthday party goes terribly wrong in "Real Magic," by Brent Askari (who had a hit last summer at BSC with Andy Warhol in Teheran), when a couple (Gallun and Marie) hire his work colleague (Neely) to put on a magic show. The mood lifts when the mom (Upshaw) of a traumatized partygoer turns out to have had a romantic past with the hapless magician.

Following half-time intermission, in "The Moon is Full of It," by Jim Moss, a clever court jester (Neely) woos a scholarly alchemist (Upshaw) by demonstrating that his magic is based on science. The mood turns somber with Michael Brady's "If I Go First" when an elderly couple (Zukerman and Pharr Wilson) have a tender end-of-life conversation at their favorite diner, with gentle interruptions by a solicitous waitress (Marie). In "Piece of Cake," by Allie Costa, a neglected daughter (Upshaw) reconciles with her father (Zukerman) at the bakery she has taken over from him when he relinquished his role as The Muffin Man.
A couple gets more than they bargained for when Tom (Gallun) books a romantic, spooky getaway for his "weirdo wife" Bethany (Marie) in "The Haunting Package" by Deirdre Girard. The program ends on a philosophical note in "All Aboard!," by Michael Burgan, as a train passenger (Neely) gets a lesson in quantum physics and metaphysics from a conductor (Pharr Wilson) and fellow travelers from his past and future (Zukerman, Marie, and Upshaw).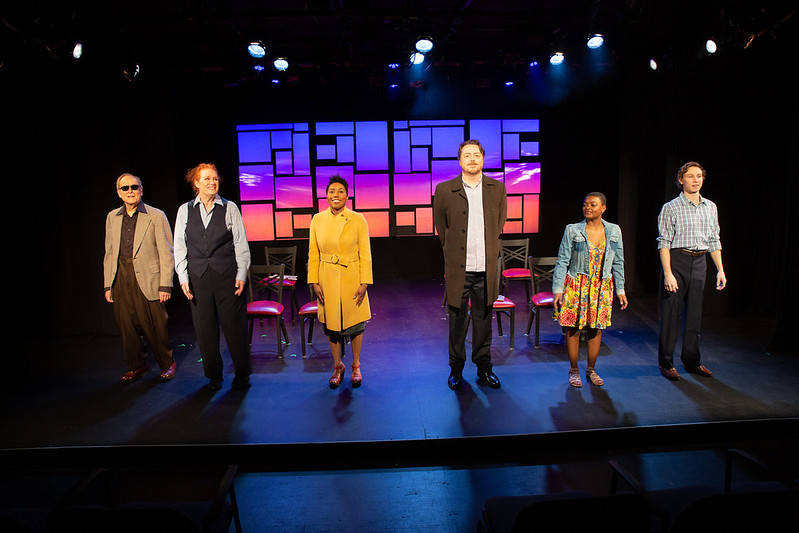 This winter's New Play Festival went ten for ten; it the audience left having shared hearty laughs as well as a few sentimental moments and provocative thoughts. The solid programming bodes well for Alan Paul's first full season at BSC, which kicks off on May 24 with the world premiere of The Happiest Man on Earth by Mark St. Germain at his namesake stage, and continues with Paul directing Cabaret on the larger Boyd-Quinson Stage June 18–July 8. Other mainstage productions include Blues for an Alabama Sky, by Pearl Cleage, and A New Brain, with music and lyrics by William Finn and book by Finn and James Lapine. Back at the St. Germain Stage, the season continues with Tiny Father by Mike Lew, a world premiere in conjunction with Chautauqua Theater Company. Season passes are on sale now, and individual tickets go on sale March 14.

Looking forward to summer in the Berkshires: Music, dance, and theater galore

Another aspect of the 10×10 Festival of New Plays is that it whets the collective Berkshires appetite for the cultural rebirth of summer. And, like BSC, most other major cultural organizations in the region have already announced their summer programming.
In addition to its one-night presentations of music, magic, comedy, and other entertainments, Berkshire Theatre Group presents a full slate of plays, and the 2023 schedule is ambitious and exciting. It starts at the smaller Unicorn Theatre in Stockbridge with Heidi Schreck's What the Constitution Means to Me, directed by Kristen van Ginhoven, founder of WAM Theatre—the co-producer of this never-more-timely play—running May 18–June 3, featuring two-time Tony-nominated actor Kate Baldwin. Next at the Unicorn is Photograph 51, by Anna Ziegler, June 17–July 1, and the world premiere of The Smile of Her, written and performed by award-winning actor and author Christine Lahti, July 12–29. The Unicorn closes out summer with the world premiere of On Cedar Street, a musical adaptation of Kent Haruf's novel Our Souls at Night, with book by Emily Mann, music by Lucy Simon and Carmel Dean, and lyrics by Susan Birkenhead, running August 12–September 2.
At BTG's historic landmark Colonial Theatre in Pittsfield, Million Dollar Quartet brings audiences into a recording session at Sun Records in Memphis where Elvis Presley, Johnny Cash, Jerry Lee Lewis, and Carl Perkins get together to lay down some tracks. This musical reimagining of an actual event, written by Colin Escott and Floyd Mutrux, returns to BTG by popular demand from June 27 through July 16 following a 2017 run at the Unicorn Theatre. Then the Colonial briefly transforms into The Secret Garden —a musical adaptation of the children's classic by composer Lucy Simon and Pulitzer-Prize winning playwright Marsha Norman—for just three performance, July 29 and 30. The Berkshire Opera Festival brings Puccini's La Boheme to the Colonial for just three performances, conducted by Brian Garman, August 26 and 29 and September 1.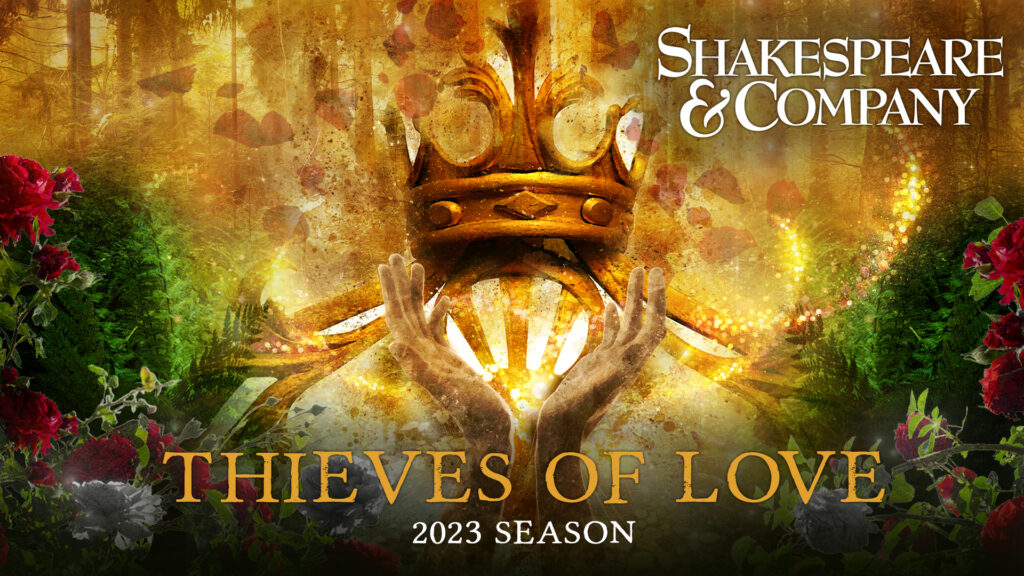 Shakespeare & Company in Lenox opens its season on May 26 with the New England premiere of Dear Jack, Dear Louise, written and directed by Ken Ludwig—an epistolary love story inspired by his parents' courtship during World War II. Next up is The Contention (Henry VI, Part II), directed by company founder Tina Packer, running June 17–July 15, then August Wilson's Pulitzer Prize- and Tony Award-winning drama Fences, July 22–August 27. My bet for the hottest ticket of the S&Co season will be Golda's Balcony, by William Gibson, with Annette Miller reprising her role as Golda Meir; it runs for just eight performances, August 5–20. Artistic director Allyn Burrows helms A Midsummer Night's Dream under the sky at the company's outdoor New Spruce Theatre August 1–September 10, and the season extends into Autumn with the world premiere of Lunar Eclipse by Donald Margulies, September 15–October 22. There's also a staged reading of Hamlet for just three nights, September 1–3.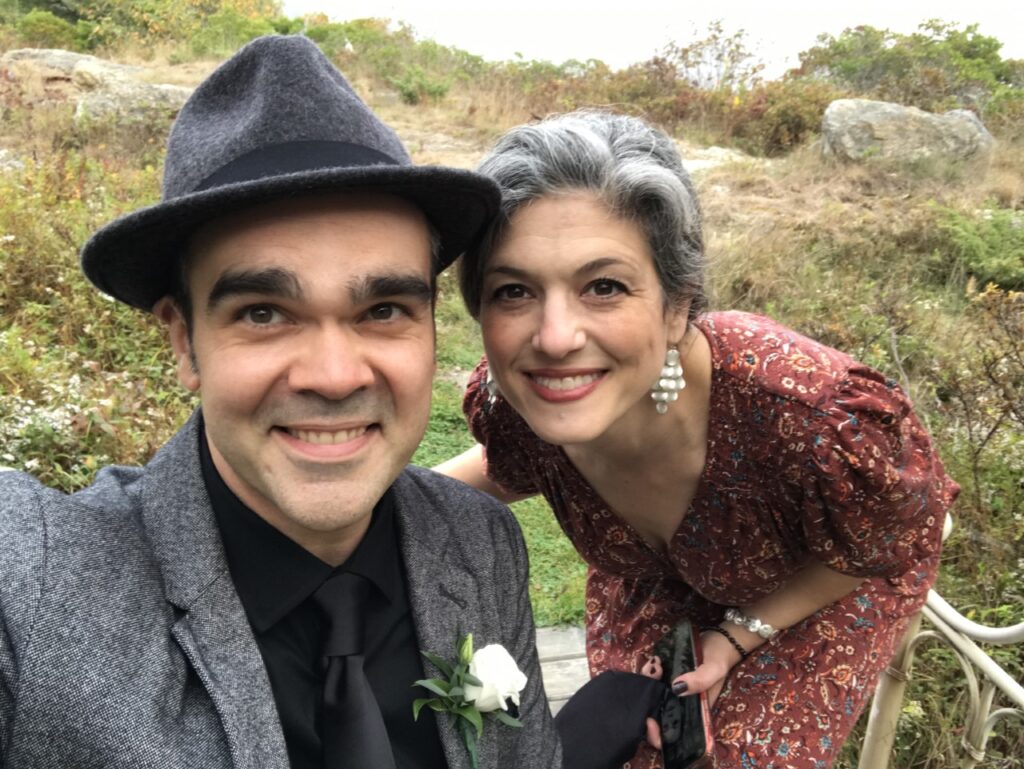 The small but mighty Chester Theatre Company begins 2023 under new leadership; company stalwarts James Barry and Tara Franklin have taken the reins, starting their season with The Making of a Great Moment, a comedic play within a play by Peter Sinn Nachtrieb, June 22–July 2. Next up are Guards at the Taj, by Rajiv Joseph, July 6–16; The Light, by Loy A. Webb, July 27–August 6; and Annie Baker's Circle Mirror Transformation, directed by former artistic director Daniel Elihu Kramer, running August 10–20. They will also present a workshop production of Unreconciled, written by Jay Sefton and Mark Basquill and starring Basquill, July 20–21.

Beyond the world of theater, Jacob's Pillow Dance Festival marks the receding threat of COVID with a return to the global programming that makes it the world's most formidable presenter of dance, perched on a mountain in Becket. The season kicks off with the return of Mark Morris Dance Group (June 28–July 2) in an evening-length tribute to Burt Bacharach called "The Look of Love," and continues with the Dutch National Ballet (July 5–9) presenting a mixed program. I'm most looking forward to "The Vertiginous Thrill of Exactitude" by William Forsythe, a choreographer I admire, while audiences are keen to see principal ballerina Olga Smirnova, who left the Bolshoi Ballet after Russia invaded Ukraine. Other Pillow programs on my list include Gauthier Dance/ /Dance Company Theaterhaus Stuttgart (July 12–16); Oona Doherty from Belfast, Northern Ireland (July 26–30); Complexions Contemporary Ballet, from NYC (August 9–13); and Compagnie Käfig, from Lyon, France (August 23–27). Popular favorites Dorrance Dance (July 19–23) and Martha Graham (August 16–20) will surely sell out, especially due to the scarcity factor as the Pillow's second stage, the Doris Duke Theater, remains under reconstruction after it was destroyed by fire in 2020. Other troupes have shorter runs outdoors at the Henry Leir stage; the schedule is still taking shape.
Tanglewood, the region's cultural colossus, has also released its schedule, despite some turmoil at the top with the recent departure of short-lived president and CEO Gail Samuel. The bucolic summer home of the Boston Symphony Orchestra, Tanglewood puts on a panoply of programs, centered on orchestral classical music concerts, but also including chamber music, opera, master classes, the Boston Pops, lectures, workshops, open rehearsals, popular music shows, and other events, including my favorite, the live taping of NPR's comedic new quiz show, "Wait Wait…Don't Tell Me!," on June 22, the opening event at the Koussevitzky Shed. There are too many happenings to list, so check out the full schedule here.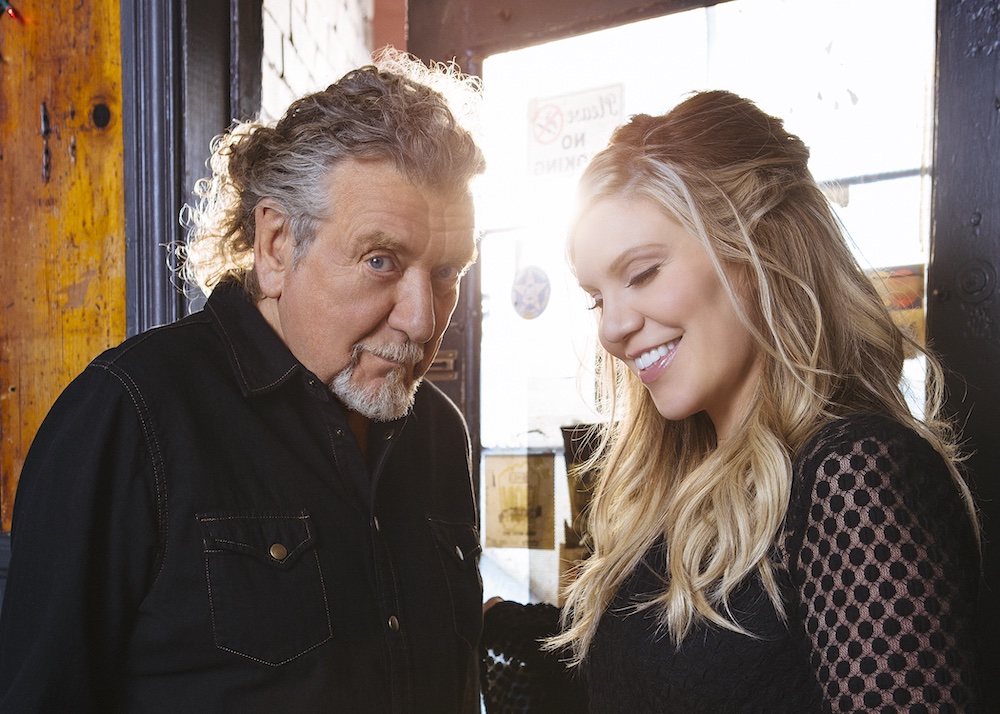 I will note that the perennially popular performances by local celebrity James Taylor on July 3 and 4 were sold out the moment they were announced—without fail, he fills the Shed and the sprawling lawn. His appearance is preceded by Robert Plant and Alison Kraus with JD McPerson (July 2) which should be a great show. Tickets go on sale March 9, so get your credit card ready for this and other headline events, including the Emerson String Quartet and Emanuel Ax at Seiji Ozawa Hall on June 28; "Ragtime: The Symphonic Concert" on July 8; an all-Gershwin program called "Two Pianos: Who Could Ask for Anything More," with Michael Feinstein and Jean-Yves Thibaudet on July 14; Mozart's opera Cosi fan tutte, with the BSO, conducted by Andris Nelsons on July 15; Giancarlo Guerrero conducting the BSO in Mahler's Symphony No. 1 and Her Story, a commission by Julia Wolfe, with the Lorelei ensemble on July 28; and fan favorite John Williams' Film Night , featuring clips and scores from the five-time Oscar-winning composer, with Williams and David Newman sharing the conductor podium, on August 5. (By the way, last summer's star-studded 90th birthday celebration for Williams drew record crowds to Tanglewood, and Williams recently broke another record as the oldest nominee in a competitive Academy Award with his nomination for Best Original Score for Spielberg's The Fabelmans. It's the composer's 53 Oscar nod.)
Other hot tickets at Tanglewood include Andris Nelsons conducting the BSO with acclaimed cellist Yo-Yo Ma in a program of Shostakovich, Stravinsky, and Julia Adolphe on August 13; an evening of Broadway classics performed by singer Kelli O'Hara accompanied by pianist Dan Lipton on August 22; an all-Beethoven recital with Emanuel Ax, Leonidas Kavakos, and Yo-Yo Ma on August 25; and a screening of Harry Potter and the Sorcerer's Stone with the Boston Pops playing the John Williams score, conducted by Keith Lockhart, on August 26. The next afternoon, August 27, Lockhart closes the season, conducting the Pops performing musical selections from the nine Star Wars films, composed by Williams. Overall, it's refreshing to scroll through the Tanglewood schedule and see programming packed with more women and people of color than I've seen in previous years. It reflects the ongoing efforts toward diversity, representation, inclusion, and equity underway at all of our cultural organizations.

As if that weren't enough, we're still waiting to hear what Williamstown Theatre Festival and PS21 (just to the west, in Chatham, New York) have in store for summer, as well as what's on for the 20th anniversary season of Bard Summerscape in Annandale-on-Hudson, New York, to the south. Whatever they bring to the stage, it's just more reason to look forward to summer as we wait out another winter snowstorm in the Berkshires. And this doesn't even account for the programming in our exceptional museums: MASS MoCA, The Clark, and Williams College Museum of Art. We who live here are lucky indeed, able to enjoy world-class culture in the beautiful countryside, without having to venture into the city. For those considering a cultural vacation in the Berkshires, be sure to plan ahead, as many shows are sure to sell out.