The 8th Annual Dine Out Long Beach, Restaurant & Cocktail Week brings together a list of great restaurants that are giving guests menus that will entice you not only from February 18th through February 28th, but will also keep you coming back long after this week ends. You will find special menus starting at $10 and you will be able to dine out for breakfast, lunch and dinner, as well as wine pairings, beer flights and handcrafted cocktails. If you needed an excuse to go out, Dine Out Long Beach is that excuse.
Ballast Point Long Beach is a combination of everything you could want in a day or night out. From a breathtaking view, a long and tasty list of beers and a menu from Executive Chef Juan Salmeron that makes you pair your beer with a fine-dining experience. Chef Juan took Dine Out Long Beach week as an opportunity to try out some new elevated menu items that are bound to make it to the permanent Ballast Point menu. The centerpiece of the menu is the smoked double porkchop, which, when it is served to you, is likely to be the biggest chop you have ever seen. For a porkchop this thick, it is cooked perfectly throughout as it is brined overnight, then smoked and grilled to order.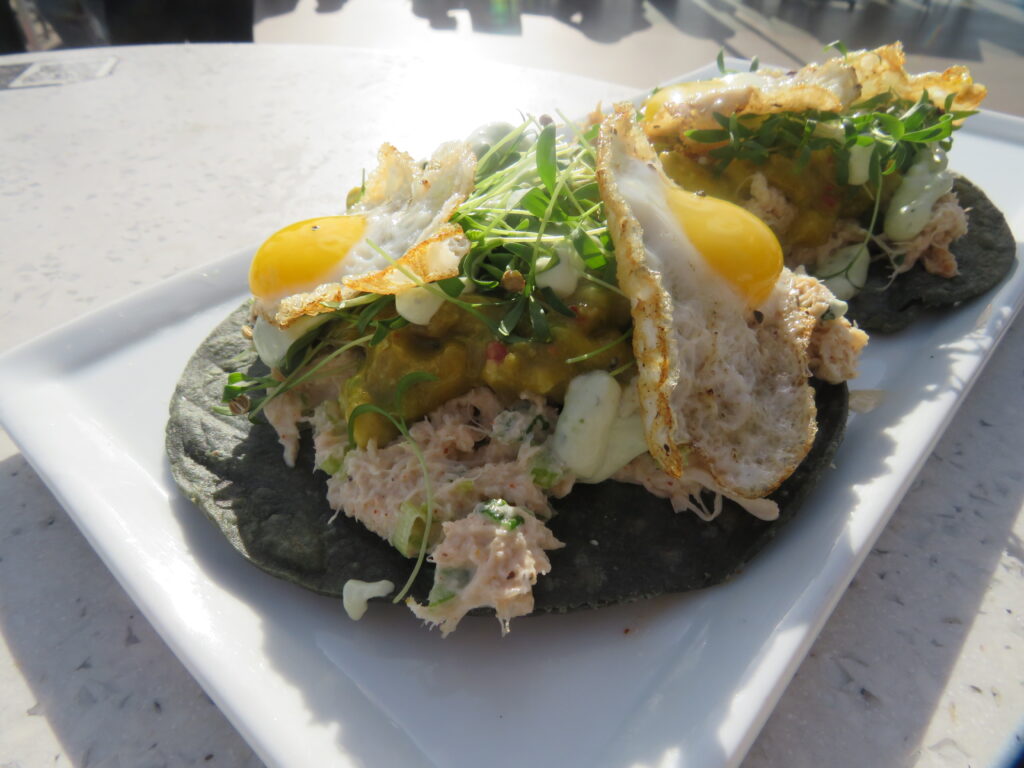 Chef Juan also created a mango crab tostado, which is just a work of art the way it is put together. It is loaded with jumbo crab salad and paired with a spicy pickled mango and topped with a fried quail egg. Finally, the stuffed baby artichoke comes out looking like lollipops and are stuffed with a seasonal mushroom pate. If you are looking to go off of the Dine Out Long Beach menu, the ribs are not only a must, but they are truly unique and flavorful. They are marinated Filipino style overnight and then prepared in the authentic rib styles, giving a different flavor profile, and they are given a wallop of heat with Thai chilis. Each item on the menu is paired perfectly with a Ballast Point beer and you are always going to have a memorable experience, whether it is dining or just having a beer with friends.
When it comes to a local and inviting hangout, the Long Beach Tap House is that place that will make you feel at home the minute you walk through the door with their intimate setting. For Dine Out Long Beach, Long Beach Tap House is serving what they do best, simply the best burger in Long Beach. The highlight of the menu is the bacon jam burger that starts off with a Wagyu beef patty, topped with a housemade jalapeno mustard jam and a thick slab of pork belly along with pepperjack cheese and their incredible garlic aoli sauce. The first course of the menu has some great options, but the fried avocado is the way to go. A light breading over the thick slices of avocado make these a wonderful way to start things off and then dipping these into that over-the-top flavorful garlic aoli makes this a dish you will keep coming back for. You can finish your meal off with a churro dessert or go with the rich and powerful chocolate martini. The Long Beach Tap House has a great lineup of local beers on tap, but the food is what will keep you coming back as it never disappoints.
One of the most beautiful restaurants in Long Beach is Saint & Second, and they put together a menu for Dine Out Long Beach that is worth of this stunning location. The three-course menu is so deep with choices you are likely to have to make a few visits to Saint & Second. To start things off you can choose from squash tempura, gochujang-glazed pork belly or citrus-cured Hamachi. As you can imagine, if those are the starters, the rest of the menu must get even more impressive. Skuna Bay salmon with a basil brown butter or the harvest fusilli pasta with a plethora of flavors are just two of the choices and then you can finish your meal off with the melt in your mouth brown butter cake. Saint & Second is just another in the long list of restaurants that if you haven't tried, you need to.
Other restaurants participating in Dine Out Long Beach include: The 908, The Breakfast Bar, Active Culture, Aji Peruvian, Axiom, Ballast Point, Bo Beau, Buono's Pizzeria, Cafe Sevilla, Caffe Luxe, Dan Modern Chinese, District Wine, Dogz, El Barrio Cantina, Fire Wings, Forno Banci, Italian Homemade, Jade, K.C. Brannigan's, La Tarantella Osteria, Liv's, London Boat Rental, Long Beach Tap House, L'Opera, Michael's On Naples, Naples Rib Co., Noble Bird, Ola, Otosan, Palapa, Pike Bar, Remix, Risu, Roe Seafood, Saint & Second, Saltwater Deck, Salud, Shake Shack, Speak Cheezy, Taco Shore, The Ordinarie, Tocaya, Vine e Cucina.
For more information, visit: Dine Out Long Beach