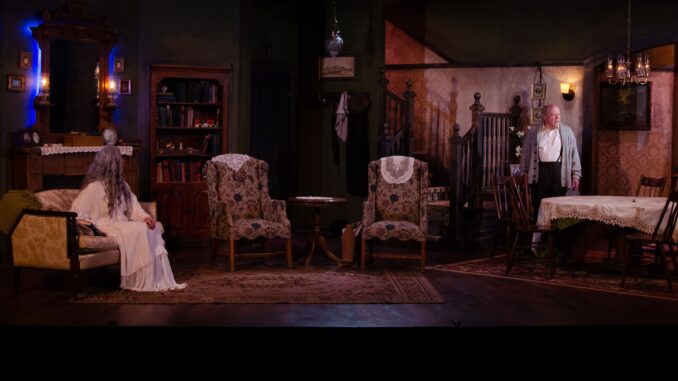 Family is everything in this 1950's Irish Romantic heart-felt ghost tale. It is a perfect play for celebrating the upcoming Valentine's holiday as it is a story of love, loss, family, redemption, reconciliation and finally finding wings to fly. Playwright, an award-winning actor, director, teacher, private coach, jail chaplain, and native Chicagoan, Ann Noble, creates dysfunctional, complicated family relationships. She showcases them in this lyrical Irish melodrama bedazzled with wickedly witty Celtic humor. Her 1995 And Neither Have I Wings To Fly play has garnered numerous awards including Best Play–NewCity Chicago, After Dark Award for Outstanding Production. It also received two nominations Best New Work – American Theatre Critics Association and the Osborn Award, Emerging Playwright.
This marvelous production is truly a family affair as Founder and Artistic Associate David Rice, plays Peter Donnelly, the father to his own daughter Artistic Associate Hayley Rice. She performs Eveline's role. Heather Chrisler making her directorial debut, also feels like a family member of First Folio Theatre. She began as an understudy in 2015. Her rich history with First Folio includes acting, directing and playwriting this season's adaptation of Little Women. Angela Weber Miller a two-time Jeff Award winner with her props partner Sarah West has again designed a warm, cozy, carefully detailed, real-feel Donnelly home. Noel Huntzinger's appropriate costume design is the only clue that this play is set in the 1950s since it has a timeless classic feel to it.
Two completely opposite sisters, Eveline Donnelly portrayed by Hayley Rice is the most martyred responsible eldest sister while Jennifer Mohr is the younger sister, Kathleen Donelly. She is a trifling vamp both beautiful, exasperating, and yet adorable. The sisters have just lost their mother to a lengthy terminal illness. Evaline lovingly cared for her. Of course, in this patriarchal culture, Eveline is expected to now care for their widowed Da (Dad). Obligations to family loom large in Eveline's mind. Her dreams to attend Dublin University are obliterated. Kathleen on the other hand has no qualms about leaving the household or flirting outrageously in front of her betrothed with an actor of questionable character. David Gordon-Johnson is Leo Doyle, Kathleen's too-polite completely devoted fiancee. Andrew Behling is his brother and best man, Charlie Doyle who is a bit of a scamp in need of reformation. Michael Dias is Freddy Malone the interloper, despicable, uncouth actor vying for Kathleen's romantic favors. Adrienne Cury is the luminescent mother ghost Moira Donnelly. The casting includes First Folio audience favorites Andrew Behling, David Gordon-Johnson, Jennifer Mohr, and two newcomers Adriene Cury and Michael Dias. The casting is perfect. The actors are amazing. They are their characters.
The second act in this drama was a powerful potent punch to the gut with family secrets revealed and a happy, not typically sappy finale revealed. I loved the rendition of the Scottish folksong And Neither I have Wings To Fly sung by David Rice and Jennifer Cury in the last scene. Ann Noble delivers Eveline's final chosen path as a hero in my estimation. I am always impressed by First Folio's Theatre's professional productions and phenomenal company. The recognition they have awarded to women I believe is unparalleled in Chicagoland. They have had more shows directed by women than any other Chicago area Equity Theater. They also promote and support women designers. This premier theater company will be sorely missed. With the retirement of Founding Director David Rice Neither Have I Wings To Fly is their last production, so please do not miss it. Their 25-year run has been immensely successful. They produced 80 shows including 14 world premiers and 6 commissions while receiving a stunning forty Jeff Nominations and seven Jeff Awards.
As always, I suggest you arrive early enough to take a tour of Mayslake Peabody Estate's interior architecture and art displays. This Tudor mansion is a treasure trove rich with Chicago history. In 1993, the Dupage Forest Preserve purchased the 87 acres including Mayslake Hall, Portiuncula Chapel, surrounding lakes, and an oak savanna making it accessible to the general public. Francis Stuyvesant Peabody, a national leader in the Democratic Political Party and captain in the coal industry commissioned famed Chicago architect, Benjamin Marshall, to build this magnificent summer retreat in 1919. It was named after his first wife and daughter, Mayslake Peabody Estate. Unfortunately, a year after its completion in 1921 Peabody died of a heart attack during a fox hunt on the property. The 840-acre property was later sold to the Franciscan Province of the Sacred Heart order of Friars Minor in 1926.
Unlimited Free parking is available for this intimate 127-seat theater located at 1717 West 31st Street in Oak Brook, Illinois. The running time for And Neither Have I Wings To Fly is 2 1/2 hours with one intermission. Captioned Performances for the Deaf and Hearing Impaired are Saturday 2/11/23 at 4:00 p.m. and Friday 2/17/23 at 8:00 p.m. Proof of full vaccination against COVID-19 (2 shots of Moderna/Pfizer/Novavax or 1 shot of J&J) is required to attend any performance. Audience members will also be required to wear masks at all times inside the building. There will be no exceptions allowed to this policy. Single Ticket prices are Friday-Sunday Adults $59.00, Seniors $54.00 (Students All performances $29.00). Wednesday-Thursday Adults $49.00, Seniors $44.00. Season subscriptions and individual tickets are on sale now and may be purchased by calling the box office at 630.986.8067 or online at www.firstfolio.org.
Photos: Courtesy of Heron Associates