Super Bowl LVII is going to be an epic battle between the Philadelphia Eagles and the Kansas City Chiefs, but attending the game in person is a tough ticket. Las Vegas is always the best place to be if you can't be at the game itself and this year is no different. Sin City is home to so many amazing venues and offers for this gigantic football weekend, Las Vegas can provide you with an experience unlike any other city. Splash Magazines Worldwide has put together some of the best spots to enjoy the big game in Las Vegas.
Ri Ra Irish Pub is always a fun spot with that warm and inviting Irish atmosphere. Super Bowl Sunday Ri Ra is letting their guests get started early by opening at 8 a.m. and has some great specials for the big game that put an Irish twist on game day classics. The Ri Ra big game specials include:
Guinness Bratwurst ($10.95)

Guinness-infused bratwurst topped with house-made chili, served on a classic hotdog bun

BBQ Nachos ($13.95)

tortilla chips, layered with house-made chili and melted cheddar and jack cheese, topped with pico de gallo, jalapenos, BBQ drizzle and sour cream

Pretzels & Beer Cheese ($13.95)

pretzel bites with house made beer cheese

Corned Beef Wontons– ($14.95)

house brined corned beef shredded and mixed with cream cheese, honey, crushed red pepper folded into a wonton skin, flash fried and served with Thai chili sauce
Tables will be available on a first come, first serve basis, and minimums are not required. Rí Rá will be open from 8:00 a.m. – 12:30 a.m., so you can come early or stay late to enjoy the entire day of football festivities. For more information, visit: Ri Ra
Miracle Mile Shops, inside Planet Hollywood Resort & Casino, is home to enough viewing parties that you could watch the first half at one venue and just steps away catch the second half at another incredible spot Here are some of the details of the various viewing parties happening at Miracle Mile Shops: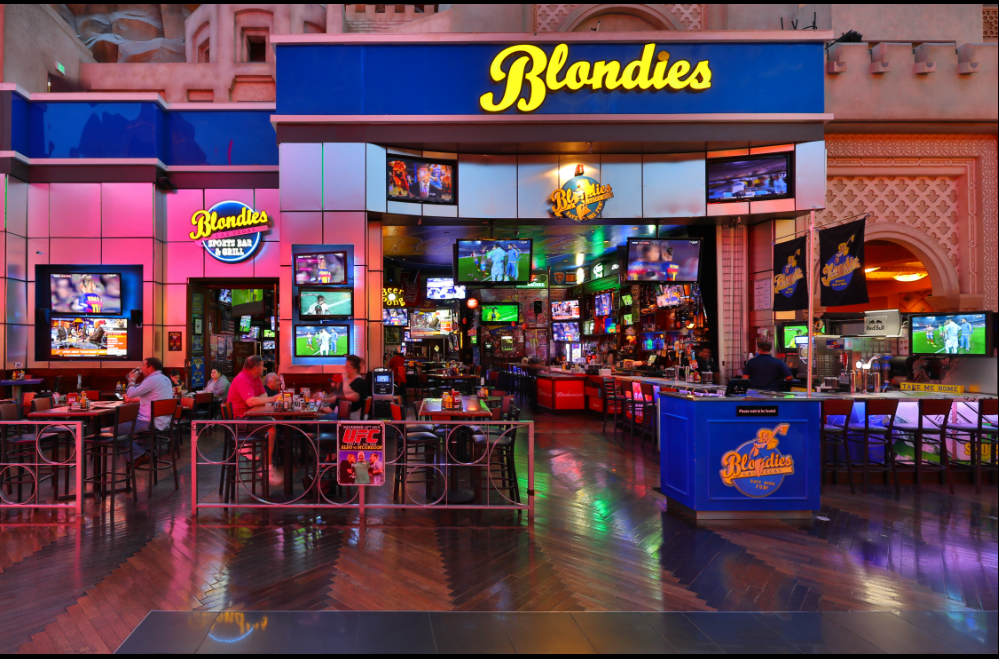 Blondies Sports Bar & Grill Las Vegas

Blondies Sports Bar & Grill will host its Blondies Super Sunday Party beginning at 1:30pm. Entry fee to Blondies Super Sunday watch party will be $325 per person and will feature open bar and a premium buffet. There will be plenty of viewing opportunities for all and reservations can be made online.

Cabo Wabo Cantina

Take on the Big Game at Cabo Wabo Cantina with an all-you-can-eat-and-drink viewing party. For $250 per person, guests can attend the Big Game fiesta, which will include tailgate style favorites including Cabo Wabo nachos, chicken wings, carne asada and chicken sliders and more. Displayed on flat screen TVs visible throughout the entire cantina, guests also have access to an all-you-can-drink premium bar that will feature house made margaritas, cocktails, and draft and bottled beer. Reservations can be made by calling 702-385-2226.

Flights Restaurant & Bar Las Vegas

Takeoff with the 4th annual Big Game watch party at Flights Restaurant with epic giveaways and a can't-miss buffet. Operating on a first come first served basis, Flights Restaurant, will offer open seating only with plenty of TVs and surround sound, so guests won't miss a second of the action. At $195 per person, guests can enjoy any of Flights Restaurant's draft beers, specialty cocktails and signature flights all throughout the day.

Pampas Brazilian Grille

Enjoy the Big Game at Pampas Brazilian Grille for $69.99 per person which includes game viewing, buffet, and unlimited draft beer, house wine, or well drinks. Taking place from 3pm to 7pm, big screen TVs across the restaurant floor will broadcast the highly anticipated matchup. Guests can upgrade to Pampas' premium bar package for $20 more, and reservations can be booked online.
Caviar Bar, Resorts World Las Vegas' world-class seafood and social dining restaurant featuring Michelin-starred restaurateur Shaun Hergatt's new American cuisine, announces its Big Game Menu featuring game day favorites prepared with elevated ingredients to enjoy football's biggest rivalry in high style! 
On Sunday, February 12th, Caviar Bar serves up touchdown-worthy Big Game menu items including fanciful sharables, handhelds, fries and dips. Caviar Bar's high design is a stylish alternative to most traditional game day atmospheres, and will be equipped with two big screens throughout, to ensure all senses are fully engaged while eating, drinking and viewing the season's greatest gridiron game:
CAVIAR BAR'S BIG GAME MENU
KOREAN STYLE WINGS | $16
Blue Cheese or Ranch Dressing Carrots and Celery
WAGYU SLIDERS | $20
Truffle French Fries
BAKED CRAB and ARTICHOKE DIP | $18
with Pita or Crostinis
LOBSTER ROLL | $20
Maine Lobster, Brioche, Espelette
RIBS 1/2 RACK | $25
Guava Bar-B-Que Sauce
Caviar Bar is open for The Big Game on Sunday, February 12th from 3 p.m. to 9 p.m. for the full menu or to book your reservation, guests may visit www.caviarbarlv.com.
About Caviar Bar
Caviar Bar, a world-class seafood and social dining restaurant featuring new American cuisine and ultra-premium Caspy Caviar by proprietor and Michelin-starred chef Shaun Hergatt, brings its indulgent caviar alongside decadent plates of cured meats, oysters, cheeses and seafood dishes to Resorts World Las Vegas. Once reserved solely as a special occasion indulgence, Hergatt's selections of Kaluga and Golden Ossetra are the stars of the menu, served with traditional accompaniments – because every day is a celebration. Whether guests prefer a caviar-centric dish or organic salmon, tartares, Wagyu beef or Caviar Bar's rich desserts, the dishes can all be enjoyed a la carte or as multi-course tastings. The high-design, intimate jewel box restaurant and bar includes features like a Jamon Iberico Locker which serves as a functional art installation where the meats that are on display are also available on the menu. Hand-crafted cocktails include custom libations for nightly revelry while caviar bumps are served with champagne or vodka, so guests can keep the fun flowing and indulge themselves all night. Caviar Bar is located at 3000 S Las Vegas Blvd, Las Vegas, NV 89109; at Resorts World Las Vegas. Keep up with Caviar Bar on Instagram/Facebook.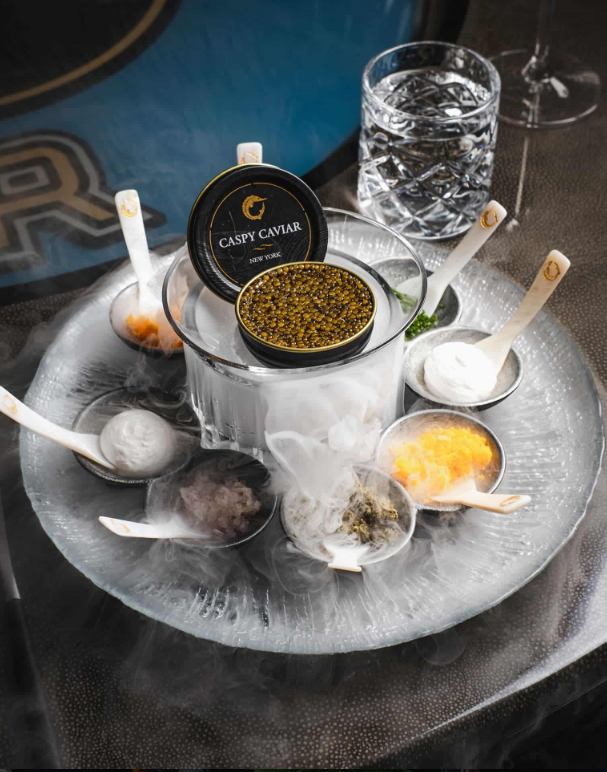 'Ready, set, hike' it to Gold Spike for 'The Big Spike'! Downtown Las Vegas' premier adult playground and nightlife venue's signature Big Game Viewing Party invites fans to celebrate the football festivities with bites, brews and special giveaways.
On Sunday, February 12th, Gold Spike's Big Game Viewing Party takes team bonding to a whole new level with football, friends, food and more! Doors open at 1 p.m. before Gold Spike's Big Game blowout kicks off 1:30 p.m. with a tailgate buffet featuring bar bites, booze and fan favorite snacks like Beef Sliders, Hot Dogs and Chicken Wings. At 3:30 p.m., pigskin-loving patrons can catch every foul, fumble and touchdown surrounded by jumbo screens and state-of-the-art surround sound. During the game, DTLV's MP Art will keep fans hyped with opportunities to win big with contests and giveaways. Tackle your Big Game viewing plans with one of Gold Spike's 'The Big Spike' party packages, each package includes open bar and all-you-can-eat tailgate buffet for the whole group from 1:30 p.m. to 5:30 p.m. Packages include the following touchdown worthy options:
Bar Seat (1 guest) – $140.00 before tax and gratuity
Bar High Top (3 guests) – $420.00 before tax and gratuity
Bar High Top (6 guests) – $840.00 before tax and gratuity
Living Room High Top (4 guests) – $560.00 before tax and gratuity
Living Room Sofa (5 guests) – $700.00 before tax and gratuity
Following the game, winners and losers alike are invited to celebrate the end of another exciting football season at downtown Las Vegas's wildest Big Game afterparty featuring additional drink specials and guest DJs.
Prices are subject to change based on availability. To make a table reservation at Gold Spike, visit www.goldspike.com/reservations. Attendees of Gold Spike's "The Big Spike" must be 21+ to enter.
SAHARA Las Vegas is the perfect setting for football fans to watch the gridiron showdown in style on Sunday, Feb. 12 with Big Game viewing parties at both AZILO Ultra Pool and Chickie's & Pete's Crab House and Sports Bar.
Doors for "The Ultimate Big Game Tailgate" at AZILO Ultra Pool will open at 12 p.m. with a televised broadcast on the 240-foot-long LED video wall. Tickets to the VIP game day experience are $120 and include live entertainment by Big Ben and Fatman Scoop as well as a select open bar until halftime. Additionally, mouthwatering game day fare will be available for purchase. Reserved seating and bottle service will also be available.
Doors to view the Big Game at Chickie's & Pete's, ESPN's number one sports bar in North America, will open at 2 p.m. Pricing starts at $256.75 per person and includes guaranteed VIP seating with big-screen viewing as well as a $200 food and beverage credit for delicious game day fare, drinks and bottle service. The sports bar's extensive menu of game day mainstays includes Philly cheesesteaks, buffalo chicken nachos, Chickie's wings, a variety of juicy burgers, several different delectable pizzas, mussels in red, white or Sicilian sauce and Chickie's world famous Crabfries. In addition, the sports bar will offer deluxe VIP group seating.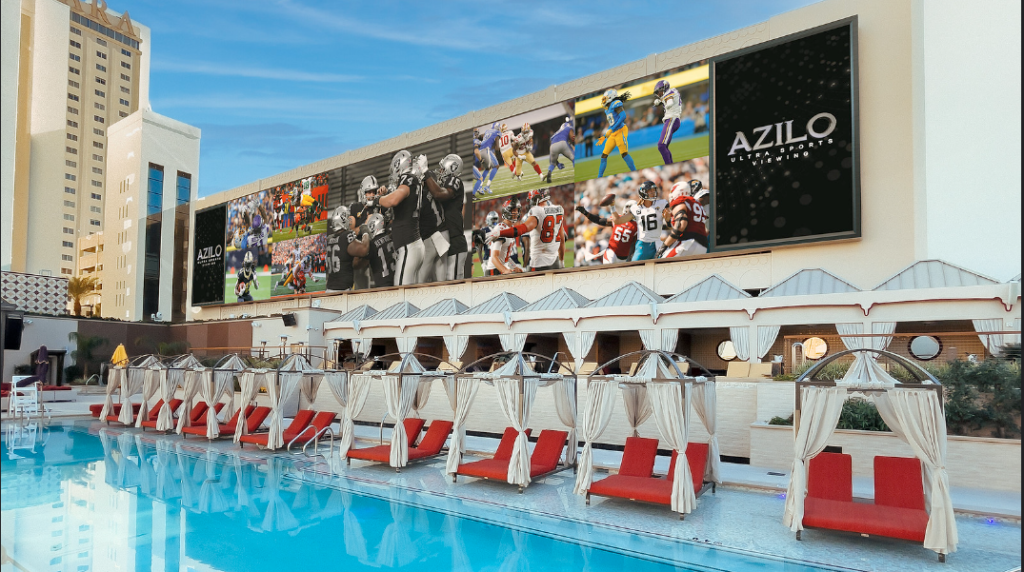 SAHARA Las Vegas is also home to multiple William Hill betting stations, including the main sportsbook inside Chickie's & Pete's, available during the Big Game.
For additional information and to purchase tickets to the AZILO Ultra Pool Big Game experience click here; for tickets to Chickie's & Pete's Big Game viewing click here.
BIG GAME SPECIALS:
ameriCAN Beer & Cocktails:
Big Game viewing packages are available starting at $175. All packages guarantee a seat and include premium open bar from 2 p.m. until the game ends. For package details, please call (702) 855-3822.
Brooklyn Bowl:
Opening at 2 p.m. for the Big Game, Brooklyn Bowl will offer six distinct viewing options. Packages start at $125 per person and can be booked online here.
Chayo Mexican Kitchen + Tequila Bar:
For the Big Game, Chayo is hosting a viewing party which include reserved seating, shared plates, along with bottomless mimosas, sangria and draft beer for $175 per person. The viewing party begins at 3 p.m. and guests can reserve their seats online here.Food options include chips, guacamole, salsa, crispy calamari, chipotle wings, jalapeño poppers, cheese sticks, nacho beef fries, tacos, sliders, chili nachos, churros and cheesecake.
Flour & Barley:
Football fans can catch the Big Game and receive $5 off pitchers of beer and enjoy specialty pizzas with toppings themed around the final two teams battling in the final showdown.
Minus5º ICEBAR:
Chill out and watch the Big Game at Minus5º ICEBAR where fans can purchase a variety of drink specials including $9 shots, beer and shot combos starting at $50 and a special Big Game cocktail featuring tequila, dark rum, ginger beer and margarita daiquiri.
Jimmy Kimmel's Comedy Club:
The big game viewing party will take place from 3 to 7:30 p.m. Guests can watch all the football action on the venue's TVs while enjoying its array of hand-crafted cocktails and dishes. Comedians Chris Kattan and Luenell will also be performing at 7:30 p.m. and 9:30 p.m., respectively.
Tilted Kilt Pub & Eatery:
Tilted Kilt will host a viewing party with a variety of seating options. Reservations include access to an open bar of draft beer and house wine with a premium buffet. Guests can reserve rail or ledge seating for $225 per person, bar or captain's table seating for $250 per person or a table of four for $1,000. The open bar begins two hours before kick-off and the menu includes chicken and shrimp tacos, hot dogs, BBQ pork sliders, wings, tenders, nachos, fries, salad, baked chocolate chip cookies and ice cream. All ticket prices listed do not include tax or auto gratuity. For more information or to reserve, call (702) 826-2100 or email an*********@gm***.com.
Off The Strip Bistro + Bar:
Guests can enjoy a viewing party on the second floor of Off The Strip Bistro + Bar. Guests must be 21 and over and doors open at 2:30 p.m. The viewing party package is $175 per person for all-you-can-drink and all-you-can-eat offerings, including hamburgers, hot dogs, chili cheese boards, nachos, soft pretzels, shaved roast beef in au jus, Italian sausage, chicken fingers and fries. The Big Game will be available on the projector screen and surrounding TVs.
Virgil's Real Barbecue:
Guests who want to book the viewing party at Virgil's will enjoy guaranteed seating in the two-story 14,000 square foot event space with great views of the Big Game from any of the big screens. The Big Game premium viewing party is $225 per person and includes a variety of their top food selections and unlimited premium liquor, house wine and beer. The viewing party doors open at 1 p.m. and the packages start at 3 p.m. To-go packages are also available. To book either package email pa*******@vi********.com or call (702) 389-7400 ext. 2.