By Gerry Barker

We love celebrating the holidays at sea, and last year we had the opportunity to do that again, but on a cruise line we've never cruised on before — Windstar.

Windstar operates a fleet of six ships — which the company refers to as "yachts," an apt description. Three are motorized, and three are sailing vessels, and their guest capacity is measured in the low hundreds, not thousands.

Our voyage was on Star Legend, one of their motorized yachts. As part of a $250 million makeover, it was cut in half and expanded with a new mid-section and other upgrades throughout, increasing its guest capacity to 312.

Ours was a 10-day "Jungles and Jewels of the American Coast" cruise in the Caribbean that would extend over Christmas, and included stops in Costa Maya, Guatemala, Honduras and Belize.

By the end of the cruise, we were totally spoiled by the extraordinary service delivered by a crew that was close to a 1-1 ratio with the guests. Here are ten things we loved about our experience:

The Size
When it comes to cruising, travelers have a wide range of choices in ships, from small to mega-large. They all have their benefits, but for us, a ship the size of Star Legend is perfect. There were 230 guests on our cruise, and 200 crew. Besides all the personal attention, Star Legend is easy to learn — it doesn't take long to find your way around its eight decks. After one day, we had crew calling us by name. And another plus: Making new friendships is easy, with fellow guests who enjoy trading travel stories. And while it may be a yacht, the vibe is relaxed and casual; there's no pretention here. Everywhere on the ship you feel at home.
The Crew
You really can't say enough about the crew. Uniformly friendly and eager to help, they are there when you need them without being intrusive. A good example is Davis, our stateroom attendant, who refreshed our room twice a day and made sure we always had a bucket of ice. Even his towel animals were creative. Once we were surprised by a towel monkey hanging from our ceiling, complete with real bananas. The good cruise lines know every person on staff is representing their brand. Windstar clearly gets that.
The Staterooms
When Star Legend underwent a refit, a lot of the focus must have been on the staterooms. Our standard stateroom was more like a suite than the staterooms we've had on most cruises. We had a real walk-in closet. The upgraded bath had two sinks and a glass shower. There was a living area with a sofa, chairs and table and curtains you could pull across the adjoining bedroom. The flat-screen TV was sparse on live TV channels, but had excellent music stations, as well as an up-to-date map showing the ship's position as well as account information. As with many small ships, we didn't have a balcony — just a large viewing window. A number of the staterooms have French doors, and there are two suites along with the "Owner's Suite," that have more room and amenities. In short, it was the best accommodation we've had at sea.
The Food
Windstar has partnered with the James Beard Foundation. That tells you a lot about their food. Whether you dine in the main dining room, Amphora, or get reservations in Cuadro 44 by Anthony Sasso (Spanish-inspired menu) or Candles (dine under the stars by candlelight), you won't be disappointed. We loved breakfast and lunch at the Veranda (deck 7 forward), where Chef Vipon will customize an omelet or a stir dry, while the Star Grill is another option on deck 8. Twice during our voyage, Executive Chef Stefan Vasilev hosted cooking demonstrations in The Lounge. Like other senior staffers, Chef Vasilev freely circulates among the guests and answers our questions. Maybe if you're lucky they'll offer a Floating Island for dessert. Two thumbs up!
The Yacht Club
At the front of Star Legend, on deck 8, is the Yacht Club Cafe and Library, offering panoramic views through wrap-around windows. With its plush seating and laidback vibe, It became our "go-to" place to relax and chill. Guests come here to read, work in groups on large-format puzzles or, as Pam did, listen to her music through headphones. The cafe here is popular as well, offering a wide range of specialty coffees and light snacks. After one day, the barista was not only greeting me by name, but also had my order ready before I placed it. Now that's service.
Captain Nick
Like several of his senior officers on the Bridge, Captain Nick (I don't think I ever heard his last name — he just went by "Captain Nick") hails from the UK. Rather than sport a white beard and stern expression as he commanded the ship, Captain Nick freely circulated among the guests, sometimes in short-sleeve shirt and shorts, answering questions and keeping us up-to-date when bad weather moved in. The epitome of "Stay Calm and Carry On," we knew we were in good hands.
Barbecue Under the Stars
One night, the crew prepared an elaborate "BBQ Under the Stars" on the pool deck. Lounges were moved out and replaced with tables, complete with white tableclothes and candles. The expansive buffet included all types and manner of salads, side dishes and grilled meats. And for dessert, an enormous apple cobbler. Two bands were there to entertain — Back on Traxx and D'Harmony — and Mother Nature chipped in with perfect weather and overhead, a full moon. The evening concluded with a spirited line dance, featuring both crew and guests. You couldn't ask for more.
The Port Stops
After a full day of touring, navigating jungles to see Mayan ruins, snorkeling on a remote beach or ziplining over the treetops, it was a welcome sight to return to Star Legend and be greeted with refreshing water and towels. Windstar provided both at tables set up just outside the ship. You always appreciate a "Welcome home."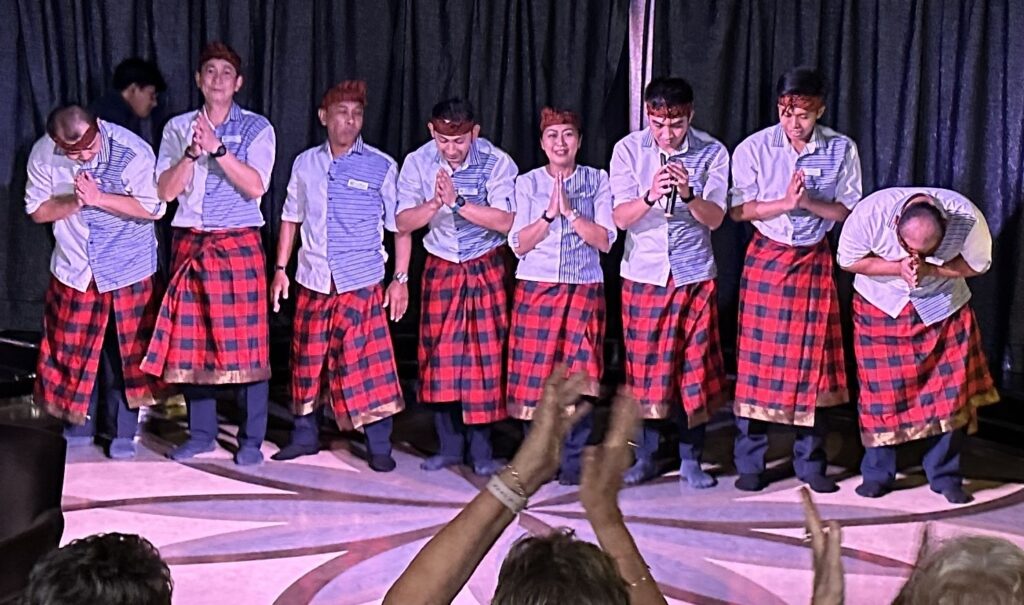 The Crew Show
Admittedly, you won't find big Broadway shows or elaborate stage productions on Star Legend. That isn't what they do. But that's not to say they don't entertain you. A prime example on our cruise was The Crew Show, when the people who look after our every need get to put their talents on full display. And America, they do have talent. We were surprised to see our stateroom attendant, Davis, join his fellow crew from Indonesia to perform a series of hand dances. And the guys in bathing suits doing the synchronized swimming skit was a classic. Is there a talent scout in the audience?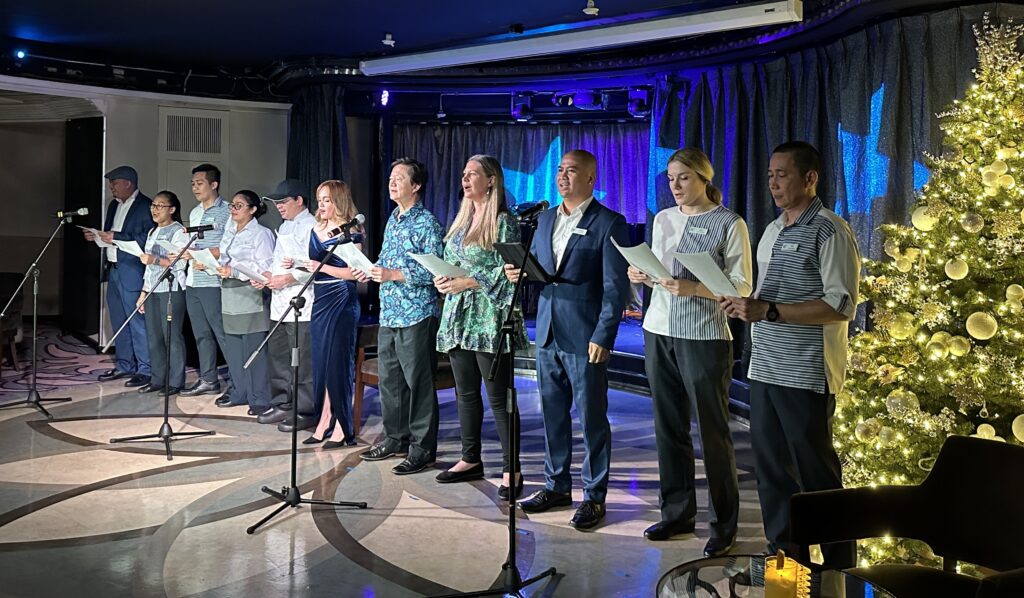 Celebrating the Season
Since this was a holiday cruise that included Christmas day, Star Legend observed the season in many ways, including lighted trees, seasonal displays, Gingerbread houses — one complete with a circling train — and a special Christmas menu in Amphora Restaurant. But the highlight for us was listening to Captain Nick read "The Night Before Christmas," followed by crew singing traditional Christmas carols. For those of us who were away from our families, it was like being with our new family at sea.