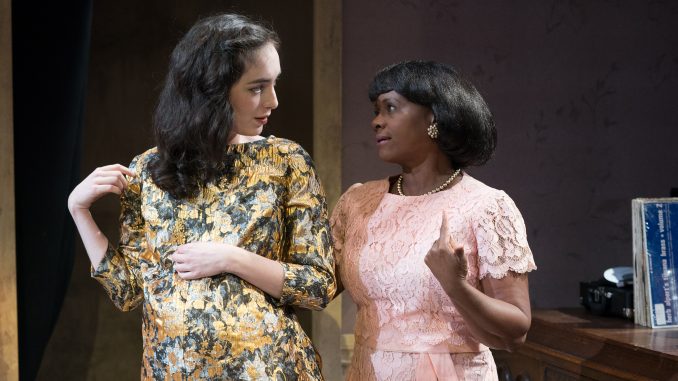 An all-Jewish cast does a superb job of bringing to life the tale of one Holocaust survivor in playwright Jennifer Maisel's powerful story of pain and the human will to survive against all odds. Developed in the Antaeus Playwrights Lab, EIGHT NIGHTS was staged as part of the company's "Lab Results" series at the end of 2018 and was a semi-finalist for the O'Neill National Playwrights Conference. Masterfully written, Maisel's study of people who faced the unthinkable and still held on to hope, EIGHT NIGHTS has continued to reverberate with audiences in the wake of a rising current of anti-Semitic attacks and Holocaust deniers.
EIGHT NIGHTS is the story of Rebecca (the younger performed by Zoe Yale and the older by Tessa Auberjonois), a Holocaust survivor who joins her father in his lower East Side Manhattan apartment in 1949. Separated by the war, her father Erich (Arye Gross) has searched for his family for years. His wife and daughters were bound from Germany in 1939 to join him in the U.S. on the ill-fated MS St. Louis – a Hamburg-American ocean liner filled with Jewish refugees which was turned away by Cuba, the U.S., and multiple other possible destinations and finally sent back to Germany, where 254 of the 908 ultimately died in Nazi death camps. The only member of her family to survive, Rebecca finally joins her father in New York.
EIGHT NIGHTS is set during eight different nights of Chanukah over the course of eight decades (1949 to 2016) as Rebecca slowly heals and adapts to the many changes in her life. EIGHT NIGHTS honors those Holocaust immigrants – but also all the immigrants who came and will come to the U.S. seeking freedom and a new life. Rebecca's story has been repeated many times, and yet her tale is gripping and poignant.
Years after she marries a Jewish U.S. Army veteran (Josh Zuckerman), wounded in World War II, she finally conceives a child – a daughter who represents Rebecca's new life, but also becomes a replacement of sorts for the family which she lost years before. By accident, her life takes a poignant twist when she meets the first American soldier (Christopher Watson) to comfort her when she was liberated – a black man and his wife (Karen Malina White) who have faced prejudice themselves and understand how she feels. Everyone in her life faces challenges – and each is able to reach out to another person with love. Rebecca's life takes dramatic turns with time – but she never forgets her past.
Skillfully directed by Emily Chase, EIGHT NIGHTS is an emotional roller coaster beautifully depicted by an uber-talented cast. Edward E. Haynes, Jr.'s scenic design is the perfect setting for this engrossing story – especially the bathtub/dining table inserted front row center and the permeable apartment walls which play so great a role at the end of the piece. Alex Jaeger's costumes are also well conceived, epitomizing the play's eight decades. Further kudos to projection designer Adam R. Macias, sound designer Jeff Gardner, and lighting designer Karyn D. Lawrence. EIGHT NIGHTS is a formidable collaboration between author, director, actors, and production team.
SPLASH SELECTION
EIGHT NIGHTS runs through December 16, 2019, with performances at 8 p.m. on Fridays and Saturdays, at 2 p.m. on Sundays (dark 11/24), and at 8 p.m. on Mondays (dark 11/25). The Antaeus Theatre Company performs at the Kiki & David Gindler Performing Arts Center, 110 East Broadway, Glendale, CA 91205. Tickets are $35. For information and reservations, call 818-506-1983 or go online.