When playwright Charles Ludlam wrote THE MYSTERY OF IRMA VEP, he envisioned the piece as a camp celebration of several genres, as well as a tribute to all things scary emanating from an author's pen. A mish-mash of Victorian melodrama, farce, Gothic romance, penny dreadfuls, spooky films (Rebecca, Wuthering Heights, The Mummy), and anything else that happened to strike his imaginative fancy, THE MYSTERY OF IRMA VEP has it all. Even the name of an important character in the play is a puzzle. Irma's characters was first mentioned in a 1915 French movie serial, "Les Vampires;" on top of that, Irma Vep just happens to be an anagram for "vampire."
First produced in 1984 by Ludlam's Ridiculous Theatrical Company in Greenwich Villages, THE MYSTERY OF IRMA VEP has it all – vampires, ghosts, mummies, and werewolves. Just in time for Halloween. In case you're thinking that this play is a slender bit of fluff, it helps to remember that in 1991 it was the most produced play in the United States. In 2003, it became the longest-running production ever staged in Brazil. Ludlam clearly did something right in his Gothic lampoon.
As befits a melodramatic, farcical, spook feat, THE MYSTERY OF IRMA VEP takes place at Mandacrest Manor located – of course – on the moors. This is the ancestral home of Lord Edgar, an Egyptologist, and Lady Enid, a former actress and his second wife. He's having trouble getting over his first wife, Irma Vep, who died rather mysteriously and whose glaring portrait dominates the estate's living room. The house staff, maid/housekeeper Jane Twisden and swineherd Nicodemus Underwood, keep the estate running while harboring secrets of their own.
The plot takes off when Enid is attacked by a gory vampire reminiscent of the original Nosferatu, and Edgar departs to visit an Egyptian tomb and its current inhabitant. He's convinced that his son and first wife were the victims of a werewolf. Maybe some Egyptian magic will make the past go away. After all, an Egyptologist needs to find his mummy. As the plot gets more and more convoluted and laughs escalate, the tale of Irma Vep goes from the ludicrous to the outrageous.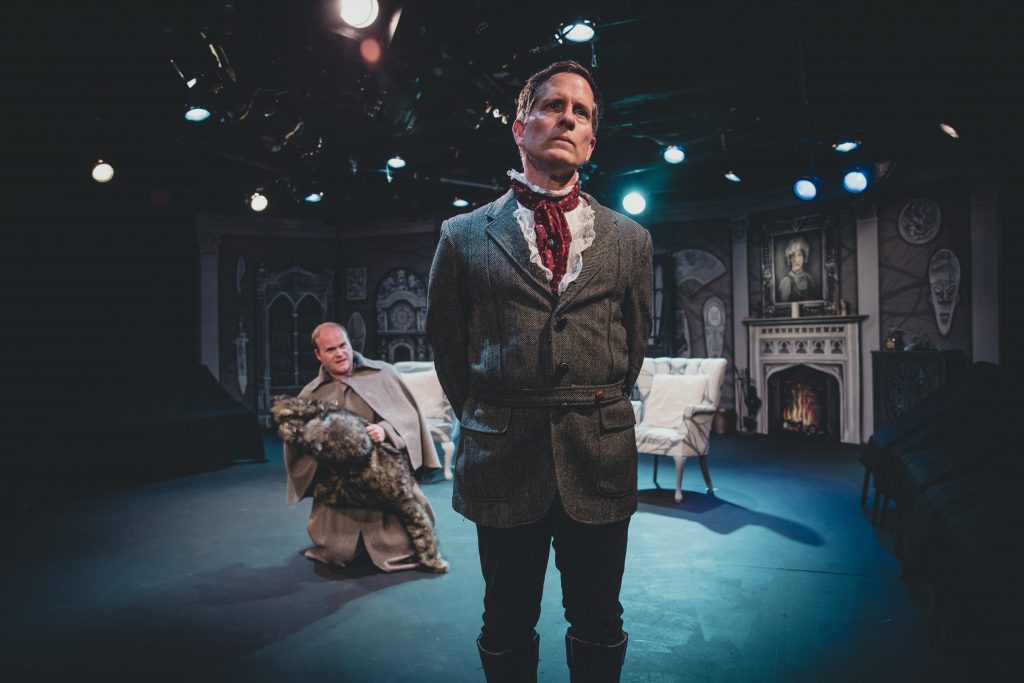 Director Carla Cackowski has a deft hand in guiding the two actors in the play. Yes, two. All roles are divvied up between John Alee (Lord Edgar/Jane Twisden/Intruder) and Isaac Wade (Lady Enid/Nicodemus/Alcazar/Pev Amri), two men with superhuman energy and fortitude who run this way and that making 35 costume changes in seconds while somehow ending up in the right spot each time.
Kudos to the spot-on production crew, with splendid costumes by Vicki Conrad, malleable scenic design by Greg McGoon and Jessa Orr, flexible lighting by Martha Carter, scary sound by David B. Marling, and everyone else who added a goose bump to the show. THE MYSTERY OF IRMA VEP is great family fare – but make sure the kids are old enough to enjoy the scare without panicking. Acting is broad, and plot is preposterous – just right for an absurd, silly, and outlandish Halloween treat.
THE MYSTERY OF IRMA VEP runs through November 10, 2019, with performances at 8 p.m. on Fridays and Saturdays and at 2:30 p.m. on Sundays (Saturday matinees at 2:30 p.m. on 10/12 and 10/19). The Actors Co-op Crossley Theatre is located at 1760 N. Gower Street, Hollywood, CA 90028. Tickets are $30. For information and reservations, call 323-462-8460 or go online.