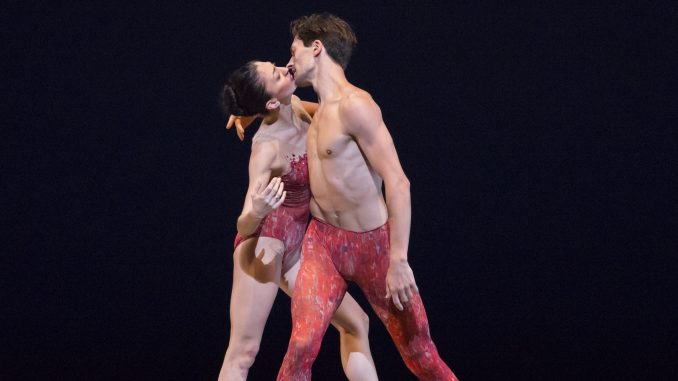 On Saturday night, August 17, 2019, Chicago's dance community came together in the 28th annual Dance For Life benefit performance, a fundraiser for the Dancers Fund, which provides support to those in the dance community facing critical health issues, at the Auditorium Theatre, 50 E. Ida B. Wells Drive. 6 companies performed works or excerpts from their repertoires, 3 Hubbard Street personnel, past and present, danced a new work by Robyn Mineko Williams called Echo Mine, a tribute to Claire Bataille, and the finale, per tradition, was a premiere choreographed by Randy Duncan, danced by freelance Chicago dancers as well as principal dancers from the various companies.
The evening was a meld of sheer, exhilarating fun, virtuoso technique, and heartfelt tribute to those beloved leaders most recently lost to illness, Hubbard Street's Bataille and Ensemble Español Spanish Dance Theater's Dame Libby Komaiko. From the high-energy jazz/rock opening number, Soul, danced by Giordano Dance Chicago, during which curtains stage right opened to reveal all the rest of the various performers on stage watching and cheering, to the last footfall in Duncan's high-octane Release, this was an exercise in generosity, love of one's colleagues and cohesiveness. 
Soul, by Ray Leeper is a full-company work with sexy, exciting moves set to Motown classics. Chicago Human Rhythm Project's artist-in-residence Dani Borak next took the stage with Stone Soup Rhythms in his Movement 11, an elegant work of percussive expression. Robyn Mineko Williams, Jacqueline Burnett and Meredith Dincolo performed the spare yet poignant Echo MIne after a film in which Williams explains how Bataille was the inspiration for the work, and participated in its creation.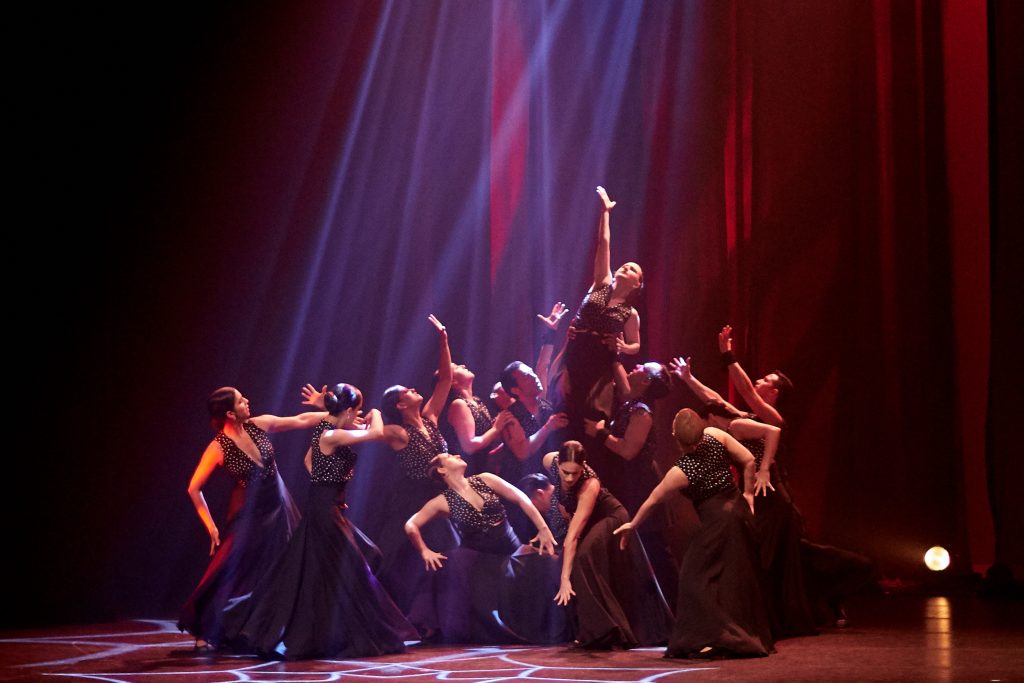 The Joffrey Ballet performed 2 brilliantly evocative duets bookending Ensemble Español's tribute to their founder, Dame Libby Komaiko.  Lorelei, by Nicolas Blanc, danced by Jeraldine Mendoza and Dylan Gutierrez, was a study in fatal desire, while Bells, by Yuri Possokhov, danced by Victoria Jaiani and Temur Suluashvili, was a more traditional pas de deux with hints of Russian folk dance. Between them, Mar de Fuego,or Sea of Fire, by Carlos Rodriguez, was a gorgeous contemporary flamenco full-company piece; the tearful dedication by Jorge Pérez to Komaiko was extremely moving.
The super-charged Chicago Dance Crash piece that followed Bells, entitled Leap of Faith, by Jessica Deahr in collaboration with the dancers, was a mash-up of uber-athletic street-smart moves coupled with enormous agility and hip-hop style. Hubbard Street Dance Chicago reprised Ohad Naharin's postmodern take on Echad Mi Yodea, a Passover song danced by 18 in a semicircle, with semi-serious chanting, serial disrobing, and enormous élan. 
Finally, Randy Duncan's dramatic, intense and exuberant Release closed the evening with a mélange of dance styles and heady rhythms. 
This reviewer had the opportunity to interview 2 super young dancers about their experience with Dance For Life. Both are university-trained high-level high-spirited dancers, whose careers have taken different trajectories, both poised for ascension.
Paige Fraser, a Princess Grace Fellow and former founding member of the exceptional Visceral Dance Chicago company, now a freelance dance artist and choreographer with her own foundation which promotes dance for disabled youth, who has participated in the Dance For Life finale for the past 6 years, shed light on the work involved in dancing Release.
"Randy's pieces are always super full body and require a tremendous amount of technique and stamina; several steps in Release were initiated by contractions in the center, yet grounded in the legs. It takes a lot of strength and a lot of vulnerability to dance Randy's piece. For example, when you have to drop down into a deep plié, to hold it and pop back up or do turns on your heels," she said.
Fraser continued, "We moved together like flocks of birds with intricate spacing and that was powerful. It was also cool because this year he gave us 16 counts of freedom/improvisation, but all the rest was very tightly choreographed. There was a sense of groove throughout the piece, a playful vibe, but it is achieved through a great deal of technical mastery."
In contrast, Kristi Licera, principal dancer with Chicago Dance Crash, with whom I spoke the morning after Dance For Life, focused on her personal response to the event itself. "I wanted to laugh and hug everybody; it was overwhelmingly emotional in the most positive way. As we looked on, everywhere we saw the faces of dancers we know and admire. There's no other place in the world where an event like this could happen; it has to be-and it is- in Chicago!"
In describing Crash, whose performances are frequently referred to as showcases for modern stylistic fusion, Licera expressed her confidence in the central role played by mentor/choreographer Jessica Deahr, "The thing that people connect with at Crash is Jessica's ability to guide our individuality, and bring it together with a cohesive expression. The magic of Crash begins with Jessica's vision; the melding of contemporary modern underpinnings with hip-hop makes us identifiable as Crash."
Enunciating the group inspiration behind the piece danced at Dance For Life, Licera iterated a strongly fanciful yet ultimately inspiring vision: "In Leap of Faith, we imagined we had crash-landed; the dance explored how we reacted as survivors of the crash! At the end, we all come forward entering a new frontier."
Conquering new frontiers is what Dance For Life is all about; bringing together Chicago's world-class talent in a benefit to help dancers who need support.