On a beautiful California Saturday, Warner Brothers Studios hosted the latest 11th annual Produced By Conference. Popular with everyone in the industry and attended by over 1,000 global entertainment professionals from every area of work – writers, producers, directors, actors, line producers, composers and anyone interested in the creative process.
There have been many changes in the industry just within the past two years.
Conversation with Toby Emmerich, Chairman of Warner Brothers Picture Group & Peter Roth, heading Warner Brothers TV group, was moderated by Pete Hammond, the Chief Film Critic for Deadline Hollywood, was sponsored by General Motors. Mr. Roth said "We are dealing with human conditions and tastes. I've learned to ask questions and not make assertions. Ask what is not on the air. What TV shows you watched as a kid do you miss that really spoke to you? It could be an idea, a genre, a relationship, a dynamic, a place." Starting from this place of questioning can yield impressive results. Every TV series, he says, has it's antecedent.
Emmerich tells us that the current mantra is be different. Safe, familiar stories are no longer going to cut it. He believes one of their reasons for success is that they are a director driven studio. While they like franchises, each film needs to stand on its own merit. "There will be more emphasis on tentpole movies than before because the movie that on opening week gets into the conversation is that one that will soar, but the definition of what audiences want is changing." Because of the increased pricing of tickets, etc., the movie has to be spectacular to warrant a theater night for the family. Less than half of their movies will be based on pre-existing properties. "We have five original dramas coming to theaters this year. They're movies that we fell in love with; the scripts were so good, the directors and cast were so good, the stories were so compelling, we thought we have to take a shot." This philosophy flies in the face of the relative reluctance of other studios to release dramas in theaters.
Roth tells us that "TV remakes are having a resurgence on our screens with mixed success. Roth cites Murphy Brownas a painful example. "It didn't have the power, the relevance, and impact of the original series. It's an audacious move to take on a classic. It better be so extraordinary, unique, compelling and contemporized that it can speak to a whole new generation of audiences. Otherwise, why do it?" He says The Fugitive failed because it couldn't be modernized properly. "We introduced the same dynamic that audiences had seen thirty years earlier and they didn't care." He talked about current stats in TV. " We have increased production from 38 scripted series to 58, from 17 unscripted series to 38, from 3 animated series to 17 today. 62% of our scripted fare is now available on streaming and cable. This is what the audience dictates. Homogenization of television is never good for the consumer. We [Warner Bros.] currently have TV series showing on 26 different networks and we have every intention of continuing that. I think that's what will distinguish us from all other companies. It's vitally important we service this opportunity and maintain the strength of our independence."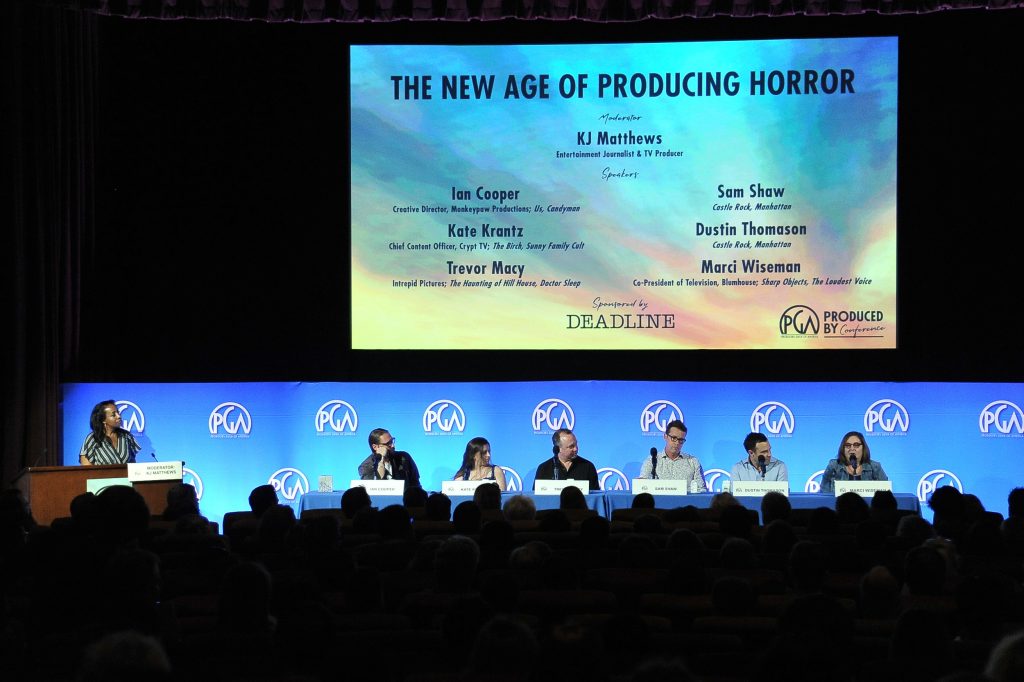 The New Age of Producing Horror was sponsored by Deadline and featured Ian Cooper – Creative director of Jordan Peele's Monekypaw Productions who did Us and is now doing a new version of Candyman; Kate Krantz – the Chief Content Officer of Crypt TV known for The Birch and Sunny Family Cult; Trevor Macy – from Intrepid Pictures known for The Haunting of Hill House, and Doctor Sleep; Sam Shaw – known for Castle Rock and Manhattan as is Dustin Thomason; and Marci Wiseman – co-President of Television for Blumhouse known for Sharp Objects and The Loudest Voice. The panel was moderated by KJ Matthews, an Entertainment Journalist and TV Producer.
While budget is prevalent in horror and things can be done for less, Ian Cooper warned not to obey the dogma of the past. "Move beyond what you think horror was to what it is now." The new horror films now have more drama, suspense and thriller elements and broadens what they are doing. In redoing Candyman they are trying to play against the first film, dove tail it and also have it stand alone.
Many of the characters have emotional arcs not true in past horror flicks and it is the characters that keep us watching. In addition, they have messages attached as in "Get Out" where race made one an outsider. The same can be true for other identity horrors where gender, sexual preference, or nationality can be used to create the tension. Even if people do not belong to a specific group, they can still experience what is inflicted by society at large. Loosing personal rights as with the changing state laws can inspire a horror film, as well when you think "What if I was in that situation?" Look at the issues of our world and go from there. Things haywire in society seem to do better as horror especially since Gen X and millennium young adults do not see the future as bright as perhaps their parents did. Look at the Walking Dead. Zombies don't change but the human story does. What would you be doing if you lived in that time and atmosphere?
Working with TV, Marci Wiseman said that there is more character arc in TV than in film as they want people to keep tuning in. She cited Sharp Objects – a Southern gothic haunted by real events as a prime example. "It's what keeps you up at night." The Loudest Voice is another that ramps up the emotions and deals with everyday horrors. Blumhouse is now doing a weekly series on Hulu where ordinary things become horrific. "TV and film now amplify the emotional experience that cannot be replicated at home." TV seems to concentrate on more psychological horror whereas film deals with visceral horror. They are now doing a TV series of the Purge franchise and have a horror about border crossing coming out. "The horrific roller coaster stays with you."
Sam Shaw indicated that TVs format is different because one needs to establish a ten-hour relationship with a character and a jump (or cat) scare takes more setup to establish, but if done right it's very effective. It's craft at a different level and hard to do when shooting so much. Don't force emotions on people with the music.
And at Crypt TV, Kate Krantz sees a deeper yearning for relevant social issues. They go out and find the stories and try to employ more female writers and directors who are very much underrepresented. They work a lot with supernatural and gore and visualize the monsters more. "Our monsters are both light and dark and more visual as the tree monster." She warns writers not to be preachy and go light on talking heads as the Gen Z, etc., respond more to emotional understanding. They like female coming of age stories. "Keep connected to the emotions. See stories through non-traditional lenses. People like to know that redemption is around the corner."
Even a movie as Chernobyl – about the Russian nuclear accident – was produced like a horror and had a horror soundtrack. Five years ago, this could not have been pitched. The major ability needed is getting the emotion out. Jordan Peel's movies have also changed the landscape. He writes about black families, but the stories have nothing to do with race. Leave the audience vulnerable so they feel things they are not expecting and cap into the human experience.
New Technology: Balancing Creativity and Cost was sponsored by Panavision and featured Matthew Clark – Cinematographer of Late Night; Sean Dunckley – Senior Colorist of Late Night; Daniel Sasaki -SVP of Optical Engineering at Panavision; Brandon Trost – Cinematographer from Can You Ever Forgive Me? The event was moderated by Jim Hemphill – the director/writer of The Trouble With the Truth.
Mid-morning offerings included a Conversation With Michael Douglas – currently awarded for the Kaminsky Method, and Danny DeVito – known for War of the Roses and Matilda.
These long-time collaborators reflected on their 50 years in the business. "It's friendships, relationships, and about keeping in touch with people you care about," says DeVito. Douglas talked about the #MeTooMovement. He feared that people are "being accused without a chance (to defend themselves) in court. To not even really have the information in front of you, to be able to argue or defend yourself. There is no due process, no chance of seeing evidence in front of me from any accuser."
But he also praised the movement. "It's been phenomenal in bringing women into our industry more than ever before. It's important to remember we all mutually love this process and be kind to each other." Mr. Douglas praised Netflix for leaving the creator of The Kaminsky Method, Chuck Lorre, alone to make the show without interference. "They (Netflix) trusts filmmakers and leave you alone…unless there's problems. Nowadays studio executives appear to think they know a lot more than anyone else."
Content With A Conscience: Social Impact Entertainment Across All Platforms was sponsored by The Skoll Center for Social Impact Entertainment at UCLA School of Theater, Film, and Television and featured Bonnie Abaunza – Founder/Impact Producer of the Abaunza Group; Scott Z. Burns – known for The Report and An Inconvenient Truth; Michael B. Jordan – Principal of Outlier Society Productions known for Black Panther and Creed franchise; Alana Mayo – President of Production and Development for Outlier Society Productions – known for Annihilation and Fences; and Shivani Rawat – CEO of ShivHans Pictures – known for Brian Banks and Captain Fantastic. The panel was moderated by Kia Kiso, a founding member of PGA's social impact entertainment task force and head of Zaza Productions known for Mile…Mile & A Half.
One of the first panels to sell out, it shows that our thinking has changed and that many are aligning our values with the work we do. It's been proven that entertainment has an impact and can affect social change – even a thriller or horror. A pandemic movie can look like thriller but also inform us of global health issues.
One must be careful of being too preachy. Jack Warner rejected a script once and said, "If you want to send a message, then send a telegram." This is something many new writers have to learn. Filmmakers also must determine what the impact they want and then make sure to guide the film along those lines. One movie that the producer thought was anti-war had the exact opposite effect and encouraged young people to join up.
Michael Jordan felt he had a personal responsibility to choose socially conscious projects as did other content creators. "It's all about the heart. It's about wanting to create bodies of work and tell stories that will make people go home and think thoughts that weigh heavily on their heart." He encouraged Warner to rewrite their policies and include more women company wide.
Bonnie Abaunza , a human rights activist for many years and working with Amnesty International, says you must entertain first and get the message out second hand. She championed the rights of domestic workers when she did Roma, and diamond workers when she did Blood Diamond. In fact, the impact the later movie was so successful that jewelry stores were assuring their customers that their gems were not blood diamonds. People began requesting white sapphires and not diamonds and that they were conflict free. She and Warner Brothers were challenged by the World Diamond Council but with the help of Amnesty International were able to mobilize people. The film is now taught at film and ethics courses at various universities and the terms blood diamond and blood chocolate are now universal.
No one knew about Darfur until she did Hotel Rwanda. With the movie, she was able to educate and motivate people to help. After Roma, the Mexican Supreme Court passed legislation protecting the rights of the workers and the UN was encouraged to pass an International Women's Day for domestic workers, which many countries are now adopting. Bonnie urges us to ger our campaigns toward the younger audiences since they are most likely to be activists.
Trumbo, produced by Shivani Rawat, focused on our right of free speech. She talked about Brian Banks which was filmed in Memphis and did not have a single person of color on the crew. So, she insisted on an internship program and hired women of color. "You have to start somewhere. Every small step counts. Our writer was female, and our department was all female." Because of the underrepresentation of women in the industry, she funds most of her own movies.
Scott who did the Report, looks to find a compelling story and then thinks how best to present it to the audience. "If the movie has social relevance, it will not look like spinach to the audience but often the story will be polarizing." In Inconvenient Truth, people were overwhelmed by the message of climate change. In order to have a positive ending, the studio had him list things that the audience could do to Improve things. "In the marketing of the movie, the audience needs to a place to go since they will ask 'What can I do to be productive now?" People want to act but often need direction.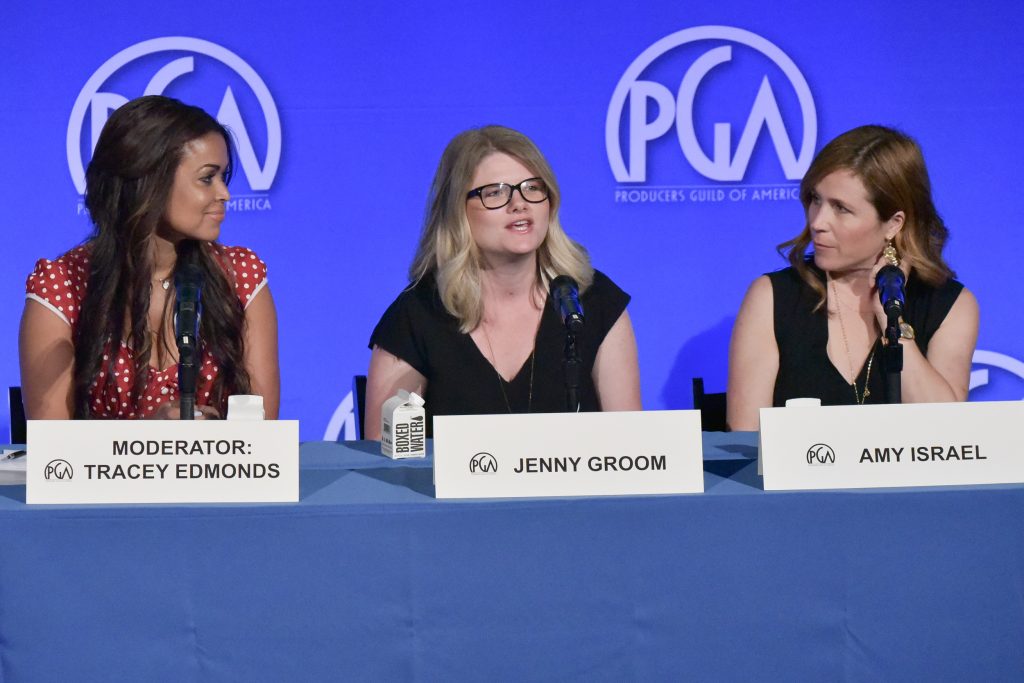 He also advised to consider the audience. He had seen Get Out in several different neighborhoods – Marina Del Rey, Westwood, Manhattan and then in the Crenshaw area. The reaction he felt as a white person surrounded by a black audience was "amazing." He tells us to ask ourselves "How would I feel is most of the content around never took me into account? The audience wants to connect with us and our characters, who have to look like them and not me."
Alana feels it is important to impact the world but in a way that makes money and is the right occasion for the story being told. "It has to be made in a responsible way." She added, "the ones that perform the best come across on an emotional level. They do not bifurcate socially conscious films vs regular films. If it burns in us, we do the best we can for the budget and package."
When you have a platform as TV or film, the consensus was, you shouldn't waste it on just entertainment but balance between messages and entertainment. Ask yourself "What is the best platform for this to be shown on and realize that at times it is difficult to get the audience to watch." They told producers to get the studio to give you a research budget when you are writing as you are held to task if material is inaccurate.
The group Skoll Center for Social Impact Entertainment at UCLA gave us a copy of their report which encourages entertainment companies to promote social content. Ask "How can I make a direct impact? How can I be a strong ally?" The answer to that is engage with underrepresented people. Be welcoming and supportive to all no matter what the culture, religion or creed.
The Integrated Data Driven Production: Efficiency, Economy, and Quality in the Cloud was sponsored by Cast & Crew and featured Guillaume Aubuchon – Production Manager and Post Producer, VP Product of Cast & Crew; Melissa Lintinger – SVP Production Finance of NBCUniversal Television Studio; Alexander LoVerde – Co-founder & CEO of SyncOnSet Technologies; Joel Sloss – Sr. Program Manager of Microsoft Azure Media & Entertainment; Christina Lee Storm – VP of Business Operations, Strategy and Emerging Technology of Dreamworks Animation. John D. Canning – VP New Media and Chairman of the New Media Council of the Producer's Guild did the moderating.
Lunch was a wonderful assortment of various delicious food trucks giving attendees choices from pizza, Greek food, hamburgers, vegan dishes, and many other tasty morsels.
The afternoon included several other interesting options.
I attended TV: Meet The Buyers and was sponsored by The Hollywood Reporter. Panelists included Jenny Groom -EVP of Alternative Programming & Development at NBC Entertainment; Amy Israel – EVP Scripted Programming at Showtime Networks; Peter Micelli – Chief Strategy Officer for eOne's Film and Television; Nick Pepper – President of Legendary Television Studios; and Michael Thorn – President of Entertainment for FOX Entertainment and it was moderated by Tracey Edmonds – President/CEO of Edmonds Entertainment known for Games People Play and Jumping The Broom.
They addressed the import elements to attach for a show to sell in this current landscape. Jenny Groom, who does mainly unscripted, says that while talent is not always needed in the beginning there must be a strong format, a unique twist to make it stand out, and innovative ideas are. "Why is it different than what is out there now? Can it reach an international viewer? At NBC we try to reach a broad audience and like it when the whole family from 8 years to 80 can watch together."
"Fox is voice driven," Michael Thorn says. "Sometimes that voice comes from the property. As an independent studio, we option material from books, graphic novels, etc. If you have rights to something no one can take that away and no matter what happens you are a part of it." He warns that bringing too many people in can junk a project. He had one pitch where the logline was great but the team kept adding people who didn't matter. "Who is writing the script? That's what matters. We have greenlit shows with just the writer." They used to buy 60-70 dramas in a year. Now they only buy things that they really believe in. "This past year we bought 32 scripts and only 6 dramas went to series. Our goal is to be incredibly focused that everyone is on the same page." He likes elevated complicated character stories and even things that are edgy must be wildly entertaining. "Music is also good for us."
Amy Israel agrees. "Successful TV comes down to the voice of the show and the creator's passion." At Showtime they look for audacious bold ideas that can mark a flag in the sandbox. Writers need to be obsessed and passionate about their work. They want shows that challenge the audience, makes them uncomfortable and yet entertains them, too. "While coming in with directors or other packaging attached, the crucial part is the quality of the writing and the singular voice and vision that comes through. Season One needs to be powerful while season two has to carry us forward. We want shows that stand the test of time like Homeland." She will look at a book or a pitch (from established writers) but it comes down to the strength of the idea and pitch as well as the writing that wins the day. "As an executive I must carry your project up hill on my back to get it made so I have to believe in it, too." She also talked about diversity. They had one show that had been developed for two white teens but there was no inclusion. They got Regina Hall and Don Cheadle. "As a producer and executive you must always be listening. What is reverberating around you in the world? Understand the market and know what the right home is for your show. Be with a company that understands the show you want to make. Ask if they understand you and are listening to the creator?" Don't develop for development sake and don't waste people's time. "Is this idea the best incarnation of it? You need the same momentum on the inside as on the outside. You need to keep people paying attention and must hook in the pilot. Sometimes you won't even get to episode two. We don't do network shows. It must feel as if it can only be on Showtime." They recently started trying out limited series as now with The Loudest Voice.
For Peter Micelli, the character journey that one can believe is what drives his interest. "People are inundated with material. How do we roll something out that becomes something you want to see now? How do we create the story that buyers need to pay attention to and what is the underserved part of the industry?" He warns not to chase too many pieces of the puzzle and lose what the story is about. "It will take too much time."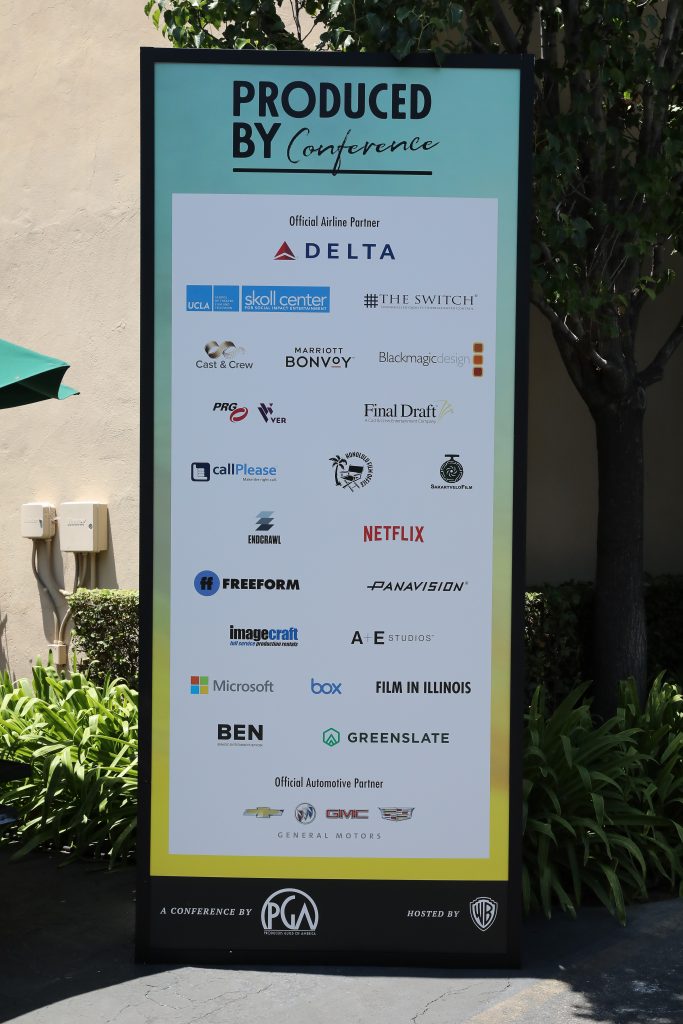 Nick Pepper warns that each buyer is different, and the producer must understand that brands are not alike. Understand the marketplace. "When you go into a meeting listen to how people react. Do they seem engaged? Are they seeing the same vision as you?" Learn what everyone's needs are and what the right network is for your show. Legendary likes genre-oriented stories with a unique spin. "People are no longer watching just because of one star. Audiences are more fickle than they used to be because there is more to chose from." Between Thanksgiving and February, Netflix released 70 new shows and most of them did not catch on.
So, what if you have a great idea for a TV show but no access. "Attach yourself to people who can open doors for you. "What important stories are you telling the world? What is the format – documentary? Limited series? Feature length movie?" There is a social aspect of developing relationships. Ask people for coffee. Build up your network. "Ask for ten minutes of someone's time but be considerate. Don't ramble with them. Read the trades and be a student of the biz so that people know you are paying attention."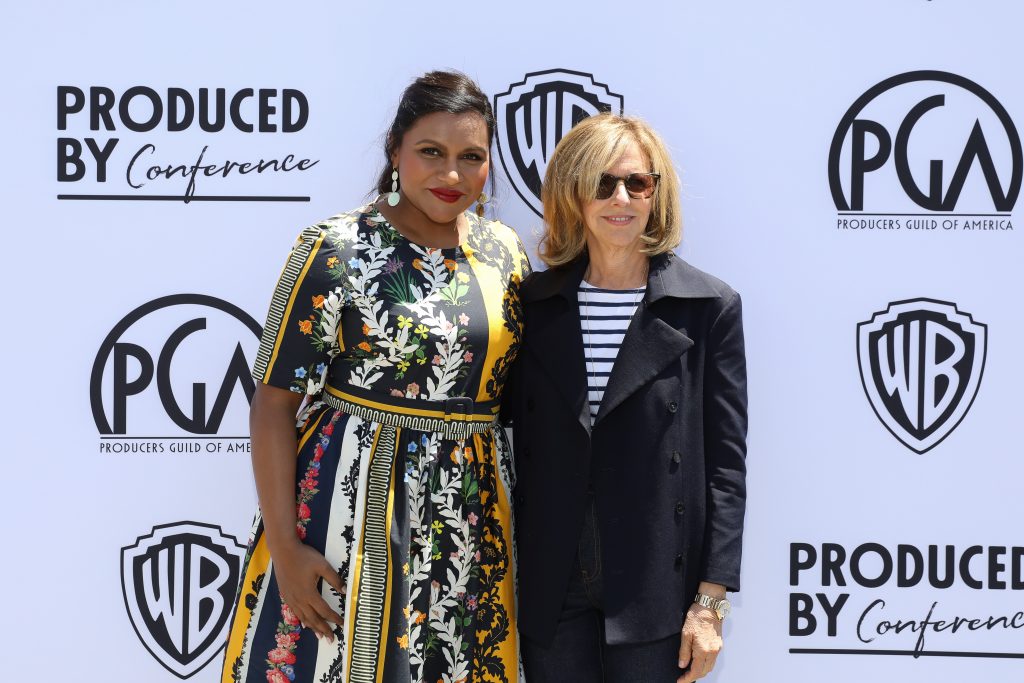 Other offerings were Conversation With Mindy Kaling & Nancy Meyers and was sponsored by Delta Air Lines. Nancy Meyers is known for The Intern and It's Complicated while Mindy Kaling – who is principal of Kaling International – is known for the newly acclaimed Late Night and The Mindy Project. The women discussed their shared experiences as female leaders in the industry and said that it showed female filmmakers can point to the PGA as helping them move forward. Nancy encouraged producers to have strong will and persevere.
Then for those into streaming the offering was The Next Level Live Streaming: Interactive, Scripted, And Beyond, and was sponsored by Blackmagic Design. Panelists included Steven Calcote and Lillian Diaz-Przybyl – known for Orbital Redux, Crowe's Nest Live Sitcom; Daniela Hamilton – known for Telenovela Live; and John FK Parenteau of Hollywood Corporate Communications of Blackmagic Design. Moderator was Lori H. Schwartz, principal of StoryTech
Another popular afternoon offering was The Keys To The Kingdom: Financiers & Distributors sponsored by Variety and paneled with Mark Gill – President/CEO of the newly formed Solstice Studios; Poppy Harris – SVP for Development & Production of MACRO known for Mudbound and Sorry To Bother You; Kip Konwiser – Co-Founder of The Money Pool and known for Ana and Cigarette; Jesse Sisgold – President & Chief Operating Office of Skydance Media; and Stacey Wolf, VP of Business Affairs from CNN Worldwide. Moderator was Gary Lucchesi, President of Lakeshore Entertainment and known for The Lincoln Lawyer and Million Dollar Baby.
10 years ago, Mark Gill said you could do a lot more than you can do now. At this time, buyers want lower budgets and do not need big actors as they did before. "Fewer things were purchased and they had to be better than ever. If you had what they wanted – good scripts, easy to market and provocative – at Cannes you were in a good place. It used to be we could show the poster, hook them and write the scripts afterward. Now, the market is tighter. There is still UK, and Germany but a lot of the Chinese buyers have been scared off by Trump." He thinks they will eventually buy pass the American market and focus on the growing Latin American and Saudi Arabia -Middle Eastern centers. "There are fewer and bigger/better films at Cannes and pre-buys are not done as much as they were before."
"Theatrical is more competitive than before." He believes that the theatre chain subscription services will succeed and bring the movie watching population back to the theatres since they will again create the habit of going to movies. Many young people, as his college-age son, are going for this and if it grows to three times this year, it will help the economy. "It's not exactly a turn back to 1970s but better than it is now." He pointed out that a lot of the newer stars are being minted by streaming shows.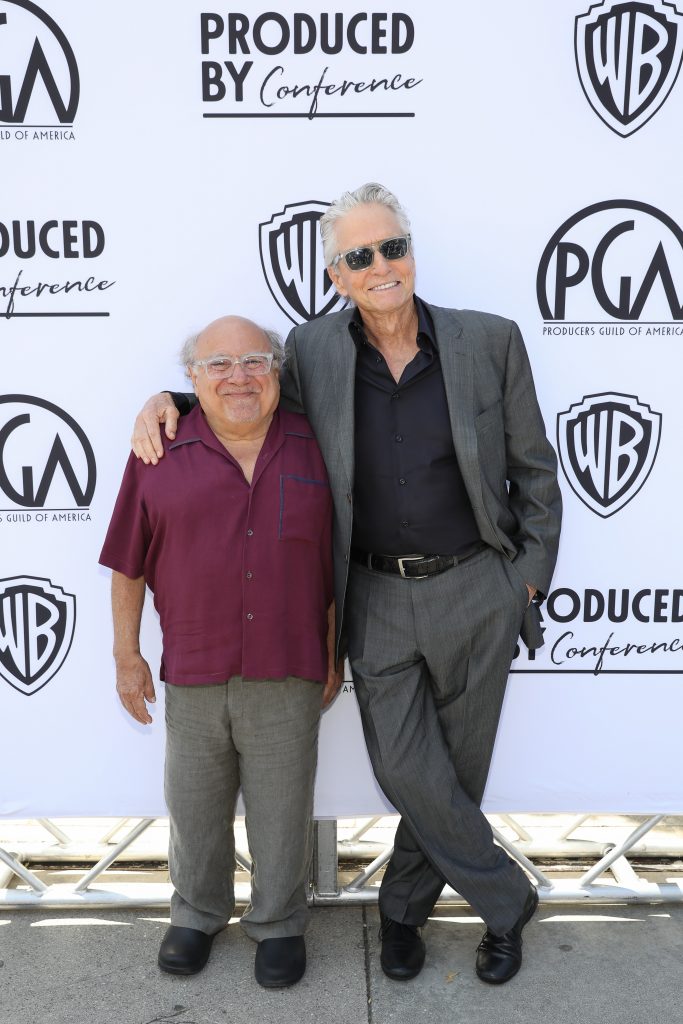 An independent company they want to feel they have an identity but like going into wide release with love stories, grounded sci fi, YA, thriller and suspense. "You have to make your story emotionally compelling for the audience to show." Solstice supports their films with money on promotional ads. "It won't get lost here. We like doing originals that no one else is touching. Our opportunity is to be distinctive."
Poppy Harris though says that actors do still have a crucial role. In Sorry To Bother You, it was Lena who was the driving force since they had seen the script a few times. "We jumped in when Lena called and put other finances were in reach. We funded it independently, took it to Sundance, and then Annapurna acquired it. We look for elevated stories through a multi-cultural lens. We want to have fun as comedy, sci fi and fantasy, but we like historical things as Mudbound and Fences or others with a serious message. "We are actively looking at younger creators."
She was disappointed in the turnout of Roman J. Israel. "A lot of factors played into that but we couldn't justify spending more marketing dollars on it. Mudbound, too, had challenges reaching the audience we wanted.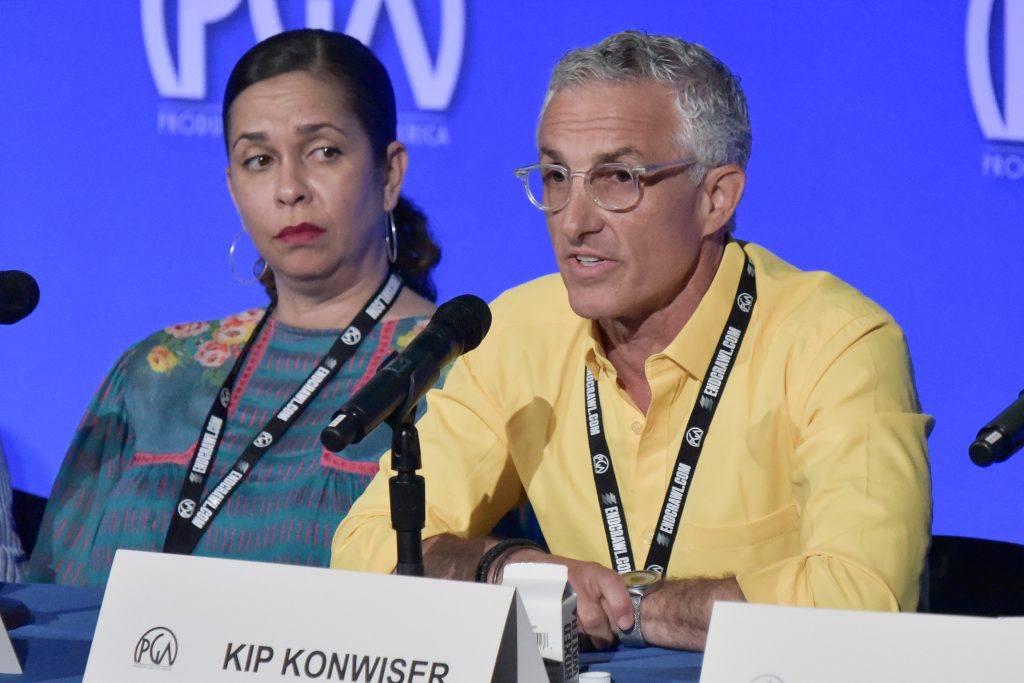 Kip Konwiser, who serves as an investor as well as producer/director, often brings the soft money to the project. He helps with the tax credit, and reverse engineering the films that are helpful to the story brand so that they can raise market dollars to get the movies onto the proper platform. Once you have soft money behind you, talent is more willing to talk as are the agents. "We align on intention and reduce the risk. But there needs to be better communication between partners. If there is a big star involved, someone will acquire it." They work with structured finance and like it if you have some momentum in your project as well as have an idea about tax credits, bridges and pre-sales. "We look at things in flux constantly to see if we are in the right place. We love original content as well as talent driven projects and are issue oriented – talent, equity, and distribution. Miss Evers Boys was our first HBO film and we love movies that generate other business. Look at your project from the vertical and horizontal way. I like feeling the passion and want to know the niche market." Kip now teaches at USC film school and likes to see what connects to the community-oriented people.
At CNN, Stacey Wolf talked about their independent documentaries which are mostly in the 2 million-dollar range. " RBG and 3 Identical Strangers both did exceptionally well. RBG we developed from the beginning after the pitch and full financed this, something we don't often do. We took it to Sundance where Ruth Bader Ginsberg saw it for the first time – and approved. While Three Identical Strangers had the story in development for a while, but it was a compelling human-interest story. We realized this was more than just a CNN TV movie but a true theatrical release and both were incredibly profitable." They are not necessarily looking for political stories but like history, social and human-interest stories and biographies as Steve Jobs, Linda Ronstadt, The Race For The White House. She was surprised about the reaction to the film I'll be Me. They like stories that give a bigger representation of the world around us and when they can do ancillary programs around their documentaries it's even better because that gives them a life beyond the watching of the film. "Going behind the scenes gives the audience insight into more than just the story." Their CNN originals was launched by the Anthony Bordain series which had a spirit of inclusiveness and courage people to learn more about the world. "Look at what drives your local community. The smallest movies are galvanizing the momentum and encouraging younger people to do things."
Of Skydance Media, Jesse Sisgold says that their budget is 40 million since they don't hit for festivals but for the global audience as with Terminator and Mission Impossible. "It all starts with story. If we don't respond to the story, we can't proceed. You must reinvent IP or take a risk on original content. We are hungry for the right story, but the quality has to be higher because there is more competition out there." They have a deal at Paramount, and it's been a good relationship. "If we think the audience will respond, we go there. If not, we go through streaming or perhaps China. Our view of the theatrical marketplace is different. Television – in home entertainment has become incredibly impressive. Look at Game of Thrones which spent 30 million per episode.
"Alter Carbon was supposed to be a movie but there was too much for the audience to absorb and so we decided to make it a big budget series. If you are selling to a streamer, you are giving up your home run, but have a lot more of a chance to make it." Amazon is now doing big budget theatrical quality films and "we are planning a Jack Reacher series now."
The panel told the audience to look at who is going to the theatre regularly and what is capturing the audience attention? You have to justify not only the increasing cost of movie tickets, but the concessions and the babysitter. "The audience wants a spectacular commercial experience, which is why are relaunching the Terminator franchise," says Sisgold. They also have new films from director Ang Lee and a Will Smith film. Things that are of a smaller budget and more contained, they will aim for Netflix.
Netflix, they say, cannot be ignored as they are trying to be the home for original IP. In the last 10 years have made 83% remakes and sequels and have taken over Raleigh, Pinewood, Sunset Bronson and other places. They can reach a much larger audience. It's a huge advantage. The question is – what is Gen-Z looking for now as their viewing habits are different than the older generations. How do you access this huge group?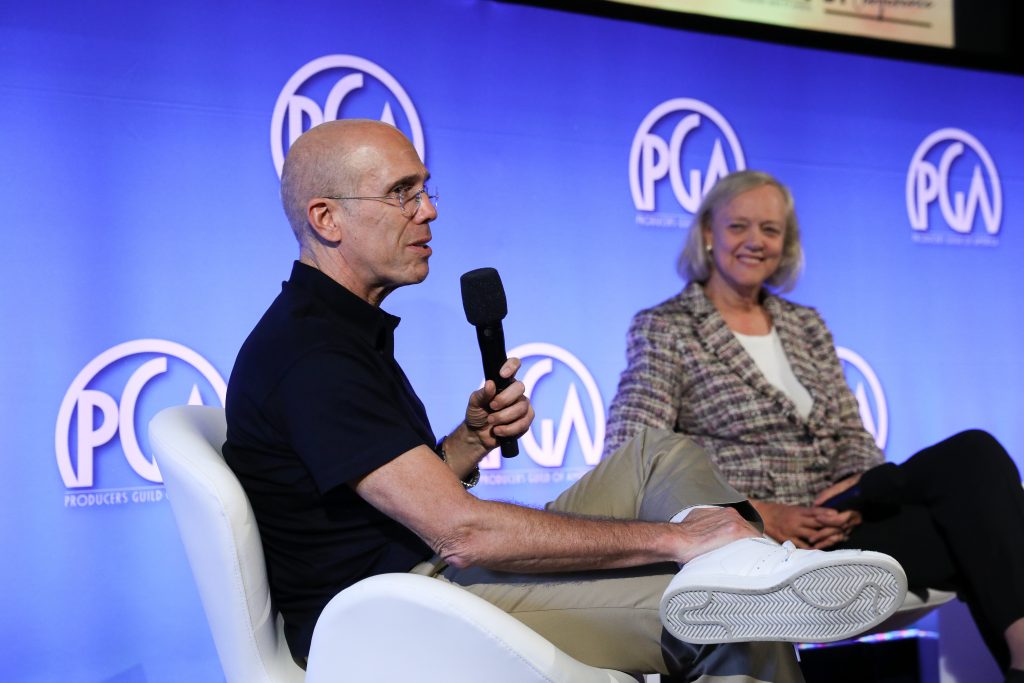 The Conversation with Jeffrey Katzenberg & Meg Whitman was also packed. Sponsored by Delta Air Lines it was moderated by Andrew Nusca, Digital Editor of FORTUNE. Their new group Quibi, (quick bites) which will feature short content, rolls out this April. 2020. They plan on releasing 7,000 pieces of content in one year and hope to publish 25 pieces of content each day. The cost will be $4.99/month – this includes ads. The ad free option is $7.99. "Content will be driven by their received audience data."
They already have deals in place Steven Soderberg, Guillermo del Toro, Sam Rami, and Antoine Fuqua and recently ordered a short-form mystery comedy written by Saturday Night Live writers Paula Pell and John Lutz with Lorne Michaels as executive producer. Each series will be two to four hours in length but will be divided into segments no longer than 10 minutes. The creator of each series will edit together a full-length version with no segmentation. After two years, they will fully own the long version and be able to sell it globally.
Before the networking the evening was topped off with Power of Podcasts: The Latest Way To Extend Your Story. Panelists here were Alexandra Cunningham known for Dirty John and Chance; Chris Giliberti – Head of Gimlet Pictures and Gimlet Media; Eli Horowitz known for Homecoming; and Yeardley Smith, Principal of Paperclip Ltd and known for Small Town Dicks, Voice Talent The Simpsons. The event was moderated by Sanjay Sharma – founder and CEO of Marginal Mediaworks.
The networking at a conference like this is unbelievable and something that every aspiring or active producer, writer, actor, composer or below the line talent should consider attending.