A delicious farce, THE PLAY THAT GOES WRONG premiered in London in 2012, winning the Laurence Olivier and Broadway World UK Awards for best new comedy in 2015.   A play within a play, the clever, never-a-dull-moment piece spawned a "Goes Wrong" series, including "Peter Plan Goes Wrong" and "The Christmas Carol Goes Wrong." It seems that audiences were more than ready to appreciate the mistakes that happen on and off stage. THE PLAY THAT GOES WRONG reached Broadway in 2017 with noted film director J. J. Abrams in his debut as theater producer. Winner of the 2017 Tony and Drama Desk Awards for best and outstanding scenic design, the play continued for 745 performances on "The Great White Way" before moving off-Broadway. THE PLAY THAT GOES WRONG has finally crossed the continent to entertain audiences in Los Angeles.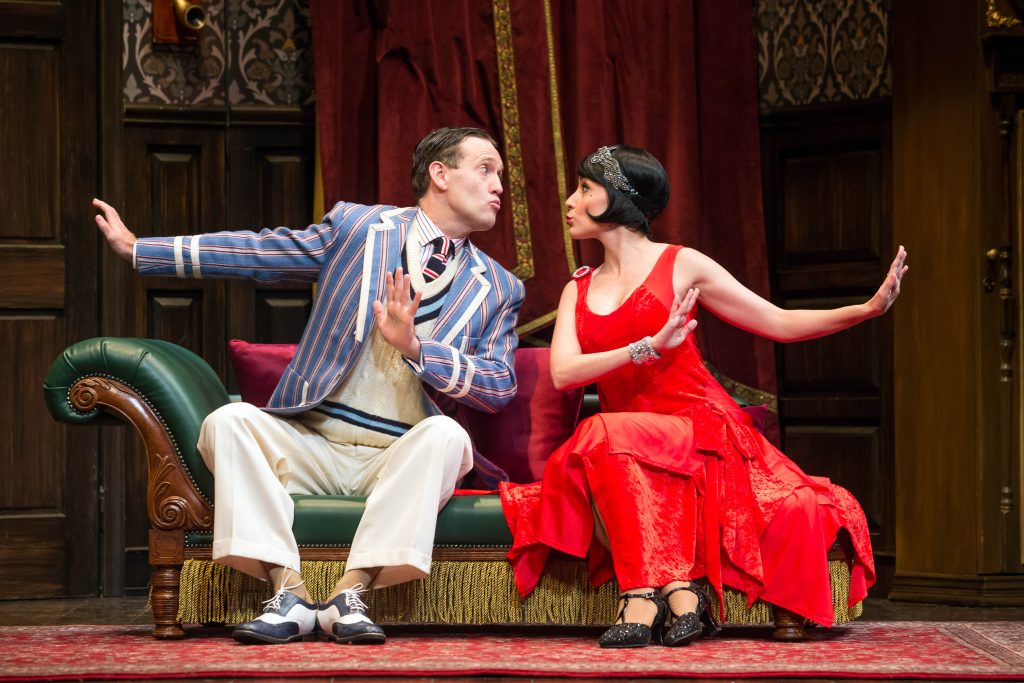 Have you ever wondered if there were unseen ripples underneath those smooth, well-produced shows you've seen time and time again? Then you must see the Cornley University Drama Society presentation of "The Murder at Haversham Manor." This is the play that goes very, very wrong even before it begins. Directed by Chris Bean (Evan Alexander Smith) – who also handled any other job needed to reach the final presentation (costume designer, prop maker, box office manager, press and public relations, voice coach, fight choreographer, stage manager, lighting and sound operator) and even doubled as the intrepid Inspector Carter – the Agatha Christie-type murder mystery goes from a rocky beginning to an even more catastrophic ending.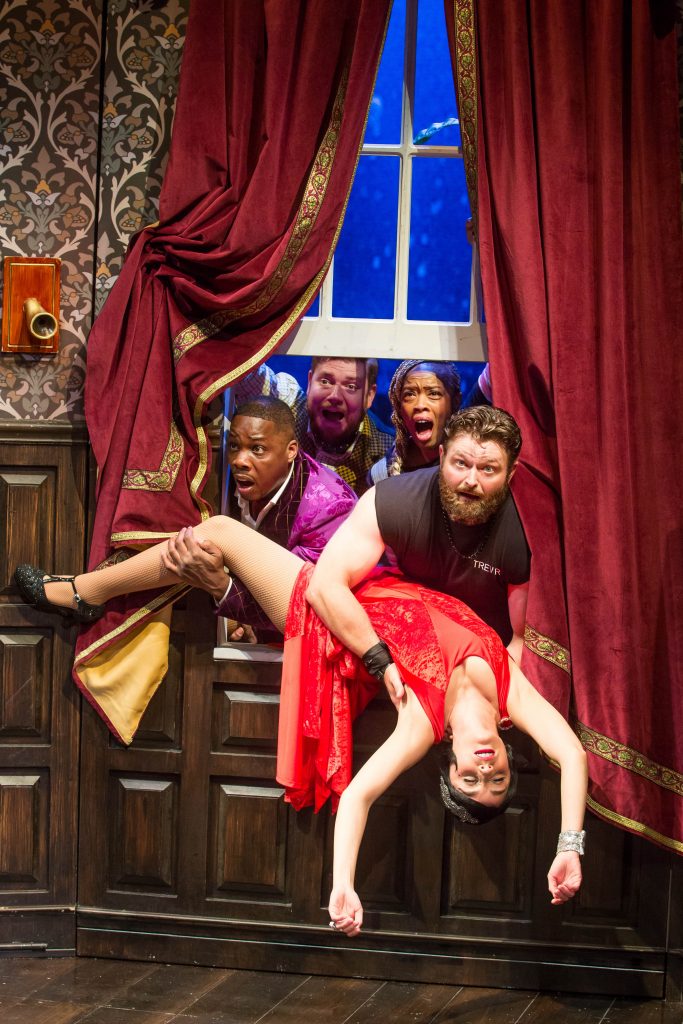 When Charles Haversham (Yaegel T. Welch playing actor Jonathan Harris) is murdered on the eve of his engagement party to Florence Colleymoore (Jamie Ann Romero playing actor Sandra Wilkinson), the number of possible suspects quickly climbs. Might the guilty party be brother Cecil Haversham (Ned Noyes playing actor Max Bennett), who's been having an undercover affair with Florence? Or perhaps Thomas Colleymoore (Peyton Crim playing actor Robert Grove), who seems involved in some nefarious pursuits? Could it be Perkins (Scott Cote playing actor Dennis Tyde), the often guilty butler? Inspector Carter will have a big job unraveling the mystery. Meanwhile, stage manager Annie Twilloil (Angela Grovey) and lighting/sound technician Trevor Watson (Brandon J. Ellis) should not be ignored as possible candidates.
This is a dizzying piece which turned into a real crowd-pleaser on the opening night. Hilarious, hysterical, sidesplitting, uproarious, quirky, off-the-wall – these are all adjectives which could be applied to this witty and very funny farce. THE PLAY THAT WENT WRONG Is a tour-de-force for visual comedy, cleverly enacted by an energetic and enthusiastic crew of ensemble actors who seem to read each other's minds. Directed by Matt DiCarlo (the real-life helmsman), THE PLAY THAT WENT WRONG doesn't miss a beat in turning every trope and possible error into a laugh. Nigel Hook's scenic design is more than up to the task of disintegrating on cue. It did seem that the comedy might have benefited from a bit of editing. A little shorter would probably have been even better. Nonetheless, this production is an audience pleaser which will not fail to offer an entertaining and amusing evening for theater-goers. Even the younger set will probably enjoy a visit.
THE PLAY THAT GOES WRONG runs through August 11, 2019, with performances at 8 p.m. on Tuesdays through Fridays, at 2 p.m. and 8 p.m. on Saturdays, and at 1 p.m. and 6:30 p.m. on Sundays. The Ahmanson Theatre is located at the Music Center, 135 N. Grand Avenue, Los Angeles, CA 90012. Tickets range from $30 to $135. For information and reservations, call 213-972-7231 or go online.