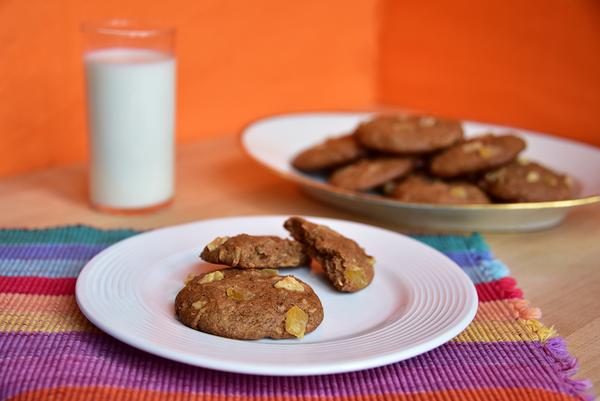 Tropical Plantain Cookies
Recipe makes 36 cookies
Ingredients:
1 ½ cups Pereg's Plantain Flour
1 ½ cups brown sugar
1 Tbsp. baking powder
½ tsp. salt
1 tsp. cinnamon
2 large eggs
2 Tbsp. of milk
¾ cups vegetable oil
1 tsp. vanilla extract
½ cup sweetened dried pineapple
¾ cup chopped walnuts
¾ cup shredded coconut (sweetened)
Directions:
Preheat oven to 350 ̊ F. In a large bowl mix together flour, sugar, baking powder, salt, and cinnamon. Lightly beat eggs, milk, oil, and vanilla together. Add egg mixture to dry ingredients and mix thoroughly. Chop pineapple into quarter inch cubes. Mix pineapple, walnuts, and coconut into batter. Using a 2 tbsp. scoop, place batter on a baking sheet with 2" of room between each cookie. Bake for 12 minutes or until a toothpick comes out clean.
Check out Pereg's line of flours and other great recipes.
Gray Whale Gin on the Rock-ets
+ 3 oz Gray Whale Gin
+ 1 red, white and blue popsicle
Pour Gray Whale Gin in a glass. Dip popsicle + enjoy! 
Gray Whale Gin is available for an SRP of $40 USD via select stores and online retailers like Total Wine, Drizly and Reserve Bar. 

Stuffed Sauerkraut & Millet Tot Corn Dogs
Prep Time: 15 mins — Cook Time: 31 mins — Total Time: 46 mins
Appetizer — Servings: 8
Ingredients
2 Boxes of RollinGreens Poblano & Sweet Potato Millet Tots
6 Vegan or Beef Hot Dogs
1 Bag of Cleveland Kraut Roasted Garlic
1/4 cup Ketchup
Oil of choice
Instructions
Preheat oven to 375 F. Place RollinGreens Sweet Potato & Poblano Millet Tots on baking tray with parchment or aluminum foil. Bake Tots for 7 minutes.
Millet Mash
Place tots into mixing bow and mash with fork or masher. Divide by six and place first 1/6 onto wrapped sushi mat. With spoon, make a square pressing the Millet like sushi rice.
Cleveland Kraut
Squeeze 6-.8oz. servings. This will be done one dog at a time. Squeeze the kraut juice onto the square of millet.
Millet Square
Roll each one, lining up the edge of the square and the end of the dog. Repeat until firm and alternative each end (stick end and top end).
Wrap each corn dog in saran wrap, twisting each end after wrapping. Place all dogs on the same baking tray. Cool in refrigerator for 10 minutes.
After cooled, unwrap all dogs and rub in preferred oil. Bake at 425F for 12-15 minutes or until golden brown.
Serve with Ketchup or preferred dipping sauce.
-Enjoy Chef Ko
Visit Cleveland Kraut online for great products and more fun recipes!
Sparkling Pimm's Punch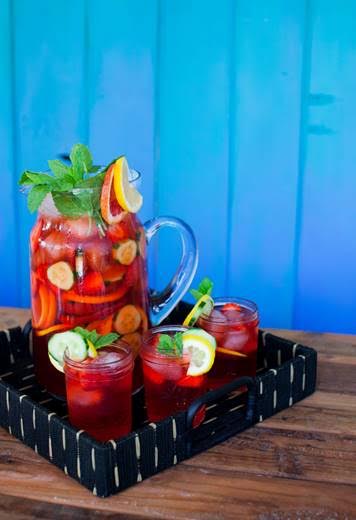 What You Need:
1 blood orange, sliced
1 lemon, sliced
2 cucumbers, sliced
1 lb. whole strawberries
1 bunch fresh mint leaves
One 750-ml bottle Pimm's No. 1
1 cup gin
4 1/2 cups Strawberry Lemonade Sparkling Ice
How To Make It:
In a large punch bowl, combine the blood oranges, lemons, cucumbers, strawberries, and half of the mint. Pour in the Pimm's, gin, and Strawberry Lemonade Sparkling Ice, stir until combined.
Fill glasses with ice and ladle in the punch, garnish with the remaining mint and serve.
Check out more great flavors and recipes of Sparkling Ice online today!
Basil Spinach Dip
1 – 14 oz block firm organic tofu, drained and pressed 1 9-10 oz package frozen spinach, defrosted
1/2 cup packed fresh basil leaves (wash thoroughly)
3/4 cup packed fresh spinach (wash thoroughly)
¼ cup apple cider vinegar
1 Tbsp spicy mustard
2 Tbsp light miso
½ tsp granulated garlic
½ tsp onion powder
1 can water chestnuts, drained
Directions:
In a food processor, blend tofu, mustard, apple cider vinegar, onion powder, granulated garlic, and miso on high until well blended.
Squeeze the water out of the spinach and basil.
Add to the other ingredients with the water chestnuts in the food processor.
Pulse a few times to break up the water chestnuts and leave some chunkiness.
Chill for a few hours and serve with veggies.
Check out New Life Hiking Spa online for more great healthy tips!
Strawberry Mint Mojito
Ingredients:
·       8oz Original Health-Ade Kombucha
Fresh Mint
Fresh Strawberries
Fresh Blueberries
Mint garnish
Muddled mint and strawberries
Optional: Make it a cocktail with 1 oz of rum
Instructions: To create this cocktail, you will need to freeze fruit ice cubes at least 3–4 hours before serving. First rinse and chop fresh strawberries and blueberries to make the fruit cubes. Place a mixture of blueberries and strawberries in an empty ice tray and fill with water. Place in freezer. To make the mojito, muddle fresh strawberries and chopped mint in a cocktail shaker. Add optional rum and handful of ice cubes. Shake well. Pour into bottom of cocktail glass. Take fruit ice cubes out of the freezer and stack in the glass. Slowly pour Original Health-Ade Kombucha over cubes and garnish with fresh mint leaves.
Check out Health-Ade Kombucha online for more great healthy tips and treats.