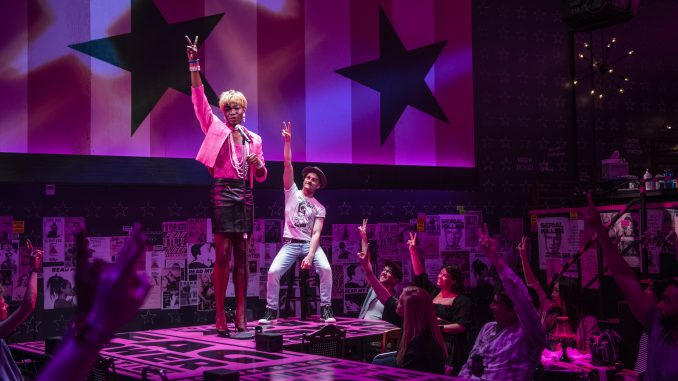 Steppenwolf Theatre Company is currently presenting Tarell Alvin McCraney and Tina Landau's Ms. Blakk for President in their Upstairs Theatre at 1650 N. Halsted, Chicago, through July 14, 2019. 
Directed by Landau and starring McCraney as Joan Jett Blakk, (aka known as Terence Alan Smith), the 100 minute show begins 50 minutes before curtain time with a vivid display of rousing pre-show burlesque performances and a lobby display that ultimately take the audience inside the Democratic National Convention at Madison Square Garden in 1992.
Chicago native Smith, founding member of the activist organization Queer Nation, ran for President in 1992 on a "Lick Bush" platform. It seems that the group effort altered the platform of candidate Bill Clinton, who ended up including LGBT rights and fiscal help for Aids into his agenda.
This wasn't really a "play" in the traditional sense. It was an evocation of a time and place, of mindsets in opposition and in coalition, and a fanciful spectacle of a deliberate if unformed and haphazard intervention into a set political event that yet altered the course of history. It is most timely to premiere this work during June, LGBT Pride Month, when we all must recognize the impact LGBT people have had in the world; regret those harmed through ignorance, hatred, and marginalization; and mourn those lost to the scourge of AIDS.
Ms. Blakk for President is less about dialogue- though the spoken/shouted lines are poignant- and more an experience in character development. The audience is brought right up close to the workings of Smith/Blakk's mind as he/she  takes a journey into the rough-tough interface of grass roots-meets-national politics, and comes of age.
The multi-level performance, including dancing, singing, projections, wall and ceiling decorations, and vivid costume changes, was vastly appealing on a number of visceral levels. Funny and charged with sexual references, as are all camp burlesque acts, it was loaded with a heavy layer of self-parody, self-support laced with self-criticism, self-consciousness and ultimately, a deeply rooted self-awareness. 
Featuring a thoroughly engaged and engaging cast:  Patrick Andrews, Molly Brennan, Daniel Kyri, and Jon Hudson Odom, who assumed many different roles and Sawyer Smith; they all danced, declaimed and sang their way into our hearts.
McCraney gave a truly inspired performance. Chair of Playwriting at the Yale School of Drama and an Academy Award winner for Best Adapted Screenplay for the 2016 film Moonlight, based on his own play In Moonlight Black Boys Look Blue, the 43rd member of the Steppenwolf Theatre Ensemble, openly gay,  projects a thoroughly confident, poised personae. He is able to segue seemingly effortlessly between portraying a vengeful room monitor who got back his own as the only Black in Catholic Grade School in Chicago, a newly minted drag politico strutting in cheap knockoff Chanel at the Berlin nightclub in Chicago, or the candidate frightened to change into an American flag imprinted dress in a men's room at Madison Square Garden after being threatened by cops and bullied by members of his own party. 
The scene where Smith transforms himself into Blakk, using portions of Catholic catechism as a mindfulness spur, while lying in the "john" in nothing but his skivvies and dreadlocks, head against the toilet, was almost unbearably real. We must all gear ourselves up to take on that evil which is "sufficient unto the day".
A catwalk/runway snaked its way through center stage. I was able to observe the expressions on the faces of many audience members at ringside seats. They ranged from delighted glee through deeply moved attention; I saw no blank faces or frowns. Some of the rallying cries that engendered cheers and tears were: "An army of lovers cannot lose";  "We demand the death of homophobia instead of the deaths of our lovers and friends"; and the very last quote, on the projection monitors, from the mouth of the actual and deeply affected Terence Alan Smith, "It's important that we all be remembered". 
Kudos to the production team including: Scenic Designer David Zinn; Costume Designer Toni-Leslie James; Lighting Designer Heather Gilbert; Sound and Original Music Designer Lindsay Jones; and Projection Designer Rasean DavonteJohnsonfor keeping the images meaningfully flowing, the clothes happening, the sound spirited, and the light right on.
All photos by Michael Brosilow