By Kathy Carpenter
Scripps Ranch Theatre Presents Move Over Mrs. Markham. Funniest show I've seen this year. If laughter cures what ails you. This is your prescription. Do not miss! Written by Ray Cooney and John Chapman. Directed by Francis Gercke.
What do these four things have in common? A butler, an oval bed, Children's books, and romance? Grouped together they combine to bring about a hilarious situation. The mark of a great farce.
Mr. and Mrs. Markham own the top floor of a London flat. That's where the action takes place on a summer evening around seven. Two acts, the second act continues the action right where one leaves off after intermission. Linda, a married friend of Mrs. Markham, knowing she will be out for the evening begs to use her flat for a romantic encounter. Mrs. Marham reluctantly agrees. Linda's husband and Mr. Markham's partner has the same ides, his hook up is with a stranger. Markham also reluctantly agrees. The maid and interior decorator thinking the flat will be vacant also make plans for a tryst. If that isn't enough add in someone who wants to sell the rights to their children's book series. Confusion, mix-ups, and mayhem. Elements to the perfect farce.

You also need a wonderful cast. Leigh Ellen Akin, Mrs.Markham, cool and sophisticated. When she steps out of character that's what brings us the laughs. Adam Daniel plays the interior designer. Extremely wonderful. His character is what makes him funny, so delicious. In character and out of character each can be fun. Linda, the friend, played by Kate Rose, Reynolds. Source of confusion. Sylvie, The maid, played by Colette Culbertson, brings us an accent. Philip Markham, played by Alex Guzman. Guzman brought me the biggest laugh. when he stepped out of character, I laughed down deep and could stop. John Decarlo plays Linda's husband. He brought the role of cad to life. Christopher Szabo plays Walter. A simply delightful Englishman. Jill Drexler, a true master of character, as Olive Harriet Smythe. Rounding out the cast, Kylie young, the other woman. Bring all the wonderful characters and actors together and you have an epic delight.
the set a masterpiece of color and design a huge element in this show. A living room and bedroom combo.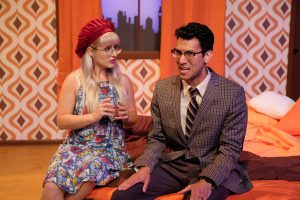 Scripps Ranch Theater does farces right. Take a night off from stress and laugh together for some shared therapy.
Scripps Ranch TheatreMove Over Mrs. MarhamMay 31 – June 30, 2019Legler Benbough TheatreAlliant International University858.578.7728
Next up Foxfire
Sept. 17 — Oct. 13, 2019 – by Hume Cronyn, and Susan Cooper