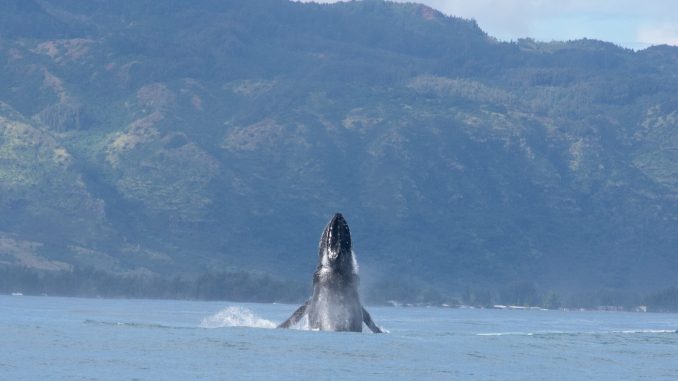 I have been to Oahu many times but I never knew one of the greatest dining experiences in the world had come to the shores of Oahu from Tokyo. Teppanyaki Ginza Onodera is located in the heart of Honolulu and their Wagyu beef dinner, featuring 4 Wagyu Beefs including Kobe Beef is one you will remember for the rest of your life.
Their Executive Chef Takanori Kanbe who is also the Vice President of the Japan Teppanyaki Association has over 30 years of experience working with elite Hotels. As you might already know Wagyu beef is imported from Japan where the cows we fed and raised as if they were staying in a 5 star resort. This multi course meal which is prepared at your table costs around $200 per person without alcohol. The Seafood portion of the menu changes seasonally. The night we were there, it featured Fresh Fish from Japan as well as Alaskan King Crab.
The always amazing Sea Food, Salad, Miso Soup, an assortment of Grilled Vegetables, Dessert, and 4 different delicate amazing Wagyu Beefs, including Kobe Beef where the marbled fat of the cattle is like nothing you have ever had. I promise you the other 3 Wagyu Beefs are just as amazing as the Kobe.
Each of the Wagyu Beefs come from different regions of Japan, All come with a certificate which the chef will show you before the Wagyu is prepared at your table certifying the cows top notch pedigree. Their original restaurant is in Tokyo and very famous. So most of the customers who dine here in Oahu are visiting from Tokyo. This restaurant is truly a hidden gem. I've been to Tokyo and had an amazing Wagyu dinner there, and this dinner here in Honolulu was a mirror image of that amazing dinner I experienced.
This is a true taste of Tokyo at its finest. Ginza Onodera also has restaurants in N.Y. L.A. Paris, London and Shanghai. Some of the restaurants feature Sushi, some Tempura, and some like the one we ate at feature only Teppanyaki. It is located at 1726 S. King Street in Honolulu. It is a small restaurant so do make a reservation. Their phone number is 808-784-0567.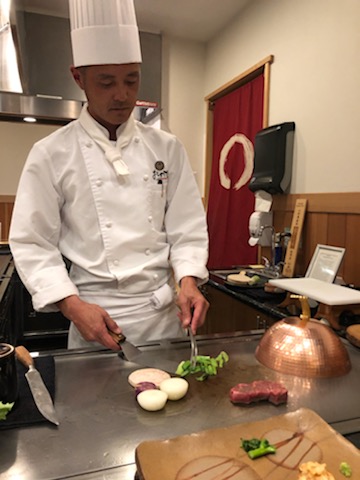 They do have a Sushi Ginza Onodera restaurant across town here in Honolulu. Their Sushi number here in Honolulu is 808-735-2375. Go on their website to see all their locations around the world, and wherever your travels take you make Ginza Onodera a must stop. I look forward to trying one of their Sushi and or Tempura restaurants, but if you are a beef eater don't miss this very special Wagyu dining experience at one of the Teppanyaki Ginza Restaurants.
Traveling around Oahu we went to Kapolei, on the west side of the island. Here some wonderful local restaurants have popped up like DB Grill, where they blend local favorites with Asian cuisine. At this modern Asian Bistro their chefs focus on local seasonal ingredients and contemporary techniques to create savory dishes and update island favorites. So the menu changes with the seasons. Head Chef Ed Choi Morris is an Oahu native and grew up working in his mother's Korean restaurant. Before opening this restaurant he worked just down the road at the 4 Seasons Hotel and the Disney Aulani Resort. We started the night with a few of their 12 delicious signature cocktails.
The Blueberry Soju Smash, and the Lilikoi Mint Spritzer. They also offer 15 different flavored DB's Carafe Soju Cocktails, The Watermelon Carafe which is served in a cutout watermelon and easily serves a party of 4. Here at DB Grill when dinner is over at 10 PM the restaurant turns into a 21 and over club and the music pumps and the Soju drinks flow.
We started our dinner with the best Chicken Wings I've ever had. We went not hot, but it was packed with flavor. They offer garlic, soy, or spicy Korean. We also enjoyed the Crispy Mandoo, a pork dumplings with Korean chili ponzu.
And the Ahi Poke, featured fresh auction block poke. This dish had a real kick to it. You might try the Chicken Tofu Salad, or DB Grilled Tofu Salad, both house favorites. The menu is vast and deep with terrific choices, from 7 appetizers, 5 salads, 10 bowls, 5 sandwiches and that's just half the menu. For our main dishes we enjoyed off the Communal Plates portion of the menu, Duck Butt Chicken.
A very tasty fried dry rubbed hen. The Pork Chops were also wonderful and don't miss the house favorite Duck Fat Fried Rice. Maybe the best fried rice I have ever had. We also loved the 16 oz. Grilled Rib Eye Steak with Kamichi butter.
A local favorite are the Pork Belly Lettuce Wraps, very tasty and perfect for sharing. So stop in to DB Grill for a true local taste of great modern Hawaiian casual dining and stay for rocking club scene after 10 PM. There are several movie theaters and a nice brand new shopping mall close by, along with excellent beaches.
On a trip to Oahu a visit to the North Shore is a must. In the summer you can swim and snorkel at Turtle Beach with several large turtles and tropical fish. In the winter months the surfers put on a show at Pipeline and the Humpback Whales are not far off the coast.
On my March visit I took my son in law Jacob and my granddaughter Tehea, (ti-hay- uh) it's a Tahitian name, and we all went out whale watching with North Shore Catamaran. The whales are in Hawaii from November to April. And North Shore Catamaran runs several trips per day.
We did the sunset cruise from 5 PM to 630 PM. Often you will see dolphins and turtles on the surface as you set sail out on their catamaran, heading a mile or two off shore to where the mother humpbacks and their calf's frolic on the surface.
About a mile off the coast we spotted in the distance a few whales by the huge water spouts they shot up in the air from their blowhole. Soon one dove down and its huge tail was completely out of the water, which had the 15 of us on the boat let out a howl of joy at the majestic sight.
But the best was yet to come. A mother and her calf surfaced about 40 feet from our boat. They moved slowly thru the water and our boat captain paralleled them as they moved. We spent a good 25 minutes being the only boat with these two whales and everyone on board were filled with pure glee. Photos were snapped, videos were shot. This is a great experience for families of all ages as well as couples.
My 11 year old Tehea, has grown up on Oahu and this was her first experience with whale watching, and she loved it. Our boat was about half kids, half adults. So great memories were made by all. As we headed back toward land we witnessed one of Hawaii magical nightly sunsets. The end of a perfect cruise.
Before the sail we enjoyed the beach and walked around the surf town of Haleiwa. Shaved ice is a favorite Hawaii dessert and no place is more famous that Haleiwa's Matsumoto Shaved Ice.
In the winter the lines are usually 20-30 people deep, in summer 50-80. They are the only shaved ice that has long lines and many locals will tell you the other places just doors away are just as good. But there must be something unique about their finely shaved ice and the terrific flavored syrups they use that has people willing to stand in line. I enjoyed my half Mango, half Watermelon with scoop of ice cream hidden below the ice. Tehea chose condensed milk with her flavored syrup choices. There are about 25 flavors to choose from varying from tart to sweet.
For dinner after the whale watching cruise we headed to Breakers Restaurant and Bar. A lively spot for breakfast lunch and dinner, and a favorite for many years with the local legendary North Shore surfers.
We started with some Edamame and an order of Coconut Shrimp off the Pupus portion of the menu. Both hit the spot.
Kalua Pork Fries, Ahi Poke and Lemon Pepper Calamari are Pupus favorites as well. There are several salads and the Coconut Clam Chowder looked great. We then shared a Flatbread Macadamia Nut Pesto Pizza. Everything was delicious hearty casual cuisine.
There are many pizzas and sandwiches to choose from but we went straight to the Entrees. A local favorite for any time of day caught Tehea eye. Named Loco Moco, it is a beef patty, two eggs over easy, rice all smothered in brown gravy with green onions.
I had the Short Rib Plate. All plates come with white rice, green salad and mac salad. Jacob had the Roast Chicken Plate.
Everything was cooked to perfection. There are also Tacos, either Short Rib or local caught Fish. Or you might sample the Coconut Curry Clams, or Breakers Fish and Chips. Something for everyone here at Breakers Restaurant and Bar. The bar and restaurant were hopping the Sunday night we were there.
The locals drinking at the bar and the staff are great to get advice on out of the way beaches and hiking trails.
So next time you find yourself on Oahu seek out these hidden gems for experiences you won't ever forget. Photos provided by Mitchell Sacharoff, Jacob Lealofi, North shore Catamaran, DB Grill, Breakers Restaurant and Bar, and Ginza Onodera Restaurants.