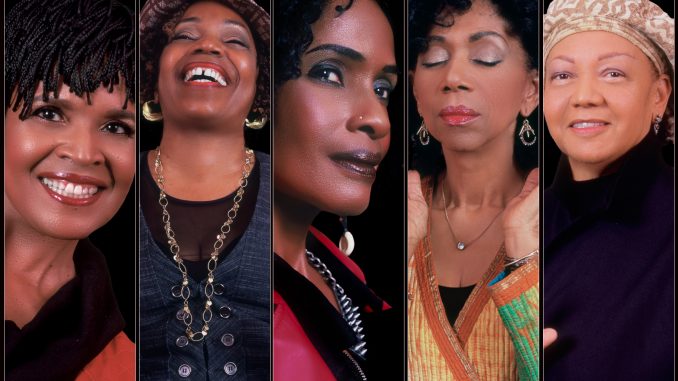 Sweet Honey In The Rock, (SHIR) the legendary a capella ensemble and the University of Chicago's 2018-19 Don Michael Randel Ensemble in Residence, returned to Hyde Park for Black History Month, February 2019, and for the second of three residency weeks at the University. Louise Robinson, Aisha Kahlil, Nitanju Bolade Casel, and Carol Maillard, with ASL interpreter Barbara Hunt and featured guests, bassist Romeir Mendez and vocalist Rochelle Rice put on a rousing sold-out concert, An Intimate Evening with Sweet Honey in the Rock, in the acoustically splendid Mandel Hall on February 8, 2019.
The all-female rotating cast- there have been 28 or 29 different members- of this Grammy winning African-American gospel quintet have been rocking out venues for forty five years, often attracting mostly female audiences; that was not the case Friday night. With roots firmly planted in feminism, the struggle for civil rights and Christianity, they display a level of musicianship that is awe-inspiring, seeming to reproduce the sense of an orchestral performance with the magnitude of just 5 voices. 
The songs generally consist of a lead singer, followed by strategically harmonizing chord clusters; even tunes that are relatively slow pack a punch! For instance, they sang/intoned Freedom Never Dies, the shocking story of Harry Moore, a civil rights activist from Florida who was slain in 1951- it's not happening Delta Blues, it's not thick Island harmonics, but it does contain the thrilling inspiration of an anthem. 
Among the memorable songs sung were the black heritage hymn Hush, Somebody's calling my name, with it's deeply penetrating call and response, the mesmerizing civil rights ode I'm on My way to Freedom Land, and the iconic Feeling Good (You Know How I Feel) which they alternately wailed and belted out. Wind Song by Miriam Makeba was sultry, soulful, and hot.