La Bohème is so popular that there is little left to be said about it, other than the nuances of a particular production. And what each production needs in order to do Puccini's amazing music justice, is a strong cast of singers, who also need to be good actors.  So, feel confident when you head down to the Lyric for this version.  There's not a weak singer or actor in the bunch, though some shine a little more brightly than others.
And La Bohème is even more relevant today than ever.  We live in an era when young, highly educated and skilled people, like the four friends who share the garret apartment in Paris, have little or no work and are living hand-to-mouth, just like Rodolfo, Marcello, Shaunard and Colline. Women, like Mimi and Musetta, fare even worse in our modern society, earning 30% less on average than their male counterparts.  In La Bohème, there's always the "glamorous" lure of prostitution to save them from starvation.  And here, by taking that option again and again, they are the only ones with anything like reliable incomes.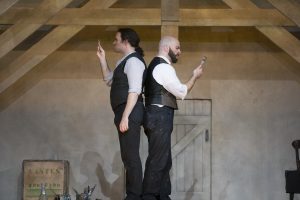 This production plays up the privations of the principals with a nearly bare set. An attic garret complete with beams and not much else.  There are blankets on the floor, a tiny stove, a box and one chair for dressing, yet it's really all they need. The blocking is excellent, and when the singers climb into the rafters in various portions of the story, it adds lively action to the scene.  The one real issue with this set is in Act One, where it is far enough back on the stage as to impede the singer's voices from being heard over the orchestra. (In Act Three it's moved forward and instead projects the voices. It seems to be placement on the Lyric's Stage that makes the difference.)
The orchestra, ably conducted by Domingo Hidoyan is very obviously in love with the score, and sometimes they're a bit overwhelming with their enthusiasm, especially when the singers are struggling to get their voices out from behind wooden baffles (the beams in the set).  The set looks great, but the placement is bad in Act I, as it actively impedes projection.
The four Bohemians are an excellent team.  They are all strong and full of personality. Rodolfo (Michael Fabiano) is charming and thoughtful, you can see why Mimi falls for him.  He's the picture of the romantic writer.  Marcello (Zachary Nelson) is the true standout actor, here, and with a fantastic voice to match.  Everything he does in this production is solid gold, especially when he has another singer to play directly off.  His interactions with Rodolfo, Musetta and Mimi are absolutely outstanding in every respect.  Schaunard (Ricardo Jose Rivera) is sparkly and engaging and you can see why people would pay him lots of money to entertain them. He has impresario written all over him. Colline (Adrian Sampetrean) has a good presence and a fine voice, but he gets a bit lost here among the real powerhouse performances from the others. His old coat aria is very nice, but you miss a lot of the significance of the build-up to it in this version of the opera.
The first scene with Rodolfo and Marcello starts the whole thing with a bang. They're so fabulous with their interplay, you know you're in good hands.  Then Schaunard's newfound wealth rescues them all and the paltriness of the largesse drives home just how dire their poverty is.  The bit where they swindle Benoit (Jake Gardner, who doubles as Alcindoro and is fine as both) out of the overdue rent with amazing comedic pearl-clutching is fantastic and amusingly staged.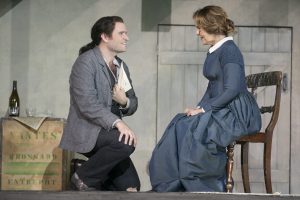 Mimi is sung by Maria Agresta and is one of the best Mimis I have ever seen. You believe everything out of her mouth, including her illness. Her coughing seems real. And she remembers to do it often.  You see Mimi's sweetness, innocence, and simplicity. And you can see the poverty killing her already.  Her sadness and delight seem genuine, as does her fascination with Rodolfo. It's a superb performance and would be worth going to this production for even if she was the only one this good, but she's not.  She has plenty of similarly wonderful performances surrounding her to play off and she makes the most of them at every turn. Honestly, this is so well-acted that if none of them sung a note it would still be a terrific night of theatre.
Agresta and Fabiano have excellent chemistry and this scene is splendid. When Mimi sings about her life, you actually feel it's real.
Honestly, the only quibble I have about this whole first Act is the fact that costume designer Stewart Liang has (again) put everyone in gray.  Because it's supposed to be sad and depressing, right? In the past two years at the Lyric, the gray costume design has graced Norma, the Ring operas, Les Troyens, and the promo pictures for the upcoming Elektra look the same.  Honestly, La Bohème is sad enough that you don't have to color-code it.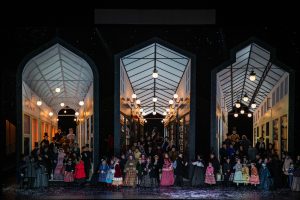 In Act II we must endure the endlessly weird Parpignol's toys section, but literally everything else in this act is solid gold.  From the recreation of Paris' famed covered shopping passages in the set design, to the Café Momus set, which is a fabulous nod to Paris' beloved restaurants, to the incredible Danielle de Niese dropping into the scene like a bomb as Musetta.  Hand's down the BEST Musetta I've ever seen acting-wise.  And they let her be absolutely outrageous.  She stands on tables and removes articles of clothing in her bid to gain Marcello's attention, and they are fantastic playing off each other. Every single scene they are in together livens up this production and when they fight, you believe it.
Musetta shows up as a proper scarlet woman in red and behaves outrageously and classlessly. And the production is very good at putting the girls in "fancy" gowns that are still clearly cheap and a bit crass for the era.  They're obviously mistresses and not wives. But both singers give their characters incredible dignity.  Musetta is making the most of her youth and beauty and is shrewd and intelligent, while ultimately being very emotional, fun-loving and soft-hearted.  Mimi is a bit too good for the world, but she's not too timid to take chances, first with Rodolfo and then with her protector when he leaves her.
The scene where they stiff Alcindoro for the bill is as funny as could be wished.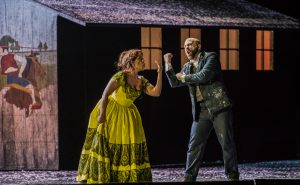 Act Three is very, very well-done. You really feel Marcello's fear when Mimi shows up and he's afraid she and Rodolfo will cause a scene and get him fired.  You understand his sympathy for Mimi, but also his fear of losing his paying job. His jealous fight with Musetta is the best I've ever seen it played and he literally chucks her suitcase out the door at her in a way that is incredibly realistic.  It fell open at our production and she spent the end of her stage time putting her stuff back in it.  I'm not sure if it was planned, but it was amazing and real.
Act Four starts off with the four friends reunited and poor and messing around in their apartment and drawing graffiti on the walls.  It's' really fun.
And Musetta arrives with Mimi, who is dying. The turn the whole cast takes here is genuinely moving.  They are horrified and don't really know what to do. Nelson and Rivera are standouts in this section even while Fabiano and Agresta are doing all their heavy lifting superbly.  Agresta again does the best Mimi death scene and doesn't forget to cough horribly.  Fabiano's weeping made several in the audience tear up.  Everyone is just so broken and helpless, it feels very authentic.
No matter how many times you've seen or heard this opera, it will feel immediate and real with this cast in this production.  And it is musically splendid as well. You should go and see it at once.
You can purchase your tickets and plan your trip at the Lyric Opera website.
Photographs by Todd Rosenberg.