Northwestern University's Henry and Leigh Bienen School of Music will present the 2019 Winter Chamber Music Festival (WCMF) featuring performances by guest artists and Bienen faculty from Jan. 11- January 27, 2019 at Pick-Staiger Concert Hall, 50 Arts Circle Drive, on the Evanston campus.
 The series includes the festival debuts of the Gryphon Trio and Catalyst Quartet. Other guest artists include Grammy Award-winning violinist James Ehnes, Bienen School Quartet-in-Residence the Dover Quartet and the return of the internationally acclaimed Jupiter String Quartet.

Since its founding in 1997 by Blair Milton, Bienen faculty member and violinist for the Chicago Symphony Orchestra, the festival has been a lively showpiece and season opener; it's also served as a catalyst for increased concert activity on the North Shore. The 23rd annual festival is made possible in part by the generous support of the Elizabeth F. Cheney Foundation.
The festival schedule is as follows:
1.) Dover Quartet
Friday, Jan. 11, 2019, 7:30 p.m.
Their program includes:
– Pyotr Ilyich Tchaikovsky's Quartet No. 3 in E-flat minor
-Mason Bates's "From Amber Frozen" 
– Franz Schubert's Quartet in G major.
2.) James Ehnes, violin and Andrew Armstrong, piano
Sunday, Jan. 13, 2019, 7:30 p.m.
In this program, the duo presents the first of three performances, to be continued in 2020, devoted to Beethoven's complete violin works. This performance will feature:
– Beethoven's Violin Sonata No. 2 in A Major, Op. 12 
– Beethoven Violin Sonata No. 7 in C Minor, Op. 30
– Beethovem Violin Sonata No. 10 in G Major, Op. 96. 
The performance is followed by a subscriber reception.
3.) Gryphon Trio
Friday, Jan. 18, 2019, 7:30 p.m.
Their program includes:
– Joseph Haydn's Trio No. 45 in E-flat major, Hob. XV:29
– Ludwig van Beethoven's Trio in E-flat major, Op. 70, No. 2
– Johannes Brahms's Trio No. 2 in C major, Op. 87.
4.) Catalyst Quartet
Sunday, Jan. 20, 2019, 7:30 p.m.
Comprised of top laureates and alumni of the internationally acclaimed Sphinx Competition, the Catalyst Quartet has been called "invariably energetic and finely burnished" by the New York Times. 
Their program features music from South America including:
– Heitor Villa-Lobos's String Quartet No. 1
– Astor Piazzolla's "Suite del Angel" 
– Alberto Ginastera's String Quartet No. 2.
Friday, Jan. 25, 2019, 7:30 p.m.
Their program features:
– Felix Mendelssohn's String Quartet No. 2 in A minor, Op. 13
– Henri Dutilleux's "Ainsi la nuit"
– Ludwig van Beethoven's String Quartet No. 14 in C-sharp minor, Op. 131.
6. Bienen Faculty and Guest Artists
Sunday, Jan. 27, 2019, 7:30 p.m.
Bienen faculty Gerardo Ribeiro, Helen Callus, José Ramón Méndez, James Giles and John Thorne join guest cellist Stephen Balderston and pianist Kay Kim to finish out the 2019 Winter Chamber Music Festival. 
They present a performance featuring: 
– Beethoven's Cello Sonata No. 2 in G minor
– Samuel Zyman's Sonata for Flute
– Sergei Taneyev's Piano Quartet in E major.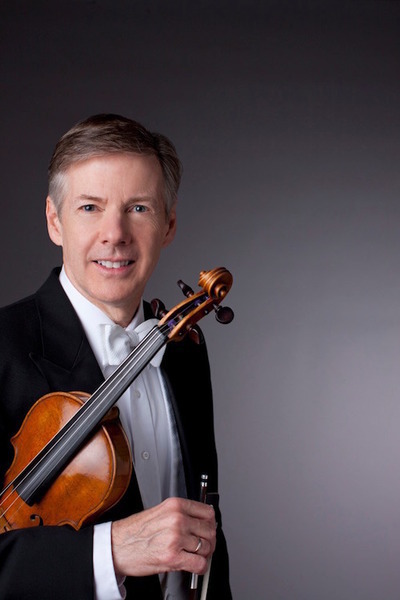 INTERVIEW WITH FESTIVAL DIRECTOR BLAIR MILTON:
I had the opportunity to speak with Blair Milton about the program for the upcoming festival. This affable and erudite artist provided some insight into the overarching link between the concerts in the series. 
Milton informed me, "The year 2020 is the 250th anniversary of the birth of Beethoven; that is why so much of his work is included in the WCMF. For instance, James Ehnes and Andrew Armstrong are presenting an all-Beethoven program for our second concert on January 13th;  the duo will be performing 3 such events through 2020, all devoted to Beethoven's violin Sonatas. Our 3rd,  5th,  and 6th concert programs all contain works of Beethoven as well."
"There are other looser threads in the series", Milton noted. "Of course, the Dover Quartet, which opens the Festival on January 11th, is the Music School's Quartet- in- Residence. They are performing a newly written piece of Mason Bates'; he is a former Composer in Residence at the Chicago Symphony Orchestra, and a local tie-in. And The Jupiter Quartet has appeared 3 prior times on the series."
"By contrast", said Milton, "The Gryphon Trio is the first outside or visiting piano trio to play at WCMF; from Toronto, they are very well-known in Canada and we are delighted to have them. The Catalyst Quartet are alumni of The Sphinx Competition, a program that helps minority musicians; they will be presenting a slightly unusual repertoire of South American composers that we felt would be stimulating. The Jupiter String Quartet have included a work by Henri Dutilleux, a very interesting French composer who hasn't written much chamber music, yet the piece fits in an intriguing way. As for the Faculty and Guest Artist program, the Taneyev piece was suggested by James Giles, the Beethoven is part of the Beethoven project, and the work by Zyman is newly-written, heart-felt, and a great showpiece for out wonderful flutist, John Thorne".
In summary, Milton mused, "It's become a mission to keep the Winter Chamber Music Festival ongoing and to stimulate the interest of the audience. My hope always is to balance the familiar with the introduction of new faces and works, to demonstrate how vast the musical landscape really is!"
All performances begin at 7:30 p.m. at Pick-Staiger Concert Hall, located at 50 Arts Circle Drive on Northwestern's Evanston campus.
Single tickets for any Winter Chamber Music Festival concert are $30 for the general public and $10 for students with a valid ID. Tickets are available at concertsatbienen.org, by phone at 847-467-4000 or by visiting the box office located in Pick-Staiger Concert Hall at 50 Arts Circle Drive on the Evanston campus.
Winter Chamber Music Festival subscriptions are also available and include a variety of benefits, including savings of up to 30 percent.
For concert tickets and more information, call the Bienen School ticket office at 847-467-4000 or visit concertsatbienen.org.
The Bienen School is a member of the Northwestern Arts Circle, which brings together film, humanities, literary arts, music, theater, dance and visual arts.