If you've been searching for a fabulous and unique holiday gift for that 'hard to buy' someone, look no further than the revamped CMX Cinemas at the Westfield Old Orchard shopping mall in Skokie. CMX Cinemas, the eighth largest movie theater chain in the United States, ushers in a new luxury theater going experience to the Chicago.  CMX Cinemas has opened not one but two locations in the same mall; one for date night, CinéBistro, and one for the entire family, CMX Market.  Genius. Honestly, I've always shied away from this kind of thing; as a parent of young kids, it's hard enough just to get out to a movie, let alone a luxury movie experience.  Now that I've been acquainted with the awesomeness that is CMX Cinemas, the hesitation is gone and the excitement to go again and introduce others to it, is massive.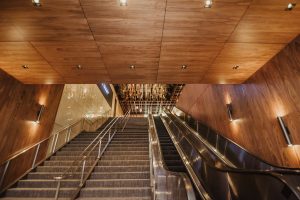 So, here's how it goes.  You enter the lobby, which is beautifully appointed, and are led upstairs to the super chic bar and restaurant area.  I was there on a Wednesday night and it was fairly quiet, but I can only assume the vibe is that of a popular up-scale restaurant on the weekends.  As we were led into the hallway where the theater entrances are, I turned to my friend and said, "I feel like I'm at a spa."  With the simple but sophisticated decor, dim lighting, and lack of preview movie posters and young kids running around (it's 21 and older, friends), I meant what I said. 
We were then led into the theater and to our assigned reclining upholstered leather seats.  What?!  Each chair also offers a dim LED light, a charging station, and a place to keep your purse or shopping bags.  If you're out with your special someone, worry not; the console between seats lifts up for easy snuggling.  Lastly, each chair has a service staff call button for such emergencies as running out of popcorn or the need for another cocktail.  My friend and I were supremely happy long before the movie itself began. We also realized how time efficient we were being by seeing the movie and having dinner at the same time; important when you're paying a baby-sitter!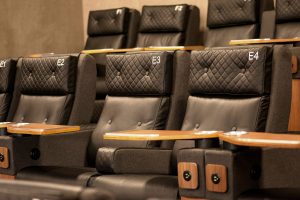 Presently, a lovely young man came and told us he would be taking care of us for the evening.  He explained all of the amenities and how we would order food and drink.  The theater suggests you arrive a half hour before your movie begins so that you can take care of ordering before your movie begins, thus minimizing interruptions once the movie has begun.
The cocktails and menu items aren't cheap, but they are well worth the price.  My friend and I each got a cocktail and were pleasantly surprised at how potent they were. 
As for the food, we each ordered an appetizer, entreé and dessert; I ended up taking two boxes of leftovers home with me.  I asked our server to recommend an appetizer; he immediately said the chicken tenders and they were far from those that you get from a kids' menu.  First, the portion was HUGE.  There were six or seven large tenders with a wonderful dipping sauce, french fries and coleslaw.  I could have easily gotten by on the appetizer alone, but the salmon entreé  I got was amazing; a large piece of perfectly cooked salmon on top of mashed potatoes, surrounded by several plump shrimp in a delicious lemony sauce. 
As for eating a full meal while watching a movie, it's not the easiest if you order something that requires a knife and fork.  It would be cool if there was some kind of tray that attached to the seat, so that you don't have to turn to eat off of the console next to you.  But, a small sacrifice to make in light of the overall experience.  The waitstaff was adept at being as unobtrusive as possible and they definitely added to the luxurious feeling of the experience.
 Then there was dessert.
 I had the caramelized banana cheesecake; aga
in, a generous portion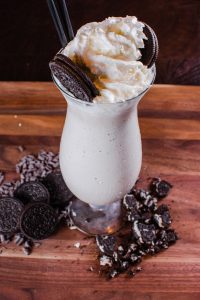 with a delicious sauce and lovely banana garnishes. My friend and I left the theater relaxed and happy with very full stomachs, excited to spread the news about what we had experienced. 
About CMX Market Cinema
CMX Market, a new and innovative concept developed by
CMX Cinemas,
combines a luxury movie going experience with refined CMX Market self-serve culinary and beverage selections.  The Market concept is inspired by the popular and fashionable food hall concepts and eateries that will allow foodies to experience a wide selection of delicious meals.  Families and guests of all ages are welcomed to enjoy the CMX 
Market location, found across the mall from the
CMX Cinébistro
location.
With a full array of gourmet action stations, including an in-house pizza station, with 
pizzas made from scratch with market fresh ingredients, a burgers and shakes destination featuring mouth-watering made-to-order burgers and creamy hand-spun shakes, and, oh, so much more.  There's also a full-service bar for guests 21 and up.  
CMX Market
offers a selection of the latest films for the whole family, plush leather seats and fully accessible theaters equipped with Real D 3D technology and Dolby 7.1 audio technology to enhance the sound experience.
Admission for guests over the age of 21 at CMX Cinébistro is $16 on weekend evenings, $13 on weekday evenings, $12 for matineé  showings on weekends and $10 for matineé  showings on weekdays. Seniors and military guests receive admission for $12 every day of the week at CMX Cinébistro. At CMX Market, admission for adult guests is $13.50 on weekend evenings, $12 on weekday evenings, $10.50 for matinee showings on weekends and $8.50 for matinee showings on weekdays. Students and military guests receive admission for $10.50 on weekends and $9.50 on weekdays, and children's and seniors tickets are $9.50 every day of the week.  Both locations offer special admission prices on Tuesdays,  with Tempting Tuesdays at CMX Cinébistro for $10 and Terrific Tuesdays at CMX Market for $5 admission all day.
Social Media Links: 
Instagram: @cmxcinemas
Twitter: @cmxcinemas
Facebook: https://www.facebook.com/CMXMarketOldOrchard/                                                       https://www.facebook.com/CMXCineBistroOldOrchard/