On December 13, 2018, in a concert to be repeated on December 14th and 15th, Conductor Michael Tilson Thomas returned to Symphony Center, 220 S. Michigan, Chicago to conduct the Chicago Symphony Orchestra in a glorious concert of important Russian masterworks featuring sensational Scottish violinist Nicola Benedetti. Pianist Daniel Schlosberg, called "Mr. Versatility" for his wide range of musical interests, spoke in the Grainger Ballroom preceding the concert, giving participants an insider's perspective; using taped examples, he took us inside the works to come.
– Igor Stravinsky Concerto in D for String Orchestra, 1946
Last September, Tilson Thomas was interviewed for the San Francisco Classical Voice about his approach to the San Francisco Symphony's 2-week Stravinsky Festival at Davies Hall. He spoke about how he had often spent time at Stravinsky's home for rehearsals, and how the music was personal to him, having grown up in a Russian-Jewish family listening to his grandmother singing folk tunes found in Stravinsky's compositions. He also noted, "There are a million things I do as a conductor related to balance, rhythm…I can't possibly list them all" in interpreting/leading the works of "the universal genius mind" of Stravinsky.
Tilson Thomas' elegant yet economically expressive gestures deftly led the ensemble in this spirited opening piece, known as "the Basle Concerto". The 12-minute work proved a fine showpiece for the fluidity and superb polish of the CSO strings in the vivacity of its sprightly cross rhythms that are interwoven with lyrical passages. The 3-movement Concerto was performed with a particularly clear sound, alternately strong and graceful, free of any sense of artificiality. The first movement Vivace, comprised of syncopations alternating with moments of silence, imparted an energy to the whole, while the Arioso and Rondo that follow, filled with uncommon dissonance that wanes and waxes, were played with a satisfying alternation between tension and the release of tension.
– Sergei Prokofiev Violin Concerto No. 2 in G Minor, Op. 63, 1935
After the CSO winds and percussion were added to the ensemble, Prokofiev's Second Violin Concerto opened with the glorious solo violin performed by Benedetti playing a melancholy air on her 1717 Gariel Stradivarius. This distinctive theme contains atypical rhythms. The CSO entered with initially muted strings, brightening up into a second melody. Both ideas were wrought with great harmonic variety; Benedetti's playing was passionate, intense, exquisite. The second movement Andante assai, a charming melody against a heavily patterned accompaniment revealed Benedetti weaving a lovely song. Finally, the splendid dance-like colors and spirit of the third movement, accented by the prominent bass drum percussion brought the piece to a vivid and dramatic upbeat end.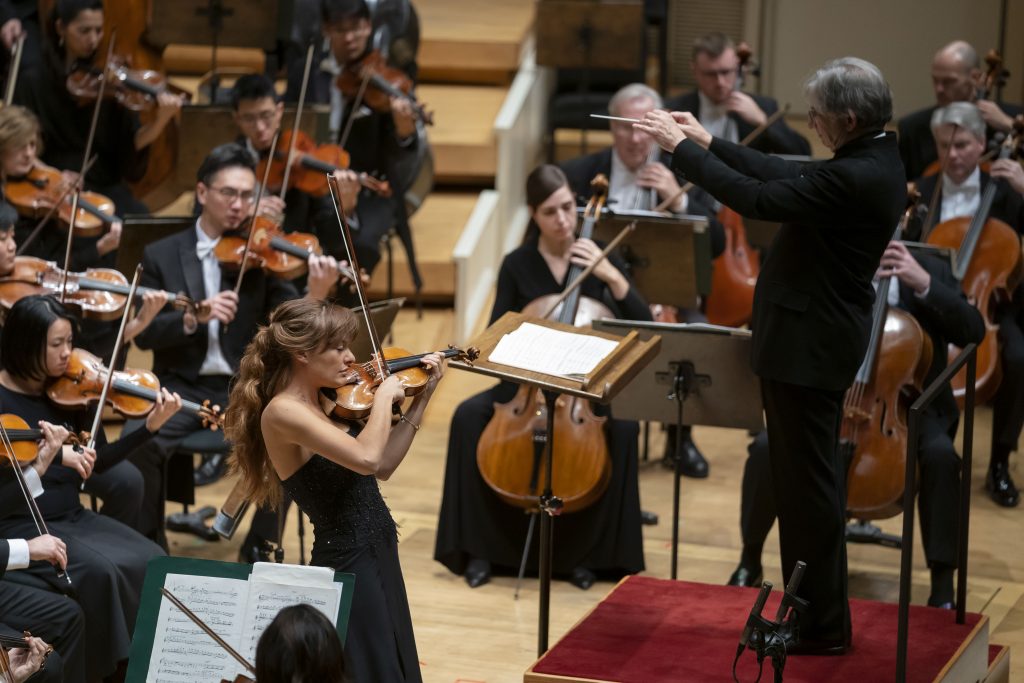 – Pyotr Ilyich Tchaikovsky Symphony No. 6 in B Minor, Op. 74 (Pathétique)
The Pathétique, about which Tchaikovsky wrote, "Without exaggeration, I have put my whole soul into this work", embraces a pervasive sense of a moody darkness; however, this bleak aura only serves to deepen the rich, lush melodies throughout this beautiful, symbolic symphony. The introduction features a bassoon in the low register accompanied by double basses creating a heavy, sonorous feeling. When the first theme finally appears, it's in the violas/cellos while the famous second theme is presented by muted violins/cellos, the whole creating a well of ominous despair thrown into sharp contrast by a terribly fierce development section partially comprised of an imposing segment taken from the Russian Orthodox Requiem Mass.
The second movement is a seemingly simple waltz, almost cheerful in tone. However, as eloquently described by Schlosberg, it's written with five beats to the measure, an unusual and slightly off-sounding waltz, skipping a beat every few measures. This effect fashions a delicate and vulnerable interval before the third movement march drives on to the almost overwhelmingly poignant finale.
Tilson Thomas and the San Francisco Symphony just produced a digital version of the Pathétique. In commenting on the MTT release, the great conductor called the symphony "an amazingly constructed piece". In Orchestra Hall, Tilson Thomas at the helm of the CSO shaped an interpretation of the supreme melody maker's own tormented expression that was stirring, filled with life rather than impending death, and harkened back to the great complex ballets of Tchaikovsky's earlier years.
For information and tickets to all the great programs of the Chicago Symphony Orchestra, go to www.cso.org
All photos by Todd Rosenberg