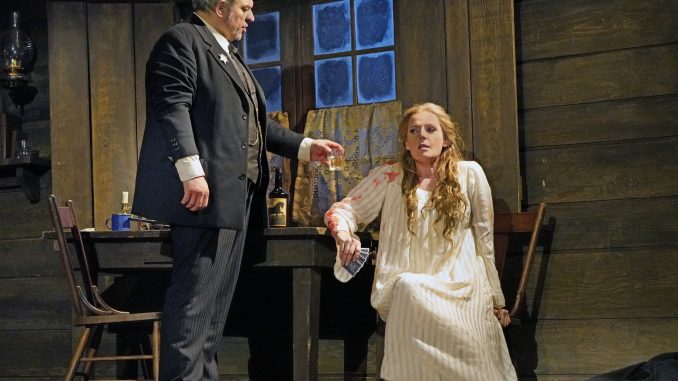 This new production of Puccini's opera, La Fanciulla del West, which world premiered at the Met in 1910, is really the ultimate spaghetti western. It's two very late 19th Century Italians (though librettist Carlo Zangarini's mother had come from Colorado and he could speak English) looking back at the American Gold Rush and spinning a golden tale of the beloved and treasured child of California, tavern owner Minnie, falling for a not-so-bad, bad boy, Dick Johnson.
The story is taken from a Broadway play written by David Belasco, Puccini's source for Madama Butterfly, and one of the early 20th Century's truly important American theatrical figures.  Belasco was born and raised in San Francisco and had lived through the Gold Rush era first-hand in the area where it was happening and his real-life experiences informed this play and others.
By the time Puccini's opera debuted, Belasco's play had previously appeared on Broadway and toured America.  It would go on to be filmed four times in 1915, 1923, 1930 and 1938, all under the original title, The Girl of the Golden West. (The 1938 version is notable for opera-lovers for being a musical starring Jeanette MacDonald and Nelson Eddy, Walter Pidgeon, and Buddy Ebsen with songs by Sigmund Romberg.)
It's not only an outlier in opera for its Wild West setting, but for the wild chances, Puccini was taking with the music.  Gone are the soaring arias we're so used to, replaced by continual character interaction with interlacing, supporting themes.  This is Puccini taking risks, and if you are risk-averse maybe it's not for you.  And maybe it's why this opera is so seldom staged. You're not going to run away humming the melodies of arias in this one. (Though you're certainly going to be humming the all-too-familiar orchestral themes from Act II if you're an Andrew Lloyd Webber fan.  Spoilers, the songs "Angel of Music" and "Prima Donna" from Phantom of the Opera are nearly note-for-note lifts from the orchestral lines in Fanciulla. This is epic, lawsuit-worthy plagiarism if only Fanciulla wasn't public domain.)
But seeing it staged, and this staging in particular, brings the story and music to vivid life. The male chorus (there are only two female singers in the entire production) has so much to do and they're clearly having great fun being Old West miners and cowboys. There are dozens of featured moments when chorus members step up as the various personalities of the rough mining town and they all have something to say and something interesting to do from almost perishing of homesickness, to cheating at cards, to forming a posse to lynch a highwayman.  Stage Director Gregory Keller and chorus master Donald Palumbo should be commended. The massive amounts of supporting characters in this make it a real boon for chorus members.  They have real parts here. They're not just a faceless mass as opera choruses can sometimes be.
The supporting trio of Carlo Bosi as Bartender Nick,   Michael Todd Simpson as leader of the Miners Sonora, and Matthew Rose as Wells Fargo Man Ashby, have much to do in the opera both vocally and in moving the plot.  And they are all three amazing and their interview section between the acts was completely delightful. (Rose notably calling out fellow Englishman Lloyd Webber for his plagiarism.)  Other featured turns are equally excellent, small as they are.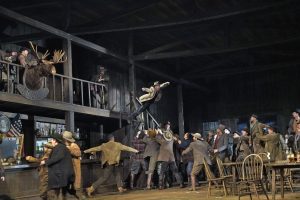 Famed fight choreographer B.H. Barry, who worked out a fun bar fight and several other massive choral conflicts for this, gives a fun interview in between acts.  It is a problem with stage fight choreography that sight lines matter and the HD cameras do show everyone pulling their punches a little more than you might wish, but, it's still a huge number of moving parts wonderfully executed.  Nobody is standing around aimlessly.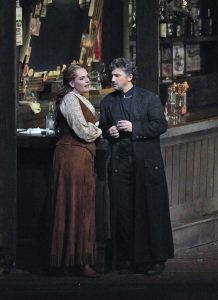 As the book-loving Minnie, innocent and pious though she was raised in a saloon in a lumber camp (only in the 19th Century would people believe this), Eva-Maria Westbroek is upbeat and engaging and sings beautifully.  Under the exacting scrutiny of HD, there is no way on earth you're going to believe she's twenty, however.  She sells it like mad and her energy is infectious.  She stated in the interview portion that this is her favorite role, and you can tell she loves Minnie.  You will like her a lot, too.
Jonas Kaufmann is a dashing Dick Johnson, and he remarked, too, that he loves this role. And how could you really not love a part that was originally written for Enrico Caruso?  He also gets the single, short Caruso-mandated aria in Act III and performs it beautifully.  He's also far too old, but you can handwave it.
Zeljko Lucic plays the married sheriff Jack Rance, who pursues Minnie. This is a much more complex villain role than in most operas and Lucic does a decent job of not making him one-note.  Rance is a person whose lust is duking it out with his basic law-abidingness, common sense, and human decency and whose better angels actually win out much of the time, preventing him from doing anything truly evil. He gets more backstory than most villains and he also keeps his word, setting up the opera's happy ending.
Yes, Fanciulla del West doesn't end with everyone dying in a pile or some horrible, massive tragedy.  It is a truly American story of hope, redemption, and optimism while everyone from redeemed hero to villain rides off into the sunset.
As always, the extras you get viewing it in HD add greatly to your enjoyment of the opera. And the preview of the upcoming new opera Marnie was also very intriguing. If you can't get to the Met, your local theatre with Fathom Events in HD is the best place to be.
Upcoming productions, including the world premiere Marnie, can be found here.
All photos provided by The Metropolitan Opera.