Northwestern University Bienen School of Music Presents:
Keyboard Conversations: The Series: Pianist Jeffrey Siegel
Pick-Staiger Concert Hall, 50 Arts Circle Drive on the Evanston Campus
– OCTOBER 5, 2018 7:30PM
The Joyous Music of Beethoven
 – NOVEMBER 30, 2018 7:30PM
Commemorating Rachmaninoff and Debussy
 – FEBRUARY 15, 2019 7:30PM
Chopin in Paris
 – MAY 10, 2019 7:30PM
The Romantic Connection
 Internationally acclaimed pianist Jeffrey Siegel has toured the globe, appearing as soloist with the world's great orchestras.
In addition, as a dynamic communicator as well as performer, he has long championed the transformative power of classical music in his widely celebrated Keyboard Conversations®, a brilliantly polished concert-with-commentary in which lively, captivating remarks precede virtuoso performances of piano masterpieces.
New listeners have discovered an informal, entertaining and instantly accessible introduction to the magnificent piano repertoire and seasoned music lovers have discovered an enriched, more focused listening experience.
As annual series, Keyboard Conversations flourish in London as well as in major cities throughout the United States; some venues have been presenting Keyboard Conversations® for more than 25, 30, and 40 consecutive seasons, a resounding testimony to Siegel's artistry, innovative format and loyal fans.
The 2018-19 series at Northwestern University's Pick-Staiger Concert Hall marks the 50th anniversary season on Chicago's North Shore.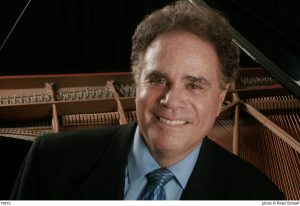 INTERVIEW WITH JEFFREY SIEGEL:
 This reviewer had the opportunity recently to interview Jeffrey Siegel on the eve of the opening concert of his 50thseason here in Chicago. His warm, spirited and thoughtful remarks follow:
DEBRA DAVY: "Northwestern University and Chicagoland are always thrilled to have you back performing; as a former Chicago native, do you still maintain any ties to our fair city?"
JEFFREY SIEGEL: "Indeed, I have ties to Chicago! My son Noah, and his wife and two young daughters live in West Rogers Park. Both my son and daughter are graduates of Northwestern.  Ironically, I lived in West Rogers Park until I was 17 when I moved to New York City to study at the Juilliard School of Music. The home I grew up in is a few blocks from where my son lives now so when I return to the area it is "returning home". Many of my dearest friendships are with people who lived, and still live, in West Rogers Park, Skokie, and Evanston and many regularly have been attending my Keyboard Conversation programs at Northwestern, 4 times a year! Although I have lived most of my adult life in New York and in London my 'roots' are Chicago and when I am asked where I live I always reply, 'I am a Chicagoan who lives in New York City!'"
DEBRA: " Obviously, the format of Keyboard Conversations has been extremely successful, and the audiences get the benefit of your knowledge and words; why do you think it is important for you to talk to your audiences?"
JEFFREY: "Why talk at a classical music concert? I would be the first to defend the principle that great music does not need anyone to say anything about it as a 'preface' to hearing the masterpiece – great music speaks for itself. However, if one can, succinctly and in non technical language, say a few words about the piece of music before performing the work for the listeners this can, if done very well, make the listening experience more than a pleasant ear wash of sound for the avid music lover and, equally important, provide an inviting, engaging musical experience for the 'novice'. My audiences, at Northwestern, and the many other cities where I present annual series of Keyboard Conversations – concerts with commentary – are made up of people of all different ages and different listening experiences.
I can determine this for each Keyboard Conversation program concludes with a short Q and A, so the audience members can participate. The audience response to these outreach Keyboard Conversations touches me deeply – to enrich people's lives with what Leonard Bernstein called 'the transformative power of music' is a great privilege for this musician".
DEBRA: "Why is this year's opening program comprised of 'The joyous music of Beethoven?' Is it true that Beethoven's music is a joyous affirmation of human freedom?"
JEFFREY: "Why 'Joyous Beethoven' as the title of the opening program in the Northwestern series on Friday night October 5?  I believe when most people think of Beethoven the first music that comes to mind is the famous opening of the 5th Symphony—-da da da DUM! Music that suggests the Heroic Beethoven shaking his fists at Fate – and much of his music is of this type. But Beethoven wrote many joyous pieces of music as well and for the 'joyous occasion' of the opening of the 50th season of Keyboard Conversations I wanted an upbeat Beethoven program – thus, amongst other works the program will have two major compositions of this composer that were particularly close to his heart, The Theresa Sonata and the Farewell Sonata.
The work known by the nickname Theresa Sonata is dedicated to Theresa von Brunswick, an 'intimate' of the composer – the music is warm, tender, and has a Finale that bubbles over with utter happiness, the joy of life, and humor. The Farewell Sonatais dedicated to an extremely important person in Beethoven's life, the Archduke Rudolf, the brother of the Emperor of Austria. Why was the Archduke leaving Vienna? What was his relationship to Beethoven? Why was the Archduke"s departure and absence so deeply affecting for Beethoven? In this unique and uplifting work Beethoven titles each of the three movements, The Farewell, The Absence, and The Return. We go along with Beethoven on this musical journey, all the more meaningful when the listener knows the story – what is behind the notes!"
STEINWAY MAGAZINE recently spotlighted Keyboard Conversations in its fall 2017 issue in print and online. Among the quotes in press:
"His performances were expressive and full of passion." The New York Times
"Jeffrey Siegel has everything: massive technique, musical sensitivity and character, wide tonal resources, immense reserves of power, and the ability to communicate." The Los Angeles Times
"…a pianist with a bravura technique and a big, gorgeous sound" and when the artist himself offers the inside scoop, the musical experience becomes vastly more personal." The Denver Post
For information and tickets to the Keyboard Conversationsat Northwestern's Pick-Staiger Concert Hall, go to https://www.music.northwestern.edu/events/category/keyboard-conversations
All photos by Peter Schaaf unless otherwise noted