The Goodman Theatre (The Owen), 170 N. Dearborn, Chicago, is currently presenting Stacy Keach in the world premiere of Jim McGrath's Pamplona, directed by Goodman Artistic Director Robert Falls, through August 19, 2018.
This is a one-actor show of the highest order, with Keach giving us a well- developed portrait of the aging Nobel laureate, locked in a hotel room in the Spanish town made famous by the Festival of San Fermín, known as "the running of the bulls," and immortalized in his The Sun Also Rises, Scribner's, 1926. Over the course of 90 minutes, we hear tall tales pitched as reminiscence as he struggles with writer's block, which he blames on his receiving the Nobel Prize for Literature in 1954. "Nobody ever wrote a good thing after getting the Nobel".
Just like in the plot of his renowned roman á clef, The Sun Also Rises, or in a latter life sequel to that story of strength in the midst of dissolution, of passionate life surrounded by the vagaries of war, the monologue in Pamplona is fueled by the events of his life and people he has known. Similarly, just like the café society antics of that novel are interrupted by a marred fishing trip, so here are the anecdotes of expatriate life in Europe interspersed with stories of fishing and hunting.
The set opens on a tall-walled, uneven-ceilinged room in the hotel of Hemingway's friend Juanito Quintana. The former foreign correspondent, former member of "The Lost Generation" turned irretrievably famous, is seated at a desk to which he returns again and again. He is determined to complete an article for Life for which he took a sizable advance and which was due yesterday. He is stalled at capturing the look on a bullfighter face; this is a story about a fictional contest between Antonio Ordónez Araujo and Luis Miguel Dominguín, "the 2 greatest matadors of the century".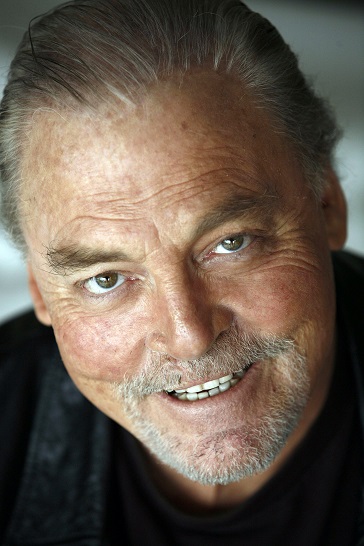 As he distracts himself with the small amount of alcohol in the room, with turning on and off the music, with phone calls to Juanito, with bluster and puzzled reflection, we begin to suspect that – while this may be his process, his way of spurring the muse- this caged lion is really struggling with his own mortality. He is afraid the genius has deserted him. He is very distressed at the departure of his 4th wife, Mary. He is worried about money. He is fighting to keep away from booze. And he cannot stop thinking of his parents. He believes he could have prevented his father's suicide and that his mother drove the man to it.
Sometimes he slips into reverie, other times he embroiders the tale. The names of famous socialites who drank with him in Spain 30 years ago trip themselves off his tongue. And the language used is stunningly spare, funny, teeming with characters and crowded with the exploits of machismo: car accidents, fistfights, plane crashes, war wounds, those he killed in war.
All 4 of his wives are brought into stark relief. We meet the first woman he proposed to, a nurse 8 years his senior, who chose a duke instead. We hear stories about other world-famous writers and their problems with women. F. Scott Fitzagerald and his "psychotic" Zelda are reflected in bas-relief as are Donald Ogden Stewart and his wife, Sherwood Anderson and Jean Cocteau.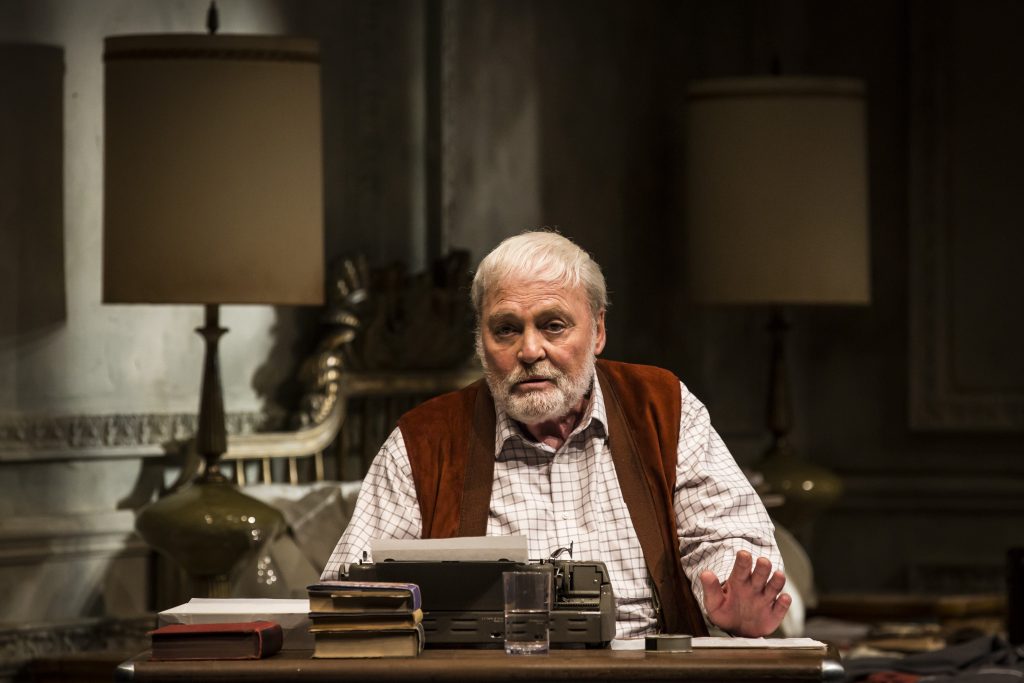 Well-remembered flirtations come and go, as do dreamlike scenes from parties and conversations. Interspersed throughout are funny "Hemingwayesque" asides and pronouncements about how things really were, and how things really work. The selections of anecdotes are touching, the revelations about the creation of his novels intriguing, the behavior bumbling, filled with both braggadocio and perplexity, but all is permeated with a sense of impending doom. "A writer is… driven out to where no one can help him", is mentioned early on.
As readers of Hemingway have been for almost a century, we are tantalized by the "iceberg" style, the sense of there being more and more here than meets our eye. Keach is ultra-believable as Hemingway; utilizing diction that's clear as a bell, he gives us a complex human being, tough yet sentimental, flawed yet imbued with thundering talent. Pamplona opened as a triumph; it's extremely well written, finely staged, and beautifully realized- a mesmerizing performance reflecting top-notch direction throughout.
Thanks to the creative team, including Kevin Depinet for a gracious and believable set; Noël Huntzinger for the timeless costumery; Jesse Klug for the soft dimming and softer brightening of the lights; Michael Roth for music composition and soundscape, here perfectly melded with the plot; Adam Fleming for the highly arresting projections of real people of Hemingway's time and place, and for the bulls.
For information and tickets to all the fine shows at The Goodman Theatre, go to the goodmantheatre website
All photos by Liz Lauren