There'll be a "whole lotta shakin' going on" when "Heartbreak Hotel" takes to the stage at the Broadway Playhouse, 175 E. Chestnut St. in Chicago. This live musical, co-produced by Authentic Brands Group, Elvis Presley Enterprises and penned by Floyd Mutrux, one of the creators of "Million Dollar Quartet," is expected to run through September 9.
Billed as a prequel to the smash hit "Million Dollar Quartet," which also started in Chicago, "Heartbreak Hotel" tells the story of Presley's rise to fame. In the early years of his career, Elvis and Sam Phillips created the music that will forever change their lives. As Elvis's career skyrockets, both lifting and shattering the lives of those he loves, a secret love story is revealed, a betrayal is discovered, and "Colonel" Tom Parker changes the course of history, all in just 18 short months.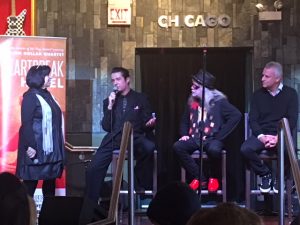 The music comes from the Elvis songbook with chart-toppers including "Blue Suede Shoes," "Tutti Frutti," "That's All Right," "Shake, Rattle and Roll," and, of course, "Heartbreak Hotel." Chicago's 'King of Rock and Roll,' Eddie Clendening, will rock it as Elvis, who originated the role in the acclaimed production of HEARTBREAK HOTEL at Maine's Ogunquit Playhouse. Eddie Clendening also originated the role of Elvis Presley in both the Broadway and Chicago production of Million Dollar Quartet.
"For those who long for another trip down memory lane with Elvis, for those that want to recreate the excitement of Million Dollar Quartet, and for those that want to dance in their seats – don't miss this show!" Eileen LaCario, Vice President of Broadway In Chicago said.
For tickets, visit BroadwayInChicago website.