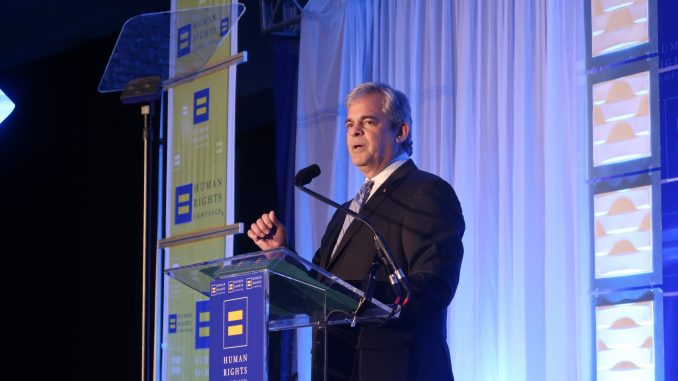 The 2018 HRC Austin Gala celebrated on Saturday, January 27th at the JW Marriott in downtown Austin the hard work during the Texas legislative and special sessions to defeat discriminatory bills like SB 6, honor colleagues who are champions for LGBTQ equality, and remember members of the LGBT community lost this year. The HRC Austin Gala is an annual Austin-area dinner supporting the work of the Human Rights Campaign, the nation's largest LGBTQ civil rights organization.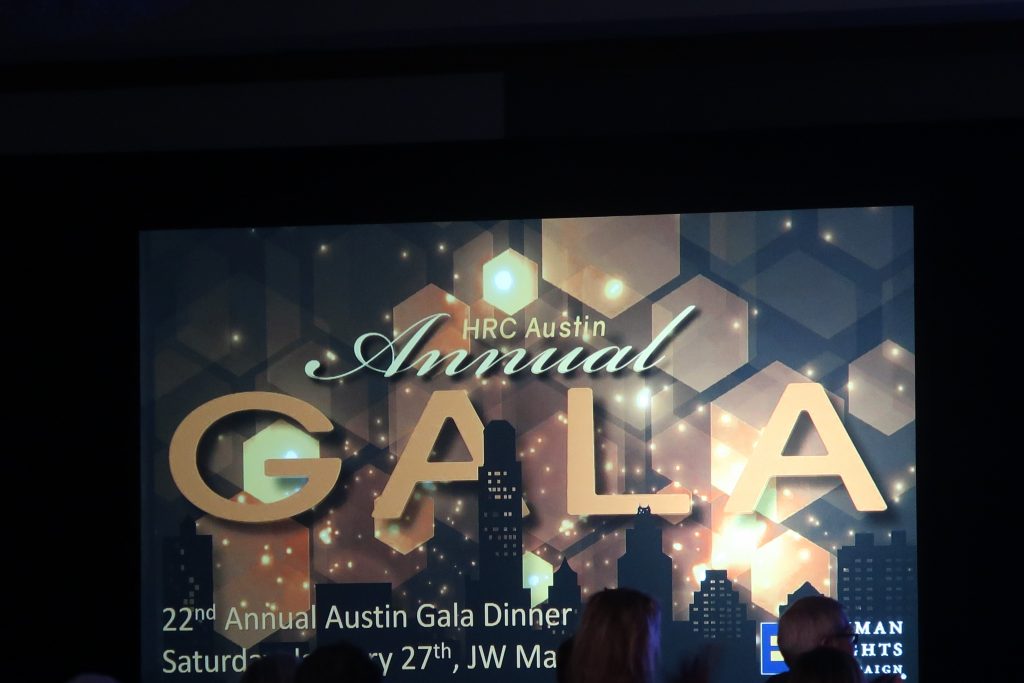 At this year's dinner,  the artist during the black-tie event was MILCK who performed her breakout song "Quiet."  The Gala always includes an extensive silent auction, dinner, entertainment, and thought-provoking speakers.
This splendid cocktail reception, fancy dinner, and fun auction unite 700 HRC members, friends, and allies to celebrate Austin's LGBTQ community. This year the event had 200 more people than in 2017. The stories of the speakers inspired and encouraged the audience. The event had several political guests in attendance such as Eddie Rodriguez, Gina Hinojosa, Austin Mayor Steve Adler, Jimmy Flanagan and many others.
HRC has received the support of many companies in support of the LGBT inclusion. In 2018 HRC Austin Gala had a long list that supported the organization and achieves equality now more than ever. The event was supported by numerous local and national sponsors. The Local Sponsors of the night were "DELL" as a Presenter Sponsor; the Platinum Sponsor "BBVA Compass"; Diamond Sponsor "Apple"; Gold Sponsor Bazaar Voice; and Bronze Sponsors were "AmericanBank," "Women Health Partners in Obstetrics & Gynecology," Avita Pharmacy," "Paypal," and "Norton Rose Fulbright." After Party Local Sponsor was "Lyft"; Wine Sponsor "Roscoe Properties"; and VIP Reception Sponsor was "Deloitte". The event also counted with numerous National Sponsors in the categories of Platinum, Gold, Silver, and Bronze.
The incredible night was really touching with speakers that talked about not only about the struggles that the LGBT community faces, but also about anti-immigration policies. HRC stands up for immigrants, dreamers, LGBT, and diversity.
"Chad Griffin", the President of the Human Rights Campaign attended the 2018 HRC Austin Gala. The Human Rights Campaign has for more than a year has been engaged in a battle to defend the progress and block the attacks on the LGBTQ community. Donald Trump and Mike Pence have launched a blitz of the rights, protection, and dignity of this community who are in a risky position of being fired, evicted, or denied services simply because of who they are.
Griffin said, "Like never before as we as Americans haven't been able to participate to advocate and fight back from this national nightmare. We have had a great awakening of our democracy…." "For every step forward we take, there are some to trying to drag us back, but it is through these setbacks that our greatest movements and fighters had emerged from the Civil Rights Movements to the Women's March…" For all the people in this room and around the stations of today who were courageous saying 'Me Too' and bolding declaring 'Times Up'."
HRC Gala paid tribute to Austin activist Meghan Stabler. During the event, Austinite Meghan Stabler was honored with the Bettie Naylor Award, given for her work in advocating LGBTQ equality.  Stabler served on HRC's National Board of Directors for more than eight years. The award is named for Bettie Naylor, who was a longtime advocate and lobbyist in Austin for the rights of women and the LGBTQ community.
Austin Mayor Steve Adler attended the event, as did actresses Natasha Lyonne and Clea DuVall.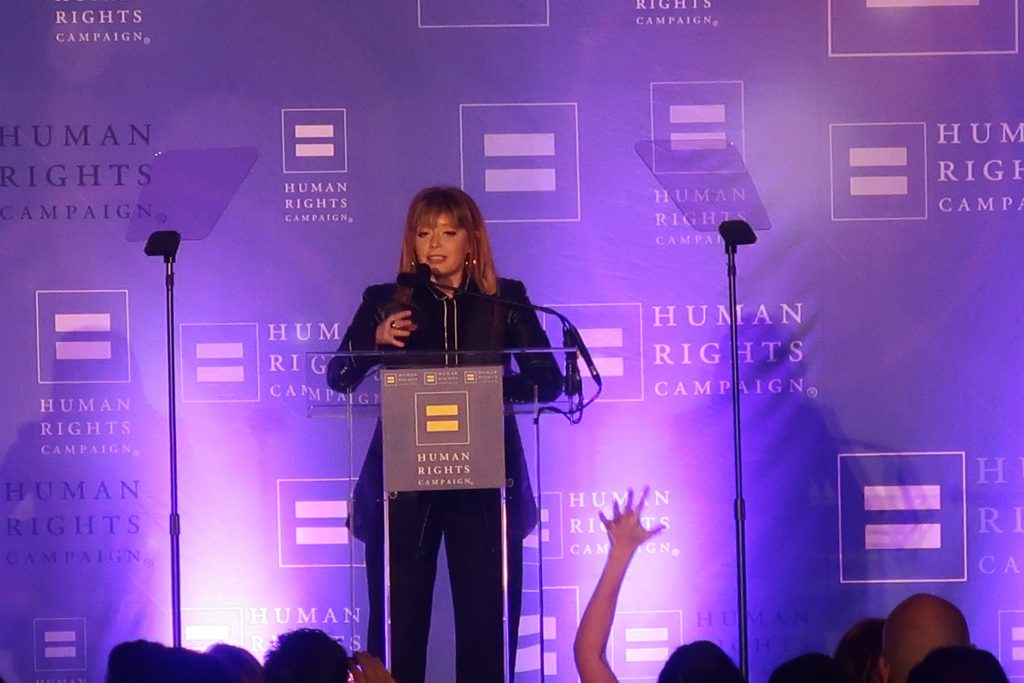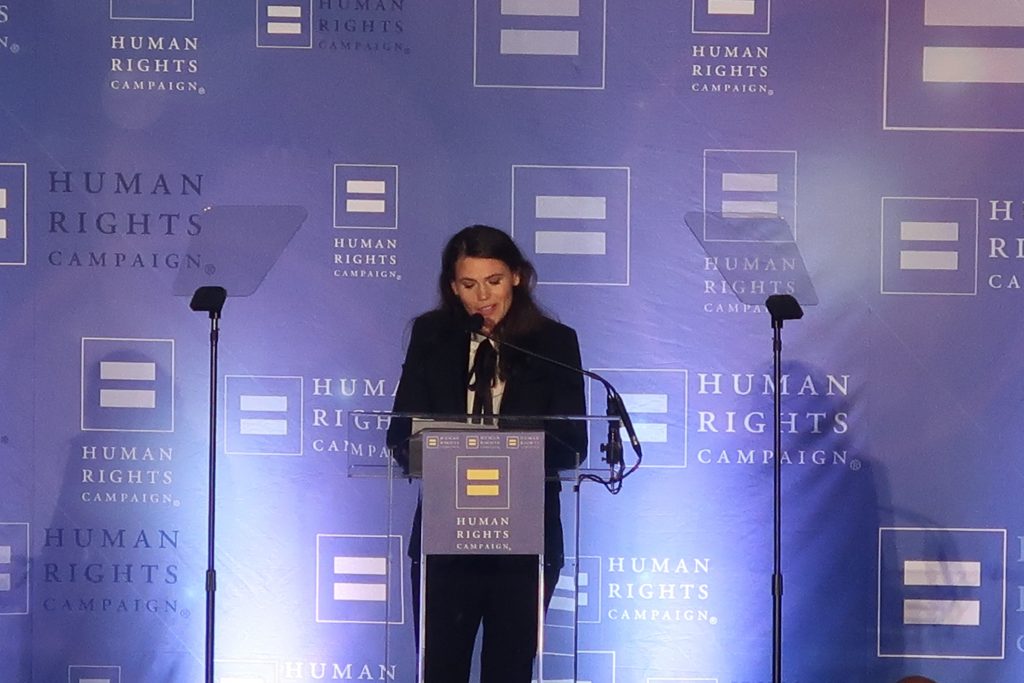 DuVall, who is openly gay and Emmy award-winning lives in Los Angeles, was presented the HRC Visibility Award. She's appeared in dozens of movies and television shows including HBO's "Veep," AMC's "Better Call Saul," and the movies "Argo," and "Girl, Interrupted." She was also in Austin director Robert Rodriguez's "The Faculty," which was filmed in Austin in 1998.
The 2018 HRC Austin Gala raised funds to support LGBTQ equality and celebrated the work of local LGBTQ advocates.
The Human Rights Campaign Mission
HRC envisions an America where all LGBTQ people have ensured equality and are embraced as full members of the American family at home, at work, and in every community.A powerful Vision for Equality HRC seeks to improve the lives of LGBTQ Americans by advocating for equal rights and benefits in the workplace, ensuring families are treated equally under the law, and increasing public support among all Americans through innovative advocacy, education, and outreach programs. HRC works to secure equal rights for LGBTQ individuals and families at the federal and state levels by lobbying elected officials, mobilizing grassroots supporters, educating Americans, investing strategically to elect fair-minded officials and partnering with other LGBTQ organizations. The Human Rights Campaign represents a grassroots force of more than one million supporters nationwide.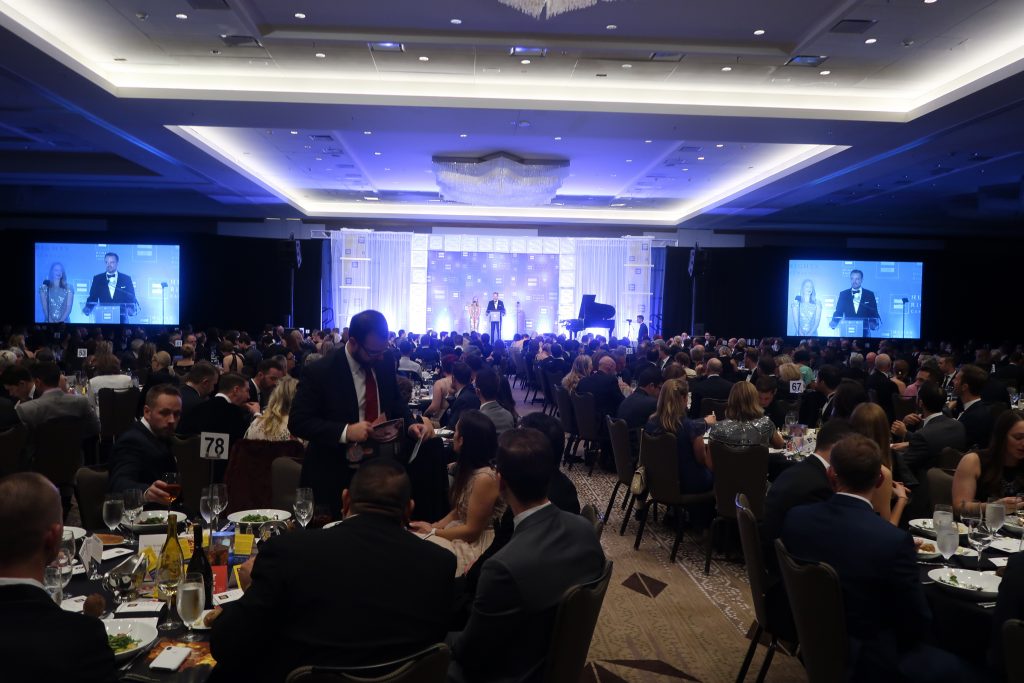 HRC Austin
The city of Austin has long been known to embrace and encourage its strong, diverse heritage, and the city's large LGBTQ population reflects that. HRC Austin plays a formidable and active role in the community through outreach, education, events and political involvement. Thousands of HRC members reside in the city of Austin.
Follow Splash Magazines on Twitter @SplashMagWW  Instagram @Splashmags       Facebook
Follow Yenis Monterrey (Writer) Twitter @Foxactress Instagram @YenisMonterrey