All items sorted from most to least expensive.
Velocity Black's Member Box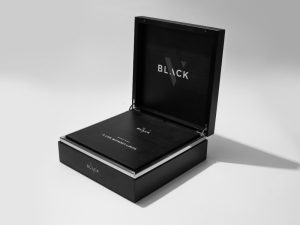 Velocity Black, the concierge for the digital age, inspires and facilitates its members to access unparalleled experiences around the world. Members can browse a curated and tailored list of events, experiences and perks, both locally and internationally, and book them instantly through its smartphone app.
After paying the standard $2400 membership fee, the Founding Members Boxes takes eight weeks to produce; personalized with the member's name etched into the hand-made, black ceramic and maple wood with painstaking care. Each box contains a myriad of beautiful items, including the limited-edition Mont Blanc Invisible Ink notepad and pen. In keeping with Velocity Black's philosophy of luxury-meets-tech, the notepad automatically detects what you are writing with the ink pen and syncs it with your smartphone.
$2400  Buy now!!
Oru Kayak Beach LT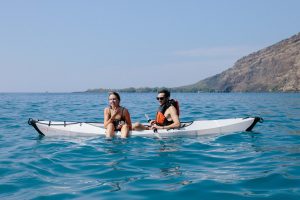 Oru's innovative folding kayaks are a great option for anyone who's interested in getting out on the water. They're perfect for travelers who need a boat they can take on the subway, catch a cab with, or even check onto an airplane, and they open up a new world of urban and wilderness exploration.
Going to Hawaii for spring break and want to explore the coast by kayak? Oru's got you covered. Escaping to Mexico? Bring your boat that packs down small enough to fit in a cab. We've flown internationally, caught cramped cabs, and even ridden the subway with Oru kayaks.
$1299  Buy now!!
Keenz Limited Teal Stroller Wagon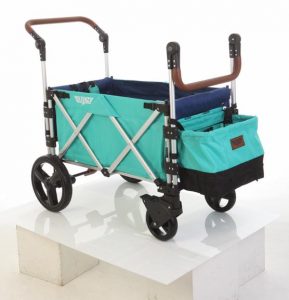 Keenz premium-deluxe stroller wagon combines all the advantages from existing strollers and wagons pursuing ergonomic design. Elegant and functional- securely fastening two children, your family will love utilizing this hot ride around town and on vacation. This teal offering is a LIMITED option, so score the pre-order Valentine's Day price NOW!
$419  Buy now!!
Platinum Magna 2 25″ Expandable Spinner Suiter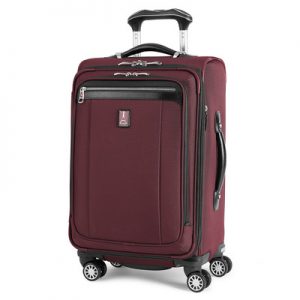 This premium checked luggage has a large profile for longer trips with features that help keep suits and dresses wrinkle free. And the new marsala red color is perfect for Valentine's Day. Whether you're packing for a weekend getaway with the one you love, or giving a gift to your favorite travel-obsessed significant other – this is perfect for Valentine's Day.
$359.99  Buy now!!
Atlantic Ultra Lite 25″ Hardside Spinner  
Traveling with your significant other for a Valentine's getaway? Looking for a gift for your travel-obsessed Valentine? Atlantic Ultra Lite Hardside Spinner has lightweight durability, abrasion protection, superior maneuverability, for a smooth glide in every direction – certainly making it easier to travel through the airport holding someone's hand. And, this purple one is the perfect color to get in the Valentine's spirit.
$200.00 Buy now!!
AdventureJumpStart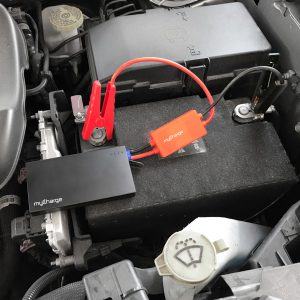 myCharge's new AdventureJumpStart is a 6600mAh portable battery and jump starter combo that provides up to 4x extra battery life for your smartphone along with a sustained jump start current of 200A and a peak current of 400A. The lightweight portable charger is ideal for jump-starting your car, truck, boat or ATV. The AdventureJumpStart also features a built-in LED flashlight with SOS function, a USB-A port and a micro-USB charging cable.
$99.99 Buy now!!
Grand Trunk Parachute Nylon Print Double Hammock
#HangAnywhere with Grand Trunk, whether in your backyard, in the woods on a camping trip, or on the beach on Spring Break – take a moment to yourself this year and unwind in the wind. Lightweight, packable and durable, these hammocks are 100% parachute nylon, include a starter rope kit (Capacity, 400 lbs) and nautical-grade carabiners. Decide from +15 limited edition print designs and rest assured knowing you're enjoying a hammock that is 20% BIGGER than any other double hammock and one that comes with a LIFETIME Warranty!
$74.99  Buy now!!
Wine and Charity at OC Wine Fest in California

Tickets to OCWineFest, March 10-11 in Orange County, Calif.: Take advantage of this super thoughtful gift (that both can enjoy, hello!) of tickets to the upcoming OCWineFest, held on the historic grounds of A Stone's Throw Winery in San Juan Capistrano, Calif. March 10 and 11. This is another great gift for singles or couples! … unlimited wine and beer tastings, fun games, wine classes … what could be bad about that? There's also a an amazing cause to support – OCWineFest's charitable partner is the Leukemia & Lymphoma Society, so you can prove to your date that you have a soft heart for philanthropy as well. Learn about and sip (unlimited) award-winning wines from around the globe – including from producers out of Israel, Croatia (hello, aged at the bottom of the Adriatic), Hungary, Greece and France, as well as those you might be surprised to learn were grown and made right here in Orange County. Beer lovers need not fret, as the OCWineFest team has specially curated some tasty craft breweries into the mix as well. OCWineFest blazes the trail to bring wine and people together – from the newbie to the aficionado ready for that blind taste – in an enjoyable and accessible way, balancing fun, exploration and education with wine tastings, food pairings, and talks led by sommeliers and winemakers. The OCWineFest is bolstered by its support of a cause near and dear to the event team's heart – the Leukemia & Lymphoma Society. The beautiful outdoor space provides elegant surroundings to welcome the incoming spring season with some of the world's most interesting and vibrant wineries, breweries and luxury goods.
$70.00 – $120.00  Buy now!!
Case + Drift Byron Towel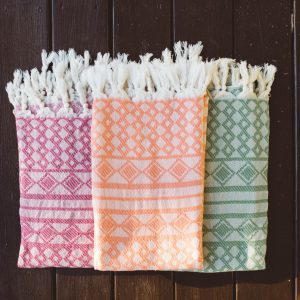 The all-purpose, quick-drying travel companion.
Named after the beautiful coastal town of Byron Bay, New South Wales. The bright colors and fun pattern make it the perfect accessory for spring/summer travel but easily transitions into a scarf in Fall! Uses include — towel, scarf, blanket and more!
$40.00  Buy now!!
Axel and Ash 
Celebrate the places you and your loved ones explored together and commit to more travel with Inspirational Travel Journals by Axel & Ash. These beautifully bound books help you plan your next trip, enjoy the adventure and record the highlights so you can relive it in vivid detail for years to come. Each artfully crafted page is filled with surprise extras like fun writing prompts and thought-provoking quotes that make using your journal almost as much fun as seeing the world!
$36.35   Buy now!!
Oojra Essential Oil Aromatherapy Soy Wax Travel Candle Gift Set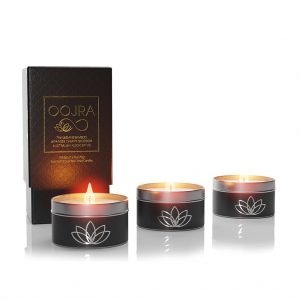 Essential Oil Aromatherapy in 3 Unique Scents: Thai Jasmine Bamboo (romantic, uplifting, happy), Japanese Cherry Blossom (energizing, restoring), and Australian Eucalyptus (refreshing, clearing, calming).
The Highest Quality Ingredients for Your Well-being and Experience.
– Vegan
– 2.5oz (70g) each100% soy wax and cotton wick – a healthy, clean burn
– 14 hours of burn time for each candle – longer than other wax blends
– Paraffin-free, Paraben Free, Phthalate Free, Lead-Free, Zinc Free, Soot Free – for your health and well-being
– Essential Oil Based Fragrance – not chemical based – for a more authentic and healthy experience
$34.99 ($29.99 sale)  Buy now!!
COBRA FS300-2 FAMILY SAFETY RADIO SET
Excellent for family gifting- spread the Valentine's Day love by treating your pack to family safe walkie talkies!
FEATURES:  Two Adult Radios + Two Child Radios – A solution designed for family safety. Child Radio Up to 5-mile range – When paired with Adult Radio.  Adult Radio Up to 16-mile range – When used with other FRS Radio.  iVOX – Intelligent voice-activated transmission enables people around a child to respond to a call without touching a button to give the location of that child.  Waterproof – Child FRS is designed to IPX6 waterproof standards.  Roger beep – Confirmation tone indicates to others it's clear to talk.  Power saver circuitry – Unique circuit extends battery life when not transmitting or receiving.  Call Alert – Provides a recognizable alert for incoming calls.  Comes with lanyard for a child to wear around their neck.
Already Paired Ready to use without setup. No cell service required.
$29.99  Buy now!!
Cube Tracker 
Cube is a small Bluetooth tracker and easy-to-use-app that helps you find everyday items quickly.
$24.95  Buy now!!
**All images courtesy of respective companies.