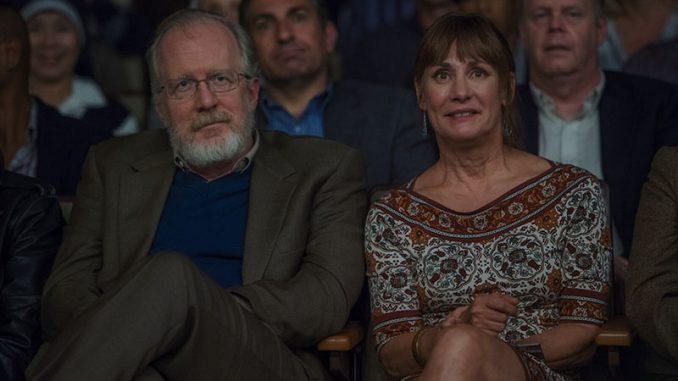 Over the last decade, Greta Gerwig has acted in nearly 30 films, with a starring role in five of them, and screenwriting.  Her characters have usually been young women struggling to make their way in the world with pluck and ingenuity.  Think of Dawn in Wiener-Dog (2016), Abbie in 20th Century Women (2016), Maggie in Maggie's Plan (2015) and Frances in Frances Ha (2013), to name only a few.   Gerwig also co-wrote Mistress America and Frances Ha and now has written and directed her first feature, a wonderful coming of age film, Lady Bird, that is strongly autobiographical.  Now 34, Gerwig grew up in Sacramento, attended Catholic schools, and went to Barnard College, intending to be a playwright, but turned to acting instead.
Lady Bird opens with two women sharing the same bed, Lady Bird, played by Saoirse Ronan, and her mother, played by Laurie Metcalf.  They are staying in a motel while on a college search trip.   She says that she wants to go to college on the East Coast, "where writers live in the woods."   But limited finances may force her closer to home at UC Davis, which she thinks is only for farmers.  We see them crying together in the car as they listen to the Grapes of Wrath and driving one another slightly crazy with the stunning mood shifts and sometimes shocking impulses that characterize fraught mother-daughter relationships.
Lady Bird is the name that Ronan's character, Christine, gave herself in high school.  The time is 2002, and the 9/11 attack is in everyone's consciousness.   Like Gerwig herself, Lady Bird lives in Sacramento and attends Catholic high school.  Her family lives a working class life.   Mom struggles to support the family by working two shifts as a nurse in a psychiatric clinic.   Her father, Tracy Letts, has lost his job because his company moved overseas, cares deeply for his family and is depressed by his inability to give them all the things they seem to want so much.   They live in a small pleasant house, literally on the wrong side of the tracks, of which Lady Bird is acutely embarrassed.  Always comparing herself to the girls in her school from richer families, she has yet to see that her happiness is only loosely connected to money.  Lady Bird knows she is cherished, but her mother's constant carping hurts.   The interactions between the two are really at the heart of the film and almost emblematic of the relationships between mothers and daughters at this stage of life.  High school itself is another major focus of the film, with various adults- mostly kindly but out-of-touch nuns – attempting to control hormonal adolescents.   Memorable characters abound, including a sad priest and a football coach cum drama teacher who diagrams action onstage just as he would his football plays.  The role of friends, Lady Bird discovers, is paramount.   Despite such heartwarming underpinnings, Lady Bird is definitely not a lightweight chick flick, but rather a rich narrative of closely observed lives, poignant, joyful, and sometimes sad.  Even when it shows laughable adolescent behavior, Lady Bird is always kind, well paced and never dull.
The acting is uniformly excellent without a weak performance.   Saoirse Ronan and Laurie Metcalf are particularly good and surely headed for the awards.  Screenwriting, however, deserves a special shout-out.  It consistently delights, as when Lady Bird's mom says, "I want you to be the very best version of yourself."   Lady Bird answers "But what if this is the best version?"  Or her explanation for wanting to leave Sacramento: "Sacramento is the Midwest of California."  Notwithstanding her character's dismissal of the middling capital, Gerwig's film concludes with a loving tribute with a beautiful series of Sacramento landmarks.  Again, this is a film best seen on the big screen.  I loved Lady Bird, the character as well as the film, and days later am still thinking about it.   Not a monumental work, but an intense and nuanced family drama.  Running time: 93 minutes.  Now playing exclusively at the Embarcadero but hopefully soon throughout the Bay Area.  Ciao, Ian