Firebrand Theatre, the first musical theatre company committed to employing and empowering women by expanding opportunities on and off the stage presented its inaugural production, the Chicago premiere of LIZZIE, on November 14, 2017, with a run through December 17th at The Den Theatre's Bookspan Theatre, 1333 N. Milwaukee Ave, Chicago.
 This darkly humorous comedy/ rock musical based on the true-life story of accused axe-murderess Lizzie Borden is directed by Victoria Bussert with music direction by Andra Velis Simon, who also performs on keyboards. The band also features Stella Vie, bass; Nora Barton, cello/percussion; and Courtney McNally, drums.
LIZZIE features music by Steven Cheslik-deMeyer and Alan Stevens Hewitt, lyrics by Steven Cheslik-deMeyer and Tim Maner, with a book and additional music by Tim Maner and additional lyrics by Alan Stevens Hewitt based on an original concept by Steven Cheslik-deMeyer and Tim Maner, with orchestrations by Alan Stevens Hewitt.
LiZZIE stars Liz Chidester as Lizzie, Leah Davis as Bridget, Jacquelyne Jones as Alice and Camille Robinson as Emma.
The production team for LIZZIE includes scenic designer Eleanor Kahn, costume designer Charlotte M. Yetman, lighting designer Maya Michele Fein, and sound designer Victoria Deiorio.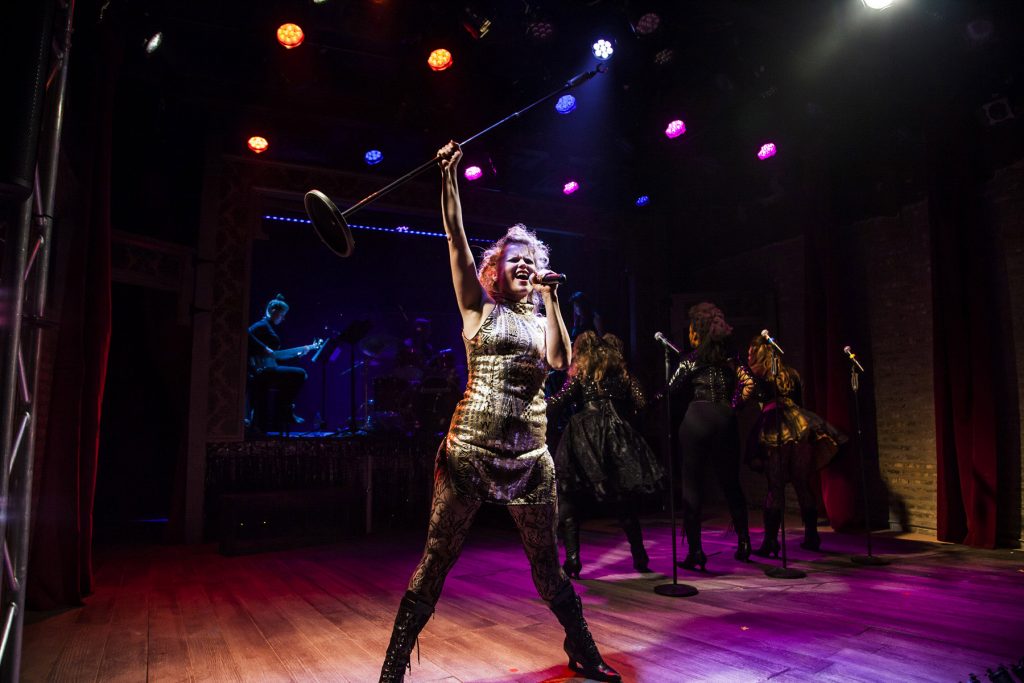 This is a hoot of a gothic rock and roll reimagining of the fateful murders in a heat-emblazoned summer in 1892 in Fall River, Massachusetts. Lizzie Borden, an unmarried 32 year old, and her older sister, Emma, both "spinsters", lived in the strictly run family home with their extremely frugal father and hated stepmother. Mr. Borden had recently used a hatchet to slaughter pigeons; Lizzie, who had built them a roost, was upset. There had also been illness in the family for weeks before the murders, possibly due to tainted mutton. Finally, the 2 sisters were worried about their stepmother's changing Mr. Borden's will in her favor.
In this musical version, in addition to incorporating the facts above, we have implied incest relations between Lizzie and her dad, and a potential squelched love between Lizzie and her neighbor, Alice. As the temperature outside makes the already overwhelming passions simmer, tragedy erupts. Here, the blaze is distributed throughout the cast and pumped up to maximum wattage by great voices, funky music, killer (!) facial expressions and heavily campy lesbian-based innuendo, along with some slick posturing/choreography.
The staging choices render this production quite intense from the get-go. The engaging rock band, very funny mocking ballads and catchy head-banging tunes just keep coming. Two of the best are "Shattercane and Velvet Grass", an exploration of household/plant-based poisons, and "Why are all These Heads Off", a literal screamer of a song. The actors perform in stunningly simple Victorian dresses in the first act, changing into more modern attire for the second act, after the incredibly effective/wildly provocative murders have taken place.
The pace is non-stop, the songs are spitefully clever, and the whole gestalt is hilarious. What's more, we empathize with the patricide/step-matricide, which is here taken for granted, despite the fact that in actuality, Borden was acquitted. Overtones of incest and frustrated lesbian love aside, the bodice tearing need of Lizzie to escape the stifling bonds of "polite" society drive her- and the audience- inexorably toward the gleeful homicidal frenzy. And oh how's she's egged on! Between the household maid, whose identity is largely ignored in "the house of Borden" (Boredom), to the older sister's detesting the patrimony-stealing stepmother to the next-door neighbor's lustful watching of her every move, Lizzie and her folks come unstuck and undone.
This play is a roller-coaster ride of snide hilarity, beautifully executed and great fun; it's highly recommended.
For information and tickets, go to thedentheatre website
All photos by Marisa KM