LOS ANGELES, CA – November 9, 2017: The 38th American Film Market (AFM®) wrapped yesterday with exhibitor and attendee numbers up, in addition to a significant increase in films screening.
In total, 7,415 participants visited the Loews Hotel in Santa Monica, as attendance rose by 6%. The market also saw 1,476 buyers arrive from 71 countries with China and Taiwan each seeing growth of 35% more buyers.
Overall exhibitor participation was up 18% with 445 registered exhibiting companies, with the largest number of exhibitors arriving from the United Kingdom, France, South Korea, and China, after the USA.
LocationEXPO's first year drew 61 film commissions and agencies from around the world including Chile, Spain, Norway, New Zealand, Thailand and Russia. Together the organizations presented more than US1 billion in production incentives.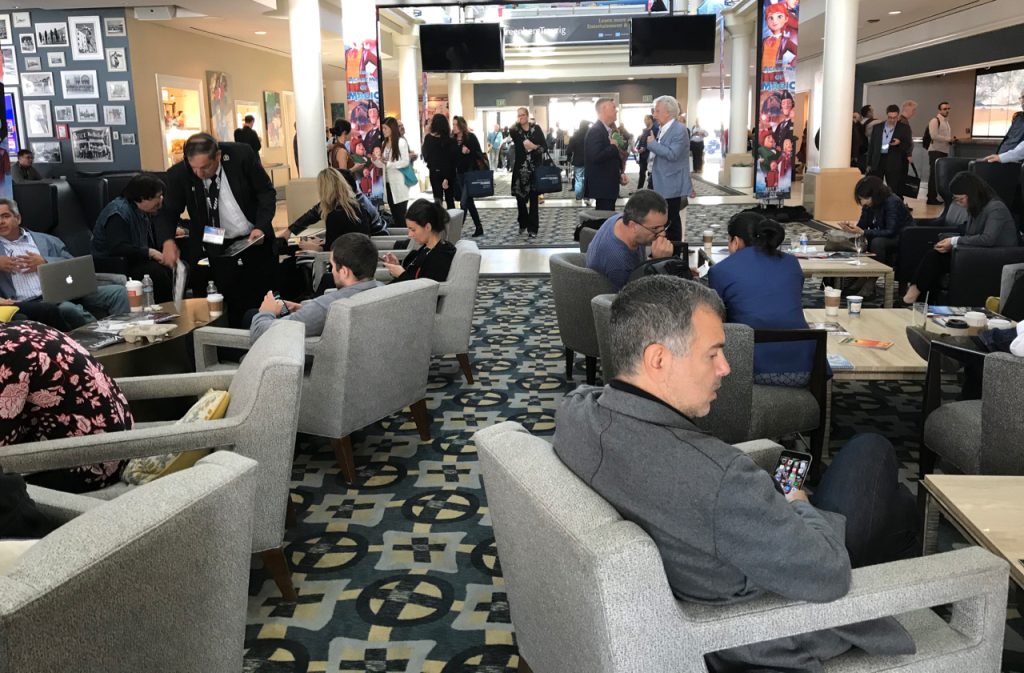 AFM Conferences drew an international audience of more than 700 each day listening closely to advice and insights from the likes of Cassian Elwes (Producer/Agent), Jesse Sisgold, (Skydance Media) and Sam Brown (STXfilms).
AFM Roundtables featured Geena Davis (Actress/Producer/Activist) and Wendy Calhoun (Writer/Producer) on the popular 'The Future is Female." Roundtables focusing on Documentaries, Faith & Family films and LGBTQ representation in cinema included Anna Godas (Dogwoof), Ian Bricke (Netflix) and Clare Crean (The Works International).
The AFM Campus was busier than ever as attendees took in screenings of 337 films – 40 more than last year – including264Market Premieres and 61 World Premieres. An additional 78 films screened on demand.
Parties and networking are always an eagerly awaited aspect of the market. Some of the memorable events of 2017 were parties thrown by The Quebec Film and Television Council, smoothly handled by Jennifer Pryce, the coveted Loeb&Loeb party on the pier, where rides were free and available to invitees, and this year's Epic Pictures' 10 Year Anniversary bash.
The American Film Market is produced by the  Independent Film & Television Alliance
Photos: Peter Foldy