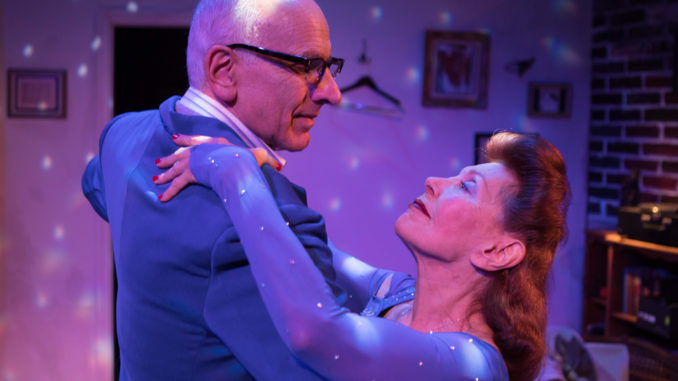 Perhaps you won't recognize the name, but chances are that you've seen his face over the years. George Wyner made his Los Angeles stage debut with Henry Fonda in The Trial of A. Lincoln, and Mr. Fonda later directed him in The Caine Mutiny Court Martial. In film and television, he has numerous credits over the years. He is an artistic craftsman who has worked with the Coen brothers' in their best-picture nominee "A Serious Man," with Mel Brooks' in "Spaceballs," and with Clint Eastwood in "Trouble with the Curve," just to name a few of his notable credits.
Currently, he is part of a strong ensemble of actors at Rogue Machine Theatre where he is playing the role of Joe in the American Premiere of Daytona, LA Times "Critics Choice. Joe is a Holocaust survivor, who has forged a new life for himself and his wife, in New York City, and the story reminds us that even the worst experiences, perhaps never forgotten, can be overcome. George Wyner talks about Oliver Cotton's play and acting …
Ester: What is this story about? What drew you to this piece?
George: It's about survival. The characters in this play have been through the ultimate in survival, the Holocaust, but not even in such dramatic ways, it's about taking control of your life after difficult times. I think many people can relate to that. The story grabs you very early, and that's what drew me in. I wanted to follow the thread of the mystery here that unravels in this story in several layers. It's about a family that was split apart and comes back together, and the reunion is the unfolding of the mystery. As an actor, it's also about the depth of the characters themselves, I was drawn to that. I admired the character that I now play and how he had regained control of his life after very difficult experiences, and it was a real page-turner from the first read.
Ester: The play takes place in 1987. How do you think young audiences will relate to it in 2017, from their digital world experiences?
George: Good theatre is timeless that way, whatever it is…from Shakespeare to Arthur Miller. We're facing a lot of obstacles in the story, the characters, and that makes it very personal. Our audiences can identify with the subject matter, the questions that this play presents, and they can see themselves in some of these dilemmas. You don't have to be going through turmoil to see theatre but everybody can relate to those times and it's good to be reminded that there are other people who have survived all that, and more.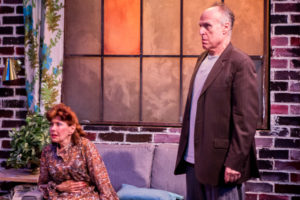 Ester: Were there any surprises during the rehearsal process? Were there any unexpected twists, turns, or suddenly a new understanding of the material?
George: You know that's one of the experiences you always have as an actor, surprises. The process of acting is really about discovering, in terms of the material. Whenever you're doing something for the first time, you're discovering new things and making new choices. I was just having this same discussion with Richard Fancy, who plays my brother in Daytona, and we were talking about the process of actors. How we are constantly discovering something new and making choices accordingly. Well, you're not going to change blocking and make a mess of it for your co-actors, but your particular character is a living thing so you're always finding new things, creating something from whole cloth in a sense. Of course, you have to see if it actually works and translates on stage, it's trial and error that way, but it's exciting…the discovery.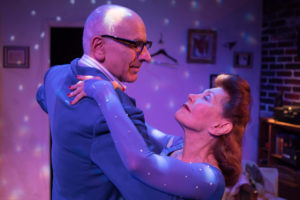 Ester: What do you like most about working at Rogue Machine?
George: It's a quality company in ever aspect of theatre, there is no question about it. From the actors I share the stage with, Sharron Shayne and Richard Fancy, this director Elina de Santos who is exceptional, the set designer, lighting, sound, and stage manager. The entire tech team, these are all really talented people! When you're surrounded with that kind of support, it gives an actor a great sense of confidence. Rogue Machine seems to draw very skilled people, and writers.
Ester: Which actors and writers have you been most influenced by, and why?
George: Hmmm, interesting, I like minimalists and I appreciate actors who can show you what they want to show you, with all the depth necessary, but without doing much. It's a skill I admire. One of my heroes was Spencer Tracy. His take on acting was, "concentrate, don't embroider," and didn't he say something like "you just have to look the other guy in the eye and tell him the truth?"
I've been very fortunate to work with a lot of good people during my career. Henry Fonda was pretty remarkable in his dedication and his professionalism. The good ones always work a lot because they work very hard. I feel lucky to have worked with the Coen brothers, they're enormously skilled writers, and I've worked at Shakespeare festivals so I guess I'm all over the map with great influences. I grew up in Boston and used to go to the Colonial theatre, which was an out of town destination for shows headed to New York. That's where I was first influenced the most. The Sound of Music had a try out run there when I was a kid and I got to watch it from the wings. Being behind the scenes that way, it was an adrenaline rush. Having Mary Martin zoom by me for a costume change in the middle of a scene, I can still feel that energy when I think of it. I never got over it! I just knew that I wanted to be part of this whole world.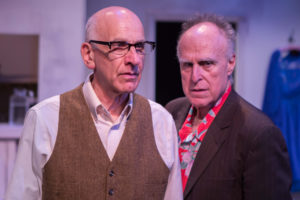 Ester: Why should people in Los Angeles see theatre in this town?
George: It's such a wonderful place for theatre, with tremendous opportunities to see new work. There are so many great actors here that want to keep acting and the TV/film industry just doesn't have enough work for them all, so you can see them on stage here. They do it to stay active, so you can see really terrific work here. Rogue Machine is one of those places you shouldn't miss. Artistic Director, John Perrin Flynn, picks extraordinary pieces to stage and he has a great eye for excellence.
Ester: Any advice for young actors in Los Angeles?
Work whenever you can, wherever you can. Don't wait to get discovered, just do it all and get on stage to practice your craft. The rest will come. Find good acting teachers and build a career, it doesn't happen overnight. It's like one brick at a time, and every time you audition it's a connection…even if you don't get the role. That casting person may remember you and bring you in for something else.
It can seem daunting but it only really takes one good opportunity to get you over the hump, to get an agent, and get momentum. There's a large family of actors here in Los Angeles, you should become part of that family. We need each other, and we help each other. That community will welcome you.
Daytona runs Saturdays and Mondays at 8:30pm, and Sundays at 3:00pm through October 30, 2017 (no performances on Monday, Oct. 2nd). Rogue Machine is located in The Met, 1089 N Oxford Ave, Los Angeles, CA 90029. Tickets are $40. Reservations: 855-585-5185 or here at Rogue Machine