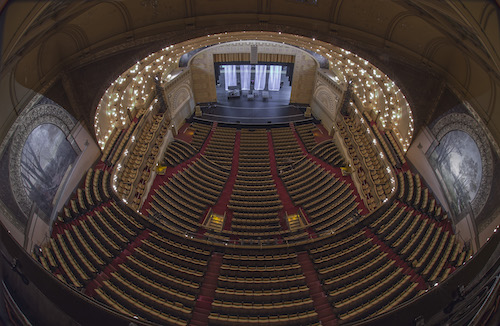 Supreme Court Justice Ruth Bader Ginsburg spoke in conversation with Senior Status Judge Ann Claire Williams of the United States Court of Appeals for the Seventh Circuit on Monday, September 11th, at the Auditorium Theatre of Roosevelt University, the "Theatre for the People".
This special event kicked off Roosevelt's 2017 and second "American Dream Reconsidered" conference, which this year focuses specifically on Law, Social Justice, and the American Dream. Like Justice Ginsburg, whose career centered upon securing equal rights for all, particularly in the area of gender equality, Judge Williams has also focused her attention on diversity, access and inclusion. She co-founded the Minority Legal Education Resources Initiative in 1977, which has helped over 4,000 lawyers pass the Illinois bar exam since its inception and serves as a commissioner on the American Bar Association's Diversity & Inclusion 360 Commission.
Justice Ginsburg, who was appointed by Jimmy Carter in 1980 to the U.S. Court of Appeals for the D.C. Circuit, has served on the nation's highest court since 1993, nominated by Bill Clinton. This icon for civil rights, the bestselling author of "In My Own Words", 2016, named one of Time magazine's "100 Most Influential People" in 2015, discussed her life and career for an hour and a half before the delighted audience.
In the Justice's illustrious career, there have been many notable successes; she was the first tenured woman professor on the Columbia Law faculty; she co-authored the first law casebook in sex discrimination. She co-founded the Women's Rights Project of the American Civil Liberties Union, served as the ACLU's General Counsel, and sat on the organization's National Board of Directors until her appointment to the US Court of Appeals in 1980. She argued six gender discrimination cases before the U.S. Supreme Court, winning five.
With images from her personal life and work reflected on the large screen above and behind her, the great jurist commented upon a scripted set of remarks about her past and her spontaneous answers were also typed out upon the screen. More than half of the discussion was about her family life, the rest about her career, both before and after her appointment to the Court.
The anecdotes were familiar, heartwarming, spoken with a droll humor and a strong control over the facts. Ruth Bader Ginsburg knows who she was, who she is, how she got where she did. It is a story as revealing in what is left out as in what is included: we hear about the loss of her mother in her first year of high school, of her young husband's battle with an unnamed cancerous foe, of her own brilliant climb up the ladder of law, but –and this is certainly appropriate- we don't hear what these cost her. In this era of instant "fake" friends, "too much information" given too soon, it was a relief to see and hear this dignified woman.
What does emerge loud and clear is the immaculate and intimate memory she has, instantly retrievable, of the facts of the landmark cases upon which she blazed her path in a trajectory straight to the summit. Ann Williams ran perfunctorily through the 6 trail-blazing lawsuits, but Ruth Bader Ginsburg stopped her, reminiscing about the people in those cases. To a law student, facts are what is important- to the jurist, it was obviously the people whose lives centered on those facts that concerned her- and this is why she is who she is and won those cases.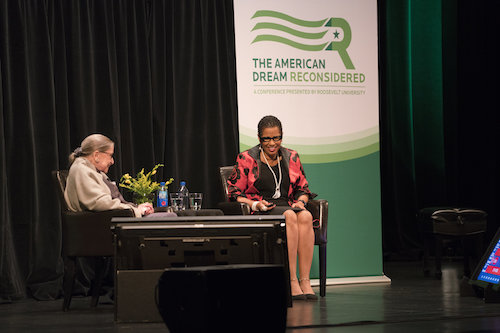 Some of Her Honor's many enlightening and thoroughly inspiring remarks are paraphrased below:
-After hearing the audience calling "I love you", when she appeared on stage, she responded, "I love YOU!"
-Commenting on the 9/11 tragedy, "We all come together in a time of tragedy…I just wish that spirit would last beyond the immediate tragedy".
-Among the many lessons her mother taught her was "Don't succumb to emotions that do you no good, such as anger, envy and remorse".
-About her mother's pride in her, "It would have been beyond her wildest dreams to see what has become of me".
– About her husband when they met as young people, "He was the only boy I ever knew who cared that I had a brain".
-About her mother-in-law's gift of earplugs, a device she relies on to this day, "I would like to tell you the secret of a happy marriage: it helps sometimes to be a little deaf".
-In regards to surmounting life's obstacles, "If you really want something, you will find a way".
-About raising her children while she was studying and working, "Each part of my life was a relief from the other".
-About dealing with her husband's cancer, "We knew that if we could survive that year, then there was nothing that life could throw at us that we couldn't handle".
-"The story of my life is: Standing Up".
-"Our constitution, like our society, can evolve".
-"You can't have it all, all the time, every day. Over the long haul, I have had it all".
As to how long she will remain on the Court, the question on everybody's mind, and the last question of the evening, she stated clearly, "I will remain as long as I can do it full steam".
All photos in the body of this article by Doug McGoldrick