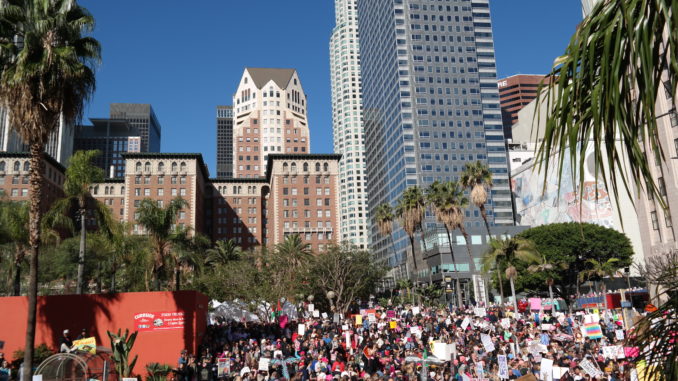 Christopher Lock – Phoenix, Arizona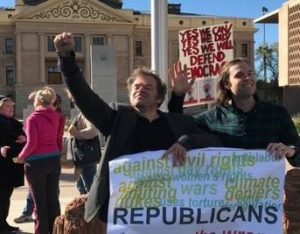 It was heartening to find so many others, beyond my friend circle, who were deeply concerned about granting this bully power, and the way he attacked the defenseless to achieve it.
I'm from the Midwest, so I'm not used to the Open Carry Laws of Arizona. Frankly, many of the people who were "on my side" were carrying weapons on the Friday Protest, and it was deeply unsettling. The Saturday March had none of these armed people, and none of the strange black-clad "ninjas" we saw the day before — not sure what they were about, anarchy, but I didn't think their attitude was helpful to our cause. Saturday had more mature participants, and in far more numbers."
The Right will try to declare that we were protesting Trump's election, but if you heard the thousands — police estimated 10k to 20k — it was clear, we accept our deeply flawed election (with an electoral college and gerrymandering, etc, we've come to accept the majority losing), what we could never accept was the calculated racism, the dividing of some Americans against others, the lies, the gutter-talk, and the horrible tactics used to win.
On a personal note, the march helped in healing a trauma many of us will have, perhaps for life. I will never forgive this country for rewarding a bully, and won't forget that racism still plays so well in our 21st Century land… but being with thousands who share my sentiment certainly helped, and we felt great momentum that day. This may wake the soul of the Left and move us from the decades of stalemate that's served no one but the powerful. That is my hope.
Los Angeles – Donica Denene
Paula Jessup – Los Angeles
Paula's video of the LA March can be seen here.
By Monick Paul Halm – Los Angeles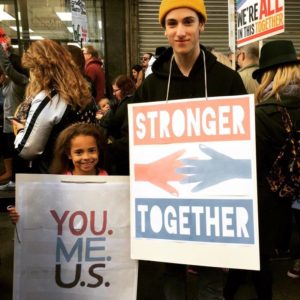 We went to march and had more of a "stand" because the wall to wall people prevented much movement. Though the organizers only expected 60-70,000 people, they got more than 10 times that amount. It was a peaceful, inspiring day though. We were lucky to end up right near the front of the stage where we saw Moby, the Edge (U2), Barbara Streisand, Jane Fonda, Lily Tomlin, Alfree Woodard, Miley Cyrus and many others share their inspirational messages and uplifting music. The stars were great but my favorite frames were when the men started chanting "Her body, her choice!" With the women responding "My body, my choice!" And when one lone voice chanted "Tell me what democracy looks like!" And we all replied "This is what democracy looks like!"
I march for my kids. I march because women's rights are human rights. I march because my daughters should have the same opportunities and pay as my son. I march because climate change is very real and I want the earth around for these kids and their kids. I march because I believe in a woman's right to choose what happens to her body. I march because my daughters should have choices about pregnancy and health. I march because I want my daughters to know it's never ok for anyone to grab them anywhere. I march because I think our leaders should be positive examples of dignity, respect, and kindness. I march because I want my kids to understand I don't condone that sort of behavior and neither do the hundreds of thousands who marched with us. I march because I believe our Constitution guarantees freedom of religion and that no religion should be singled out for registries or in any other way. I march because I believe in freedom of the Press and the important role the press plays as a check on elected officials. I march because I want my children (and all other children) to be able to marry whoever they love. I march because #blacklivesmatter. I march because #alllivesmatter. I march because I want my kids to know that their voices matter. I march because I want our elected officials to remember that even if we do not vote for them, we are still their constituents. Our views matter. I want them to remember we are the majority and but for the arcane rules of the electoral college we would have been celebrating our first woman president.
Los Angeles Tarah Arnold

On Saturday, January 21, an estimated 750,000 women (and men- many, many men) converged in Downtown Los Angeles to support their sisterscoming together at the Washington D.C. Women's March. The D.C. March began as a simple statement from one friend to another the night of the election, "We should March." And march they did. Soon not only was the D.C. March set for the day after the inauguration, but sister cities around the country and the world began to schedule their own marches- permits were obtained and social media lit a fire spreading the word to come out and be heard.
L.A. and it's West Coast inhabitants heard the call in droves- our numbers actually competed with D.C.'s  impressive Saturday numbers (As of this writing, organizers are counting D.C. alone at one million)- proving to the world that L.A.'s "got your back!" Although our city may have its own history of problems, divisions, and tensions, it's citizens showed up in force to support tolerance, diversity and equality. If you were in doubt about what we stood for as a city, Saturday laid those doubts to rest.
It seems our racially and economically diverse community has something in common: The belief that injustice anywhere is a threat to justice everywhere.  Nestled somewhere between a protest and a rally, Saturday's Marchers  proudly held their homemade signs vibrant with messages of love,equality and social justice.  Building "Bridges not Walls,"  human rights for women, environment and protecting the rights of the LGBTQ community seemed to be the centralissues walking the streets that day. But messages were as varied as our city's residents. Strong, bold, hilarious, irreverent and powerful- the battle cry for justice was shouted in as many individual ways as there are colors on the spectrum. Each sign bringing to light a different color of humanity's rainbow.
The day itself was calm, peaceful and really, well,  just beautiful.
To me, the most poignant aspect of the March was, for lack of a better word,  the energy of the thing itself. I attended with a group of women who, like many, feel they have been drawn out into the sun of politics to stand up and speak out against repression. And as we marched and chanted and clapped, we wondered, amazedly, how can it be that in 2017 we must in the United States take to the streets to proclaim a woman's right to possesses her own body? A friendmatter-of-factly pointed out that simply, "It's our turn."
Protesters (Marchers? Rally-ers?) held their signs, smiled to one another and seemed to enjoy a collective sigh that this- THIS- this is who we really are. Understanding. Communicative. Tolerant. Joyful.  It was as if everyone was stepping ever so lightly to maintain an air of civility and respect- 750,000 people intensely focused on keeping this day positive, peaceful and important. It is quite an impressive fact that there were ZERO arrests made at this rally. Or in D.C for that matter.
As a friend who attended the Washington March put it, "We repudiated Trump's belligerence not only by marching, but by HOW we marched."
Los Angeles, you made us proud. As a guy I met on the metro ride home that night said to me,  "I felt Los Angeles, for the first time in a very long time, was a cohesive community."
May this energy of unity continue and expand into the next four years- and beyond.
Los Angeles – Valeria Zunzun. Actress/voice actress. Voice and casting director.
Last Saturday morning, when I left for the march, I was feeling down. As a woman, I felt betrayed and disrespected, seeing that our democracy decided to choose a president of doubtful personality, despite the fact -among others- that he bullied more women in his life than he read books.
When I arrived to the metro –the best way to go to Pershing square, where the women's march was set to begin in Los Angeles- my eyes couldn't believe it. People were waiting in line to get a ticket almost up to the street, in the usually empty Hollywood and Western station -and it's a long way to the street. My heart began beating faster and I smiled: I didn't expect such a big crowd. And I certainly didn't expect, that a third of that crowd… would be men. That filled my heart with joy and hope.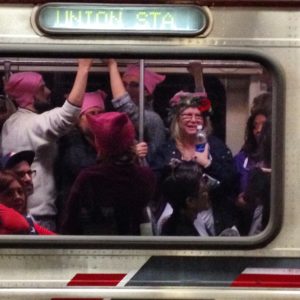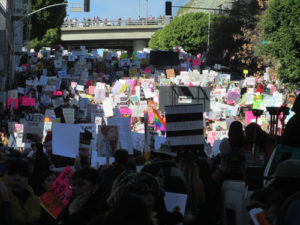 Three trains passed us by in the packed station. No one could get in. The trains were full. It felt surreal in LA. We had to hop into the opposite direction's train, to North Hollywood, and we stayed in the train to go to Downtown. That was the only way.
It took me over an hour and a half to get there (it usually takes 20/25 min). We all cheered as the train finally stopped at Pershing square. I went up the escalator… and almost cried when I discovered the crowd marching. All the streets of the historic corner of Downtown LA were full. Women, men, children, teenagers… all together. All backgrounds and colors, united under signs that were messages of love and tolerance. And pissed messages too.  Because a pissed woman grabs back, and fighting like a girl can be a way more powerful thing than you think, Mr. President.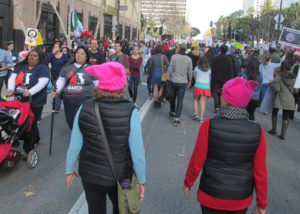 Women's rights are human rights. We all come from a woman, and I sure hope that –at least- you'd respect your mother. And together, we are stronger.
I met a few friends, and stayed the whole day. The speeches in Broadway were powerful, but peaceful.
When I left the march, I felt the love. I felt that we are powerful and united and that we will stand strong for our rights, dignity and respect. It seems absolutely unbelievable that in 2017, in the US, we have to do it again. But we will. With strong men by our side. Because only weak men fear women's power and abuse them. Together, we will rise up.
Annie Chow – Los Angeles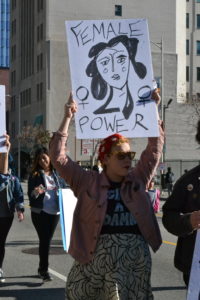 It took me 45 minutes to find my daughter in the crowd because it was so huge and there were many people. I spoke to a Beverly Hills attorney named Robert Bastian who also joined the March and he said that it took him four hours to move one block. The lines to use the bathrooms were so long, that it was better to go home and then go back to the March at Pershing Square. As soon as you walked out of the elevator door once parking, you were immediately in the middle of an immense flow of people. People all races, ages, genders and religions were protesting.
Greg Autry – San Francisco
My observation, as a man who voted for Hillary, and feels as though I understand how reprehensible Trumps actions and words have been, is thus:
Protest alone will change little. Action is required in mid-term elections, and onward.
Also, America can come together first, by understanding and respecting those with different opinions from one's self.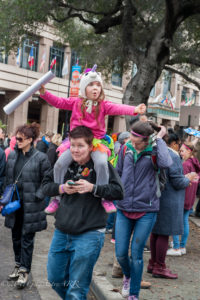 Oakland -Patricia Munro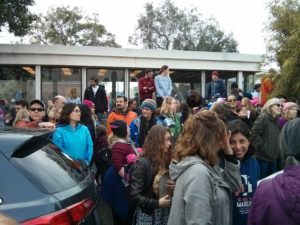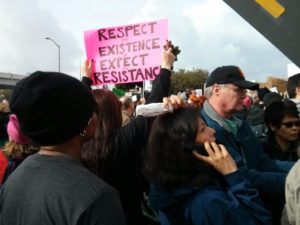 For my family, the Oakland Women's March began when we boarded BART at the beginning of the line. After two stops, the train was full and got fuller. It was also delayed: so many people were arriving at the march that the usual half-hour ride took well over an hour and a bit. It didn't matter, we were united and determined.
The streets surrounding the station were packed with people waiting to march. Families with children. Groups of students. Older men and women, looking like they'd been here before because they had. There were so many people that we ending up walking for all of three blocks in two hours. Marching or not, the entire crowd had a wonderful sense of purpose and urgency: of being united to fight for our country. We were fired up and ready to roll! Favorite chant: This is what America looks like. Favorite Sign: Now you've pissed off grandma.
San Francisco – Suzanne Cooper
It was a privilege to be part of this march. The crowds were huge. It took nearly two hours to get from Millbrae to the Civic Center on BART. Subway cars were packed and progress was slow. Even so, everyone was patient and upbeat. The only reaction was a loud cheer when the train finally pulled into the Civic Center Station. This mood of camaraderie and kindness permeated the entire event. There was no pushing or shoving or yelling; no negative energy aimed at fellow marchers.
At one point, my little cohort of six women decided to take a group picture – while standing in the middle of Hyde Street. A police officer approached us and politely asked us to move to the sidewalk. Then she offered to take our picture for us before we moved on.
We never made it to the rally. There were just too many people and it was impossible to get anywhere near the stage. But as a result, we found ourselves positioned perfectly to join the start of the march down Market Street. The day was just ending and the rain began coming down in buckets. It didn't dampen the mood of the marchers. Umbrellas and rain gear came out. Some participants had candles that they protected from the rain; others had all types of lights and glowing paraphernalia. This aspect of the event, too, was marked by peaceful coexistence and mutual support.
All along Market Street, people lined the street and looked down from office buildings, cheering and blasting music. The sodden marchers joined in, too, and the mood was happy and hopeful. People were awed by the size of the turnout and the opportunity to be part of something that felt truly bigger than the sum of its parts.
Redwood City – Michael Keer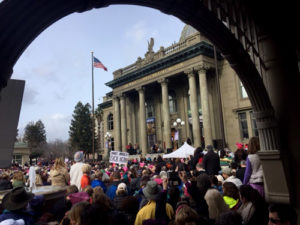 This was just a rally, not a march and a huge crowd gathered.  Joan Baez sang and a councilman spoke powerfully.  The spirit was positive.  People were polite.
Seattle – Kalee Gresham
When I first heard of the Woman's March, I knew I would be participating. I initially considered flying cross country to NYC and going to DC on a bus with Friends; but decided to stay at home in Seattle, the City of my Soul instead when I heard there would also be a March here.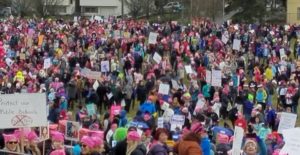 Although many of my Friends were also marching, as an introvert I did not make plans with them to meet up. Instead, I had planned to take the metro bus route to the starting point of the March; but the bus stop was crowded already when I got there. I walked to the previous stop – and found it not only just as crowded, but saw the busses passing by without stopping, already SRO. I was initially frustrated – but then decided that packed busses would not deter my plans. I walked around the corner, and stood in front of a condo building and called a cab. I was still on hold as a car drove up and a woman got out and entered the building. As she exited, she asked if I was going to the March. I was still on hold at that point – and stated so. This beautiful stranger happened to be picking up two friends and driving them to the start of the March – and offered me a space in her car. I traveled in comfort to the start of the event with beautiful strangers, who I may never see again, but will always fondly remember.
The park was packed with more people than anticipated, and it took almost an hour to actually make it onto the street that was the start of the March – but as we were shuffling (not marching!) down the street, something caught my eye. And it caught the eye of others as well – Two Bald Eagles were flying over the start of the course. Seeing such birds in the skies over Seattle is not unusual – but seeing them as we marched to protest our current American government was incredible.
Paige Eagle – Seattle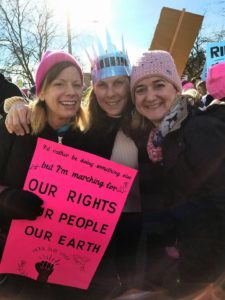 I went with two women whose sons are friends with my son Miles. We Ubered down. The Uber driver's map was solid red across downtown, meaning high demand. None of us wore pussyhats. Only one of us made a sign.
We got out near Judkins Park at 9:45 which was full of people, mostly women of all ages, but plenty of men and kids too. The porta potty line was over 100 people long because they only had 6 there. The first speaker read Still I Rise in Spanish then in English. The speaker from Planned Parenthood got the biggest applause.
It took an hour or more for people to get out of the park and onto the march route (3.6 miles to Seattle Center/Space Needle). Everyone was patient and pleasant. Lots of singing: we shall overcome, if I had a hammer. Sound "waves" where people in the front would send a cheer rolling along towards the people in the rear. I was sick with a chest cold so I took the light rail home at 1:00 from the International District– only about a third of the way.
Photos by: Tarah Arnold, Greg Autry, Annie Chow, Suzanne Cooper,  Paige Eagle, Monick Paul Halm, Michael Keer, Christopher Lock,  Patricia Munroe, Valeria Zunzun
Film from: Donica Denene and Paula Jessop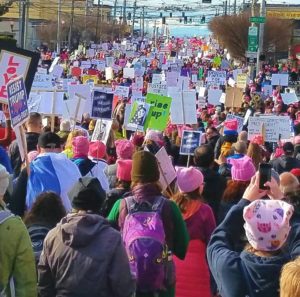 Save
Save